"Enjoy a night of art, celebrating the Heritage and stories of the Bahamian and Haitian cultures."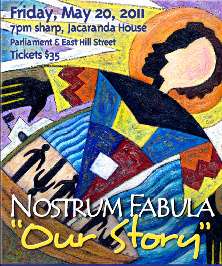 Under the Patronage of His Excellency Sir Arthur Foulkes, and Haitian Ambassador to The Bahamas from the Republic of Haiti, Antonio Rodrique, Nostrum Fabula - "Our Story", will share, through art and imagination, the separate and united stories of both cultures.
Friday, May 20, 2011
Event begins promptly at 7:00pm on Friday May 20th, 2011 at Jacaranda House, Parliament and East Hill Street.
Featured Artists Include:
Literary expressions by Frederick Johnson III
Images produced by Bernard Petit, Jackson Petit and Matthew Wildgoose
A special performance by The Region Bells;
The Rupp a pum pum Drummer;
Kompa/Goombay Fusion with Michael Dupin and MORE
Tickets are $35 and are available at Carter Marketing and Executive Printers.
For reservations email This e-mail address is being protected from spambots. You need JavaScript enabled to view it
Check out our Facebook event page: Nostrum Fabula Event for further information.
This event is made possible with the support and partnership of:
The Jacaranda House; Burns House; Executive Printers; Carter Marketing; The Wine Lounge; INSITUarch Magazine; Bahamas B2B; Vue-A-V Audio Visual Effects; Small Art Pictures and Bahama Joes.