A Tribute to the Northern Exuma Cays, Bahamas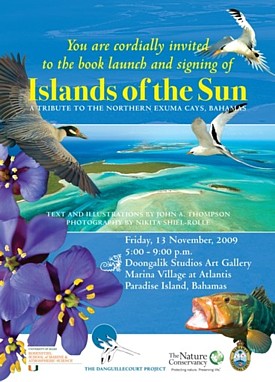 The Danguillecourt Project, a Bahamian non profit environmental organization operating in collaboration with the University of Miami's Rosenstiel School of Marine and Atmospheric Science, presents 'Islands of the Sun: a Tribute to the Northern Exuma Cays, Bahamas'.
This spectacularly illustrated book tours the reader through the ecosystems of the central Bahamas, from the hilltops to the depths of the ocean. The book functions as an informative reference volume as well as a monumental work of art, with photographs and painted illustrations bringing to life the unique and diverse plants and animals of the Exuma Cays.
The culmination of a three-year effort, every chapter in the book features a different habitat, showcasing the wondrous and bizarre organisms that make their homes in this tropical island idyll. Remarkable colour photographs depict a range of life from orchids and rock iguanas to sea slugs and reef sharks. All in all, over 250 members of flora and fauna are featured. Accompanying text informs the reader about these species, including their historical and cultural value as food or medicine. Every chapter opens with a two-page landscape painting of the selected habitat and its denizens. Each chapter additionally features a 'special focus' section dedicated to a plant or animal of particular interest specific to that habitat.
This is a landmark publication both from an artistic and a scientific point of view, as Bahamas-specific volumes are rare. Co-authored by two young Bahamians, John A. Thompson and Nikita Shiel-Rolle, the scope of the gorgeous imagery and informative text set this book apart- an unprecedented fusion of science and art guaranteed to fascinate and educate young and old alike.
---
Product Details:
Title: Islands of the Sun: A Tribute to the Northern Exuma Cays, Bahamas
Authors: John A. Thompson - text & illustrations; Nikita Shiel-Rolle - photography
Hardcover: 448 pp. 281 colour photographs, 7 painted illustrations. Index.
Publisher: The Danguillecourt Project (October, 2009)
Produced by Neko Meicholas / Guanima Press Ltd, Nassau, Bahamas.
Printed by AC Graphics, Hialeah, FL, a quadruple-certified Green Printer.
Product Dimensions: 11.3 x 9.3 x 2 inches
Shipping Weight: 6 pounds.
Price: $149.00
Orders available at: This e-mail address is being protected from spambots. You need JavaScript enabled to view it
Contact:
Pamela Reid, PhD, This e-mail address is being protected from spambots. You need JavaScript enabled to view it , 305-421-4606
Barbara Thompson, This e-mail address is being protected from spambots. You need JavaScript enabled to view it , 242-324-7060
Publication of 'Islands of the Sun' was supported in part by The Nature Conservancy; the Bahamas National Trust facilitated field work. The book is dedicated to Sergio & Jacqueline Kriz Danguillecourt, in celebration of the deep love they shared for the northern Exuma Cays. 'Islands of the Sun' was produced for The Danguillecourt Project by Neko Meicholas, Guanima Press Ltd, and printed by AC Graphics, a certified green printer using paper from well-managed forests and vegetable-based inks. All proceeds from 'Islands of the Sun' will support environmental educational activities of The Danguillecourt Project, such as Young Bahamian Marine Scientists programme, after school clubs, and summer camps.
Writers, Poets, Authors of The Bahamas
Are you a Bahamian author, writer, poet or publisher? We'd like to feature your work on our Bahamas Books pages. Contact us and we will have our Book Channel editor get back to you.