What Does the Bible Say About...
"What Does the Bible Say About..."
By Velyn Cooper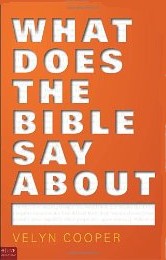 Focuses on basic topics that a lot of persons have opinions about but unfortunately, are not certain of the biblical perspectives of these topics. Topics such as: God, God's Spirit, Jesus, Heaven, Hell, The Dead, The Second Death, the heavens and the earth, the catching away (Rapture) of the Saints, After the Rapture; the Seven Plagues & Babylon, the destruction of Babylon, the Marriage Supper, the Millennial Reign of Christ?
This book looks at these topics form the biblical perspective as opposed to personal views/opinions of these topics.
Perfect Paperback: 232 pages
Publisher: Tate Publishing (August 16, 2011)
Language: English
ISBN-10: 1617773697
ISBN-13: 978-1617773693
Product Dimensions: 8.2 x 5.2 x 0.6 inches
Shipping Weight: 10.4 ounces