Get the latest Hollywood and music industry news, hot celebrity gossip, entertainment news, photos and videos.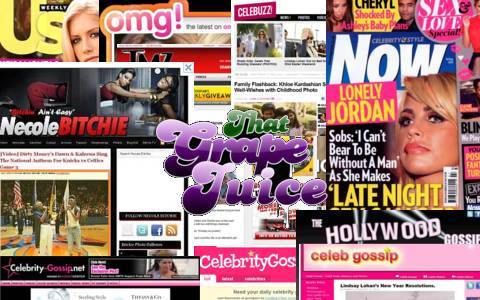 Celebrity Video Highlights
---
Celebrity BUZZ
When Bae Gets Paid What happens when bae thinks she can ball out till she busts? We've all dated that one person who just cannot handle having money burn holes in their pockets. One day they're living off ramen noodles and the next it's five star restaurants and shopping sprees, only to be right back where they started once the cash dries up. Then again, what's the point of making money if you're not going to spend it on anything, right? Also be sure to check out the AMAZING deals on everything from kids' clothes to coffee mugs at Zulily!! Sign up today by clicking HERE, all you need is an email address!!



When the Fall Weather Can't Make Up Its Mind It's that time again when it's officially fall on the calendar, but it's still too hot to wear your new fall outfits from your fall haul. So infuriating! Is sweater weather too much to ask for? I don't think so sun! We shouldn't be getting summer sunburns anymore. We should be enjoying hayrides on a windy fall day. The weather needs to make up its mind. No more going back and forth between the air conditioner and being buried under blankets. Get it together fall weather.



How to Cope With Stress in Your Relationship Do the smallest things stress you out in your relationship? Maybe you can't get your winged eyeliner to match on both sides. And maybe your bf doesn't empathize with your struggles. It's okay because we all have to learn how to cope with our stress. Barbie is an expert on figuring out what bothers her so much so watch her find the solution to her problems in this latest episode! CoupleThing Independent Work: This video is not intended to depict actual people, characters or entities or to suggest any association with or sponsorship by any person, company, or entity. It is intended for the purposes of entertainment and uses satire and parody. It depicts entirely fictional situations and characters, and is the product of our CoupleThing imagination, alone.



When Bae Can't Handle Directions Everyone knows it's never your fault if you get lost... it's your boyfriend or girlfriend's! Some people just can't read a map to save their life, which is ridiculousness because now with apps like waze, uber, and even google maps, it seems like it's near impossible to get lost with all this technology around. Unfortunately some people just can't get it right and a simple right hand turn could leave you stuck on a trash barge in the middle of a river or something.



How Bae Feels About Halloween Halloween might just be bae's favorite holiday! This year she tries to get her bf to dress up with her. They are drawing inspiration from one of the most infamous fights of the season. Unless you live under a rock, you've heard of the debacle between Cardi B and Nicki Minaj during New York Fashion Week. We who better to portray Cardi B than our favorite relationship role model Barbie? Let's just hope she didn't spend too much money on all the shoes! Baelievers would your gf ever force you to dress up like Nicki minaj? Would you ever wear a Cardi B costume?



When Bae Has Trust Issues Everyone in a relationship has had at least one moment where they question what their significant other is up to when they're acting sneaky. Sneaky significant others are the cause of trust issues! Whether it's not wanting you to look at their cellphone, leaving the room when someone calls, or lying about staying late at work, that's all cause for suspicion. It's like they're asking you to have trust issues! Sometimes you just have to turn into a ninja spy to get to the bottom of what bae is doing.



13 Reality TV Hoaxes You Totally Fell For

Admit it: you've been had at some point in the past, haven't you?

You thought what you were watching on reality television was 100% real, only to later learn the devastating truth.

We've all been there. And now we can all be here: relive the most shocking reality TV show hoaxes in history below...

1. Dance Moms
We'll just let Maddie Ziegler, arguably the show's top performer, lay it right out for you, courtesy of an interview with USA Today: "The producers set it up to make us all yell at each other. You know how I said that moms do fight? The moms have a fake fight sometimes. Afterward they just start talking and laugh about it." Host Abby Lee Miller really does suck, however. that's not fake. 2. House Hunters
Bobi Jensen blogged in 2012, on a site titled "Hooked on Houses," that her experience on House Hunter was totally contrived. Turns out, the couple had selected its home prior to appearing on the show and producers even changed Jensen's story over why she was moving. 3. Breaking Amish
Can we change the title of this TLC series to "Having Already Broken Amish?" After the very first episode aired, it came out that most participants had already left their Amish family for the bright lights of the big city. 4. Storage Wars
Dave Hester, a prominent presence on A&E's Storage Wars, left production and sued the network over the phony aspects of the show. He said producers loaded units up with items to give each episode an artificial angle and that they even funneled money to teams to keep each episode's bidding competitive. 5. Ghost Adventures
Ghost Adventures star Aaron Goodwin was fired in 2014 after he stopped by the podcast Are We Alone and explained how the network staged reactions, sound effects and other aspects of the program. He said it was "sickening" that he was part of such a "fraud." 6. The Hills
Lauren Conrad, Brody Jenner and other cast members have come out and said pretty much everything you saw on this MTV reality show as scripted. Shocking, we know! View Slideshow



Todd Chrisley Rips "Attention Seekers," May Be the Worst Celebrity Alive

After being indicted this week by a federal grand jury, Todd Chrisley had the right to remain silent.

But the embattled reality star has clearly chosen to wave this right.
In the wake of the bombshell allegation that Todd and Julie Chrisley lied to the government about their income and evading paying taxes for numerous years, the USA Network star has gone on the offensive.
Todd, who has anchored Chrisley Knows Best for seven seasons, faces 30 years in prison if convicted on all 12 charges against him...
... and he's also facing backlash for the way he's reacted to estranged daughter Lindsie Chrisley.
Todd and Lindsie haven't been close for some time, which is why some folks were under the impression that Lindsie may have helped turn her dad in for his alleged financial crimes a few days ago.
In response to this rumor, Lindie's attorney issued a statement that reads as follows:
The circumstances Todd and Julie find themselves in, is quite unfortunate. It was reported that Lindsie was the source of the information that led to her father's arrest. That is untrue, she was not the source of this information.
Lindsie has been a constant target of lies, harassment and threats from her family and as a result, has been distancing herself from the Chrisley family since 2017.
In a follow-up to this message, multiple outlets have confirmed that Lindsie filed a rather incredible police report in June.
It alleged that Todd and Lindsie's brother, Chase, were in possession of a sex tape Lindsie made -- and were threatening to release it unless Lindsie helped her parents cover up their misdeed.
Wowza, right?
Todd, however, has claimed this isn't true.
In doing so, though, he's gone public with the allegation that his own daughter slept with two married men.
"It's heartbreaking and shameful that these kinds of accusations have to be aired in public," Todd said, prior to airing allegations of his own on Thursday and stating:
We have tried to keep Lindsie's extramarital relationships with [Bachelor Nation stars] Robby Hayes and Josh Murray private for her sake since August of 2016. 
Sadly, for reasons we can only guess at, she ran to the sheriff's office to accuse her brother of buying a sex tape of her and Robby, which was a complete lie, and now she's telling more lies about me.
Yes, Todd Chrisley just outed his daughter for her supposedly unethical sex life.
And now it seems like Todd is up to no good once again.
In a new Instagram post, he has suddenly found religion...  while seemingly called out Lindsie as someone looking to make a name for herself off this scandal.
"Trust and believe that we are holding the right hand of God on this walk we are on, if he brings us to it he will bring us through it," Chrisley wrote in the message, adding:
"Please don't fall victim to false prophets, don't give attention to the attention seekers, stay steady on your course, grieve the loss of ones you love that didn't love you, pray for them even though they have wronged you, forgive them for yourself and ask God to move them on."
Seems pretty obvious he's referring to Lindsie here as an "attention seeker," right?
Chrisley closed his new statement by citing the status of his reality show:
We are getting back to work after this distraction and our show hasn't been cancelled.
God delivered much clarity yesterday as to those who set a net for us , so the Lord says May the net your enemies cast for you be the same net they become snared in ..
To each and everyone that has supported us on this journey we call life , we love you with all of our hearts , the kindness we have been shown yesterday and through this process has been overwhelming.
God is good , we drop our hands and surrender to God and will let God do the rest , you can't claim FAITH and still express FEAR.
Man, we really hope Todd Chrisley goes away for a long time.
View Slideshow: 17 Truly Shocking Reality TV Scandals



13 TV Shows Ruined by Off-Screen Drama

Know what sucks more than a TV show being canceled prematurely?

When off-screen drama rears its ugly head and obliterates the show well before its prime.

These 13 shows were forever tainted following off-screen developments.

1. Glee - Fox
Naya Rivera was cut from Glee's fifth season finale and never returned as a series regular for the final season. According to reports, she clashed with co-star Lea Michele, and when she complained about her, she was the one cut from the show. 2. Roseanne - ABC
Roseanne returned to the air as one of the highest-rated shows on all of television, but series star Roseanne Barr went on a tweet-storm and made a racist comment. ABC responded by canceling the series after one season back on the air. Barr's character was later killed off during the series premiere of the spinoff, The Conners. 3. Empire - Fox
This Fox drama's future was thrown into jeopardy in 2019 when it emerged that Jussie Smollett falsified a police report that said that he was attacked by two white men. However, it later transpired that the two men who "attacked" him planned the attack alongside him. The scandal had a knock-on effect on Empire which was subsequently renewed for a final season -- despite still being a solid performer for Fox. </div> 4. Grey's Anatomy
Katherine Heigl won an emmy for her work as Izzie in 2007, but the following year, the actress withdrew her name from consideration. The reason?

"I did not feel that I was given the material this season to warrant an Emmy nomination…"

Series creator Shonda Rhimes was said to be mad, and Izzie was phased out without so much as a conclusion. 5. Criminal Minds - CBS
Thomas Gibson who played Hotch on the grisly crime drama was dismissed from the series in 2016 after an on-set incident which involved Gibson allegedly kicking a producer. The show was not the same without Hotch! 6. Desperate Housewives - ABC
Nicollette Sheridan was written out of Desperate Housewives during its fifth season after a very public falling out with series creator, Marc Cherry. Edie's death was handled miserably. A huge character like her deserved a much better conclusion. View Slideshow
Andrew Glennon to Amber Portwood: I'm Moving to California and I'm Taking the...
The hits just keep coming for Amber Portwood, huh?
But of course, that wouldn't be happening if she hadn't done the hitting in the first place.
Or the machete-wielding.
Guys ... Amber really done messed up.
All the way back on the Fourth of July, she got all worked up because there was an issue with taking James, the son she shares with Andrew Glennon, to see fireworks.
The little family headed home instead of going to the festivities, and that's when Amber got violent.
Andrew has said that she yelled at him and began beating him with a shoe, which she did admit to doing.
He took James and left for a few hours, then came back with dinner and a gift for Amber -- more than she deserved after assaulting him the first time -- and she was still very angry.
According to Andrew's story, Amber went off again, told him she was going to kill herself and even swallowed a handful of pills that she later vomited back up, and ended the night by chasing him around with a machete.
All while poor, sweet little baby James was there.
During the alleged machete incident, Andrew took James and went to another room, and he had to hold the door closed with his foot so he cold hold the baby and also alert 911 that an emergency was going down.
Police arrested Amber in the wee hours of the morning, she spent a few days in jail, and then things got even worse.
Because you can't assault people, especially when they're holding your baby.
Andrew was quick to file for custody of James, and thank goodness for that.
He also got a no-contact order for both of them against Amber -- it was recently lifted for James so he could have the occasional supervised visit with his mother, but Andrew's still stands.
In all this madness, Andrew has been pretty open to Teen Mom fans who have asked him questions, and his stance has always been clear: he desperately wanted a family with Amber, but James' safety is his top priority.
And, as such, it looks like he's trying to take him from Indiana all the way to California.
He recently filed documents with the court to announce that he wishes to move back to Malibu, where he lived before he moved to Indiana to be with Amber.
He works there occasionally still, so the move does make sense.
He also explained in the documents that the only thing in Indiana for him was Amber, and that's done now, so why not go back home where he has family, friends, and work?
Andrew has said that he wants to make the move in November, so it's obvious that he's not trying to run away with James.
He's doing things by the book, and Amber has 60 days to respond to this new proposal.
It's all a bit more complicated, of course, because both Amber's criminal case and the custody battle are still happening, and we're not sure how that would affect Andrew's wishes to move states.
But based on everything we know about him, we're certain he wouldn't leave James behind.
Just when you thought things couldn't get worse for Amber ...
Yeah, maybe don't bother to think that anymore.
View Slideshow: Andrew Glennon: Amber Portwood Is SICK! Our Kid Is Only Safe With Me!



Nicki Minaj: Um, Did She Just Marry Her Convicted Sex Offender BF, Kenneth Pe...

We would love to be celebrating Nicki Minaj right now and her possible nuptials, but honestly, it's hard. 

If you are out of the loop on the rapper's love life, allow me to get you up to speed in just one sentence:

Since December, Nicki has been seeing Kenneth Petty, A.K.A a registered sex offender who has spent nearly four years in prison for first-degree rape. 
YEP, you heard that correctly. 
Nicki has also been known to publically defend her man, saying that he was 15 at the time and the girl he assaulted was 16 and that it was ok because they were in a relationship. Uh.
But that's not all.
Years after he was released, things only got worse and he ended up right back in the slammer, but this time for first-degree manslaughter! 
We don't know what Nicki is thinking, obviously, but we do know that the internet is pretty convinced that she just married the guy. 
While Nicki was talking on her Queen Radio podcast earlier this week, she said that she and Kenneth re-filed for a marriage license after their first one had expired.
"We filed for the marriage license and we still had to pick it up and I was traveling, by the time I came back we had to renew it again," she said. 
(Hm, maybe that was a pretty big yell from the universe to RUN.)
"From that time you have 90 days to get married. That was about a week ago, so now I have about 80 days."
And today, Nicki changed her Twitter handle from Ms. Minaj to Mrs. Petty, to reflect the last name of the 41-year-old Queens native. 
So yeah, we're sold. 
But when it comes to a big wedding, they're not quite ready yet.
"I have to work on my album and I have a lot to focus on that I don't want to do the big wedding now," she shared. 
With so much on her plate at the moment, including her notorious celebrity feuds, the "Super Bass" singer says they will celebrate their union with a small ceremony for now, and plan the big wedding later, when everyone is less busy.
Or, when her family and friends have had enough time to digest this disturbing news.
"We'll do the big wedding later. I'll be married before my album comes out, but will have my wedding after the album comes out."
Got it. Let's just hope her beau can stay out of trouble before Nicki starts her walk down the aisle. 
But at the end of the day, I guess we're happy if she's happy? *shrugs*
"I'm very happy about that because my baby makes me so happy," Minaj gushed about her felon life-partner. 
View Slideshow: Cardi B and Nicki Minaj Feud: Twitter and The Maury Show Pick Sides!



Mackenzie McKee Announces Separation from Husband: "My Heart Breaks"

Mackenzie McKee has left her husband.

This is a development that comes as not much of a surprise to anyone who has been watching Teen Mom OG.

The couple got married in August of 2013 and share three children -- Gannon, 7, Jamie, 5, and Broncs, 3 -- but they've been experiencing some difficult times for awhile.
Specifically, Josh has had to answer questions about his fidelity, as depicted on this season premiere of Teen Mom OG.
"I would like to say, that due to stress, me needing to stay focused, the media, etc. I am deciding my marriage needs a break," Mackenzie tweeted on Friday, Aug. 16, adding in this message:
"My heart breaks for my kids. But as of right now, this is what's best. Thank you."
Mckee also took Instagram to share a selfie alongside the caption
: "Freshly single and ready to, be the boss babe that I am and let God lead me to what I deserve."
McKee rose to quasi fame on Teen Mom 3 and then re-joined this MTV franchise just a few weeks ago.
On the  August 5th opener of this series, McKee opened up about how her husband was often on the road due to his job as a rodeo guy and that she suspected he was being unfaithful.
Mackenzie actually received a text from a woman on this episode who alleged that her husband went out to a bar and cheated on her -- and Josh was with him at the time.
This wasn't the only allegation of infidelity against Josh, either.
In an exclusive interview with OK Magazine, a woman claimed that Josh was caught with a mystery blonde at the Thirsty Armadillo located at The Stockyards in Fort Worth on Saturday, April 27.
"My friend and I saw Josh McKee and another guy walk in the bar," this insider told the tabloid, adding:
"They walked over and joined a group of about 5 or 6 girls. Within a matter of minutes he started talking with a girl with long blonde hair. They started making out and kept on kissing. Like couldn't keep their hands off each other. They left the bar together hand in hand."
YIKES, huh?
"My entire world just changed," Mackenzie vaguely wrote on social media shortly before this story came out.
"You guys seemed solid," one person wrote to Mackenzie after she confirmed the separation.
"We were," Mackenzie replied. "We were truly best friends. It's all just devastating."
When pressed by other followers on Tweeted who learned she was leaving Josh, McKee added:
"I know in my heart he loves me. This was my decision."
As noted above, news of the split comes after this month's episode of Teen Mom OG that featured Mackenzie worrying about her husband possibly cheating on her after he went out of town for a rodeo.
What did Josh say after this allegation came out?
"There was no affection or anything like that there," he said on the show, continuing:
"I'm just here to tell you that I was at a bar, and I'd like you to trust me when I'm getting a few drinks at a bar... I was just avoiding the fight, and I was wrong."
McKee has effectively replaced Bristol Palin as a Teen Mom OG cast member this season.
She's already brought more drama in just a few weeks than Bristol did over a full year on the series.
View Slideshow: Mackenzie McKee: Officially Joining the Cast of Teen Mom OG ... Mostly! [UPDATED]