Get the latest Hollywood and music industry news, hot celebrity gossip, entertainment news, photos and videos.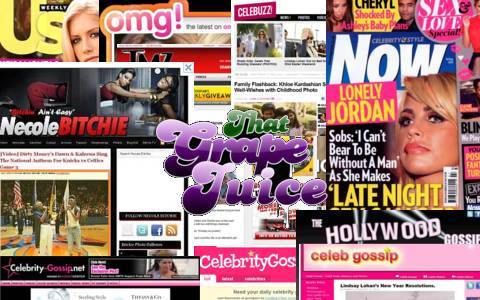 Celebrity Video Highlights
---
Celebrity BUZZ
Selena Gomez's "Much Healthier" Relationship with Justin Bieber Leads Today's... Inside their revamped romance.



Is Cardi B Pregnant? Baby rumors are swirling...



Gigi Hadid Clapping Back at Body Shamers Leads Today's Star Sightings Enough is enough.



Justin Bieber and Selena Gomez Cozy Up Before Valentine's Day Love is in the air!



Kris Jenner Confronting Scott Disick About Sofia Richie Leads Today's Star Si... Does she have a problem with their 15-year age difference?



Bella Hadid's Alleged Stalker Arrested This sounds so scary.



13 Reality TV Hoaxes You Totally Fell For

Admit it: you've been had at some point in the past, haven't you?

You thought what you were watching on reality television was 100% real, only to later learn the devastating truth.

We've all been there. And now we can all be here: relive the most shocking reality TV show hoaxes in history below...

1. Dance Moms
We'll just let Maddie Ziegler, arguably the show's top performer, lay it right out for you, courtesy of an interview with USA Today: "The producers set it up to make us all yell at each other. You know how I said that moms do fight? The moms have a fake fight sometimes. Afterward they just start talking and laugh about it." Host Abby Lee Miller really does suck, however. that's not fake. 2. House Hunters
Bobi Jensen blogged in 2012, on a site titled "Hooked on Houses," that her experience on House Hunter was totally contrived. Turns out, the couple had selected its home prior to appearing on the show and producers even changed Jensen's story over why she was moving. 3. Breaking Amish
Can we change the title of this TLC series to "Having Already Broken Amish?" After the very first episode aired, it came out that most participants had already left their Amish family for the bright lights of the big city. 4. Storage Wars
Dave Hester, a prominent presence on A&E's Storage Wars, left production and sued the network over the phony aspects of the show. He said producers loaded units up with items to give each episode an artificial angle and that they even funneled money to teams to keep each episode's bidding competitive. 5. Ghost Adventures
Ghost Adventures star Aaron Goodwin was fired in 2014 after he stopped by the podcast Are We Alone and explained how the network staged reactions, sound effects and other aspects of the program. He said it was "sickening" that he was part of such a "fraud." 6. The Hills
Lauren Conrad, Brody Jenner and other cast members have come out and said pretty much everything you saw on this MTV reality show as scripted. Shocking, we know! View Slideshow



Catelynn Lowell Update: How is She Doing in Rehab?

Catelynn Lowell has been back in rehab for about a month now -- and good for her, right?

If you've been keeping up with this whole sad story, you know that she's currently on her second rehab stay in the past three months, and her third in the past two years.
The first time she went to a treatment center, back in 2016, the issue was a pretty severe case of postpartum depression she'd been dealing with since giving birth to her daughter a year before.
The second time was in November, when she checked into the same treatment center after admitting that she'd been struggling with some suicidal thoughts.
She did check out early that time because she reportedly felt guilty at the prospect of being away from her little girl for the holidays.
But thankfully, she quickly realized that her mental health was more important than Christmas, and also that she simply wasn't ready to be home yet.
So she went back, completed her six weeks of treatment, then went back home.
Then just a few weeks later, Catelynn made the tough decision to go back again for another six weeks, this time to work through some of her childhood trauma.
She also said she needed to get some issues with her medications sorted out.
Unlike last time, she's been silent on social media, which is definitely for the best.
During her last stay, she was on Twitter a bit, even taking the time to make fun of Farrah Abraham, which didn't seem like the best way for her to spend her time there.
While it's good that she's focusing so hard on her issues, we'd be lying if we said we weren't wondering about how she's been doing.
But don't worry -- Tyler's got us covered!
Last weekend, Tyler said that he and Nova would be away all week at Catelynn's facility, doing family therapy together -- or at least he would be involved with the therapy, it wasn't clear what exactly Nova would be getting into.
He predicted that it would be a tough week for everyone, and it's easy to understand why.
But no matter how tough things were, Tyler's love for Catelynn is just as strong as ever.
In one of his customary sappy, sweet Instagram posts, he shared this adorable photo of himself with Cate, and in the caption, he wrote that "Seeing this gorgeous woman & all the work she has done has given me such hope, a feeling of peace, and unconditional love that is hard to explain with words."
"It was a very emotionally intense Family Week Program, but I know that our love & commitment towards each other will persevere through anything this life throws our way."
"I'm so proud of you Babe," he added, "and I can't wait until you finally come home so I can just hug you & hold you for as long as I want."
"You are worthy...You are strong...You are beautiful...You are loved! Thank you for not giving up on your life."
He also threw in hashtags like "my babe," "my wife," and "soulmate," just in case your heart wasn't touched enough already.
A little while later, Tyler shared a couple more photos, this time explaining that "Marriage & relationships aren't always sunshine & rainbows."
"I believe love begins as a feeling, but evolves into a choice. A choice to sacrifice for that person, a choice of dedicated commitment to one another & understanding the selfless acts that are required from both to maintain serenity."
How darling is that?
Cate shared one of the photos too, and she captioned hers "SO HAPPY I got to see you today!!! Until next time my love!"
It's not much to go on, but she does sound happy, and in the photos she actually looks pretty radiant.
Here's hoping that she's getting the help she needs, and that soon she'll be able to go home, happier and healthier than ever!
View Slideshow: Teen Mom Couples: RANKED From Worst to First!



Jinger Duggar at 18 Weeks: Check Out My "Bell Pepper!"

Jinger Duggar is nearly halfway home, folks.

Or, to be more specific, Jinger Duggar's impending bundle of joy is nearly halfway home.
The young reality star has updated fans on the status of her pregnancy, sharing a new photo on Instagram on Saturday that depicts her standing alongside a chalkboard.
We can see a baby bump just starting to form underneath her black shirt, while we can also be treated to a science lesson from Jinger at the same time.
"Update on Baby Vuolo," she wrote as a simple caption to the snapshot above, which includes a message of its own.
At 18 weeks, Jinger informs us, a baby is the size of a bell pepper.
Sort of interesting, right?
(And, no, for the medical record, it does not matter if said pepper is red, green or yellow.)
This is the first baby bump glimpse Jinger has given us since her fetus turned 15 weeks old, as you can see below:
Jinger and husband Jeremy Vuolo announced they were expecting in early January.
They did so via a very cute snapshot of the couple and a sign that said, appropriately, "We're expecting."
In a follow-up statement to Us Weekly, the twosome - who got married in late 2016 - told the tabloid:
"The past 14 months have been the best of our lives as we have had the wonderful privilege of beginning our journey through life together in marriage.
"We both looked forward to the joys of marriage but neither one of us fully understood just how amazing the start of this journey would be."
Having barely even held hands prior to exchanging vows, Jinger and Jeremy eventually had the sort of sex that leads to a baby.
"Truly, the Lord's mercies are new every morning! Now, the journey has taken an exciting turn: We are expecting our first child!" they added in this statement, concluding at the time:
"We are praising God for this beautiful gift and ask that you join us in praying for a safe and healthy pregnancy."
For the Duggar family, of course, waiting over a year after marriage to get pregnant is equivalent to a lifetime.
(By comparison, for example, Joy-Anna Duggar got pregnant just three months after getting hitched.)
As a result, some judgemental social media trolls have been shaming Jinger over her pregnancy, much to the chagrin of viewers who have followed this TLC personality since she was a young teenager.
Thankfully, in response to this new snapshot, almost all comments have been positive and supportive.
"You're carrying high @jingervuolo! I bet it's a girl!" predicted one excited follower.
Added another: "Omg you got a belly as if you were having a girl."
Interesting, huh?
Jinger is yet to confirm the gender of her baby. We're guessing she doesn't even know what it is herself.
But we'll all find out in about 22 weeks!
Exciting stuff.
View Slideshow: Counting On 2018 Preview: What Can We Expect From the Duggars This Year?



Lionel Richie Really Hopes His Daughter Stops Doing Scott Disick

Lionel Richie is not in denial.

He's well aware of what's going on between his teenage daughter and Scott Disick.

But that doesn't mean the legendary singer has to like it... or even truly accept it as legitimate.
In an interview with The Daily Telegraph this weekend, the Grammy Award winner addressed the often-drunk elephant in the room, talking for the first time about Sofia Richie choosing to actually date Kourtney Kardashian's baby daddy.
Yes, choosing.
Why would anyone choose to be with Scott Disick?
It's a question to which Lionel does not have an answer.
"She's 19," he told the aforementioned publication, adding:
"When you're 19 you know everything. Is it going to be for life? I don't know.
"But for right now it's just a phase and I'm going to stand real still in the corner, get me a good drink and not make too much noise."
That's likely the smartest course of action.
No one out there thinks Sofia will marry Scott or anything... so the relationship will likely fizzle out.
It's just taking longer to do so than we previously imagined it would.
What looked like a fling at first has evolved (devolved?) into a full-blown, steady romance, as Richie posted the above photo of herself with Disick in Valentine's Day.
She went on to write that Disick gifted her with flowers for the occasion.
Moreover, the C-Listers have taken trips to Mexico and Italy together.
What the heck, right?!?
There's a 15-year age difference between Sofia and Scott and, in case we haven't mentioned it yet, the latter is Scott Disick.
He likes to drink more than he likes to hang out with his kids and he's never come across as anything more than an attention-seeking lugnut.
Added Lionel in his interview:
"Now I know what my parents meant when I came through the door with my Afro and my girlfriend and said 'Dad, I'm in love' and [he] looked at me and said 'Okay, we're going to leave you alone for a minute and you'll figure it out.'
"My daughter is getting me back for my Afro days!"
This is one of those times where someone is clearly joking and yet... not.
Asked what Disick is like as a person, Lionel had only nice things to say. He didn't take any bait.
"From what I met of him he's a very nice guy," the artist said.
Asked why he's with Lionel's child, Disick allegedly recently praised her affection for hot sex.
Sorry, Lionel. We should have warned you prior to posting a link to that story.
Lionel Richie will soon co-host the new version of American Idol, which premieres on ABC on March 11.
So you'll be seeing a lot more of him over the coming weeks and months, just as he hopes to stop seeing Sofia and Scott together.
"When you hang around the reality world, who knows what you are really doing?" Lionel concluded.
"This is a well-oiled machine, the Kardashian machine. I don't really know what to think. I told Sofia I will have no opinion.
"I'll continue to be my cheerful self and move on."
View Slideshow: The Good, The Bad, The Lord: 23 Times Scott Disick Owned Reality TV



Rebecca Gayheart and Eric Dane: The Marriage is Over!

After 14 years, two daughters and at least one well-publicized threesome, Rebecca Gayheart and Eric Dane have decided to end their marriage.

Or Gayheart has decided to end her marriage, to be more specific.
The actress filed for divorce from her long-time husband on Friday, with Dane confirming the split to People Magazine via the following statement:
"After 14 years together we have decided that ending our marriage is the best decision for our family.
"We will continue our friendship and work as a team to co-parent our two beautiful girls as they are the most important thing in the world to us.
"We kindly ask that you respect our privacy during this time as we navigate the next phase of our lives."
Gayheart is reportedly seeking spousal support and joint legal and physical custody of their two daughters: seven-year Billie and six-year old Georgia, 6.
She cited irreconcilable differences as the cause of divorce.
Gayheart is best known for movies such as Jawbreaker and Scream 2 and for a role many years ago on Beverly Hills 90210.
Dane rose to television fame as Mark "McSteamy" Sloan on Grey's Anatomy, prior to being killed off in 2012 and then landing the lead role on TNT's The Last Ship.
He took a hiatus from the show last spring due to depression and other mental health issues, about six years after he also sought professional help for an addiction to painkillers.
"I took some time off... I was dealing with some depression, which was kind of odd to me," Dane explained on July 31 as a guest host on the Today Show.
He added at the time:
"I felt very conflicted about it because I didn't really feel like I had anything to be depressed about...
"Now I take a medication called Pristiq … and the depression is gone … I'm doing OK."
"It's a very serious thing," Dane continued.
"But it's very real, and that was the scary thing when you wake up and you're like, 'I don't want to get out of bed' … this just hit me like a truck.
"I had to take some time off, I went away and took care of it and I'm feeling great."
In 2009, meanwhile, Dane and Gayheart made headlines after a sex tape leaked that featured the couple in some compromising positions with a third party.
The 12-minute footage depicted a great deal of nudity, a lot of giggling and, we can only presume, a lot of drug use.
The other member of the famous threesome was former Miss Teen USA Kari Ann Peniche.
But anyway.
We wish Dane and Gayheart well and hope they work out an amicable resolution for the sake of their kids.
View Slideshow: 19 Most Stunning Splits in Celebrity History



Jamie Foxx Asked About Katie Holmes, Responds Like THIS

Jamie Foxx seems like a fun-loving guy.

And he and Katie Holmes seem like one of the more stable couples in Hollywood.

But this doesn't mean Jamie Foxx actually wants to discuss Katie Holmes in public.

The Academy Award nominee made that clear on Friday night during an interview with ESPN's Michael Smith.
Talking to the network prior to a celebrity basketball game, Foxx was asked the following question by Smith, who referenced a rumor about an activity in which he and Holmes recently engaged:
"I know you prepared because I saw pictures. Did you and Katie Holmes play basketball for Valentine's Day? Like some real Love and Basketball?"
Pretty innocent, right?
It's not as though Foxx was asked whether Holmes was pregnant with his baby.
But it wasn't innocent enough for the actor.
You can see him squirm and smirk in the following video, clearly uncomfortable with the inquiry and unsure how to respond.
And then he figured out that he had no interest in responding.
Foxx calmly got up, received some help taking his microphone off and slowly walked away.
He didn't cause a major scene, he just decided he had enough of the interview once it got remotely personal.
Foxx and Holmes have been together for about five years. This is a very serious romance,.
But it's also one of the most private ones in all of entertainment, which may be why it works for them and may be why Foxx didn't want to discuss it.
About that basketball rumor, though?
About how they were seen on a court in Calabasas?
"They were really happy," an onlooker told Us Weekly of their Valentine's Day date, adding:
"Katie was dancing as they walked in and Jamie was laughing. They seem really at ease and truly enjoying each other."
We'll just need to take this person's word for it.
Watch Foxx abruptly end his ESPN interview below: