Get the latest Hollywood and music industry news, hot celebrity gossip, entertainment news, photos and videos.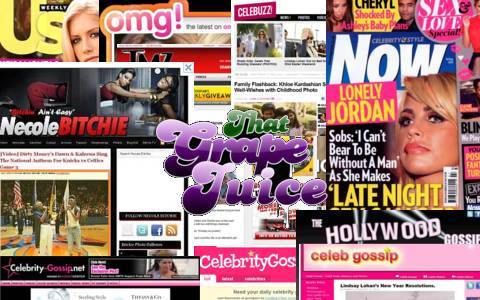 Celebrity Video Highlights
---
Celebrity BUZZ
Kylie Jenner Defending Her Tardiness Leads Today's Star Sightings Kylie Jenner will do things on her own schedule, thank you very much.



Kourtney Kardashian Slammed for Revealing Bikini Photo Leads Today's Star Sig... "Why is your son taking bikini pictures of you? Kinda weird."



Chrissy Teigen Welcomes Baby Boy with John Legend Chrissy Teigan has given birth to a baby boy!



Olivia Culpo Sparking Nick Jonas Dating Rumors Leads Today's Star Sightings Should they get back together?



T.I. Blames Public Intoxication Arrest on "White Cops" T.I. says that he was unlawfully arrested outside his home.



Portia de Rossi Reveals She Has Quit Acting Porta de Rossi is switching from acting to 3-D printing.



13 Reality TV Hoaxes You Totally Fell For

Admit it: you've been had at some point in the past, haven't you?

You thought what you were watching on reality television was 100% real, only to later learn the devastating truth.

We've all been there. And now we can all be here: relive the most shocking reality TV show hoaxes in history below...

1. Dance Moms
We'll just let Maddie Ziegler, arguably the show's top performer, lay it right out for you, courtesy of an interview with USA Today: "The producers set it up to make us all yell at each other. You know how I said that moms do fight? The moms have a fake fight sometimes. Afterward they just start talking and laugh about it." Host Abby Lee Miller really does suck, however. that's not fake. 2. House Hunters
Bobi Jensen blogged in 2012, on a site titled "Hooked on Houses," that her experience on House Hunter was totally contrived. Turns out, the couple had selected its home prior to appearing on the show and producers even changed Jensen's story over why she was moving. 3. Breaking Amish
Can we change the title of this TLC series to "Having Already Broken Amish?" After the very first episode aired, it came out that most participants had already left their Amish family for the bright lights of the big city. 4. Storage Wars
Dave Hester, a prominent presence on A&E's Storage Wars, left production and sued the network over the phony aspects of the show. He said producers loaded units up with items to give each episode an artificial angle and that they even funneled money to teams to keep each episode's bidding competitive. 5. Ghost Adventures
Ghost Adventures star Aaron Goodwin was fired in 2014 after he stopped by the podcast Are We Alone and explained how the network staged reactions, sound effects and other aspects of the program. He said it was "sickening" that he was part of such a "fraud." 6. The Hills
Lauren Conrad, Brody Jenner and other cast members have come out and said pretty much everything you saw on this MTV reality show as scripted. Shocking, we know! View Slideshow



Arie Luyendyk Jr. and Lauren Burnham Announce Wedding Date! Location!

Arie Luyendyk Jr. and Lauren Burnham are here to steal Becca Kufrin's thunder.

Once again.

With Becca set to debut as The Bachelorette this coming Monday, Arie and Lauren went out of their way on Wednesday morning to upstage their nemesis and make a major announcement...
The controversial couple has announced its wedding date!
And its wedding location!
(We're mostly kidding about the whole nemesis thing, but Arie did dump Becca on national television after The Bachelor finale and then propose to Lauren on the After the Rose special that same night.)
"We are very excited to tell you guys that we have booked a venue," Burnham said on The View today. "We're getting married in Hawaii on January 12th next year!"
Arie then provided a few more details:
"It's in Maui - it's at Haiku Mill which has this beautiful, old world feel with a lot of vines and greenery.
"It's not your typical beach wedding. And it's a private wedding, so not on TV - just a close group of friends. Probably 100 guests."
Wow. We're actually surprised by this last part of Arie's statement.
Based on the way he and Lauren have acted and a few things they've said, we simply assumed the stars would get married on television.
(Then again, we also assume they won't even make it to the altar because, come on, does any couple who supposedly fell in love on The Bachelor?)
"We're just really happy with each other and we vibe well together," Lauren said. "We're best friends, so we're just ready for that next step."
She even said they would take this marital step "tomorrow" if they could, but there's too much to plan for that to be realistic.
Arie, of course, proposed to Kufrin to wrap up his season as The Bachelor.
Two months later, he broke up with her... while network cameras rolled.
He then asked for Lauren's hand in marriage, stunning viewers who had witnessed the Becca proposal just an hour or so earlier in real time on their TV.
"It was a big risk to do what I did and I know that it wasn't a popular decision. But it was a decision I had to make for myself. … I knew that Lauren was the person I was supposed to be with," Luyendyk Jr. said of the moment.
He continued:
"I never watched the finale, so we don't really know how that breakup looked on TV. But breakups are hard, and I think that everyone handles it in a different way.
"They say it was unedited, but it was edited. You're not in control of the editing room and you can't really control what they show."
No one out there blames Arie if his heart told him to go with Lauren instead of Becca.
But Luyendyk has shaded Kufrin here and there for some reason and he could have chosen to end their engagement in private, as opposed to in front of millions of people.
However, don't expect Arie or Lauren to apologize for how they ended up here.
"Our relationship is so unique and it's nothing that I've ever had before," Burnham said, concluding today:
"So the fact that he was willing to take that risk and all of America hating him to be with me, that means a lot to me."
View Slideshow: The Bachelor Veterans Blast Arie, ABC for Cruel Finale Break-Up



R. Kelly: Sued for Alleged Sexual Battery, False Imprisonment

The allegations about R. Kelly's sex cult house of horrors are enough to keep you up at night. And they just keep coming.

While the Time's Up movement pushes to #MuteRKelly, yet another woman who says that she was one of his victims is speaking out.

In fact, she's taking him to court.
In court documents filed in a New York lawsuit and obtained by E!, Faith Rodgers accuses Kelly of a number of things.
She says that he would lock her in secluded areas for extended periods of time as punishment.
She accuses him of "willfully, deliberately, and maliciously" infecting her with herpes.
R. Kelly is accused of recording her without her consent during sexual contact.
He is accused of both forceful and non-consensual sexual contact with Faith.
She also says that he inflicted mental, sexual, and verbal abuse upon her during their relationship, which spanned for nearly a year.
Faith's attorney, Lydia C. Hills, explains why they filed this lawsuit in New York.
"The criminal investigation is still ongoing in the state of Texas."
It comes down, in part, to jurisdiction.
"We have decided to file the civil suit in New York, as this is the location where the initial sexual contact and several other incidents took place."
Faith herself shares her horrifying allegations about that initial contact, below.
"My goal is simply to obtain justice for my client, and hopefully, prevent this from happening to anyone else."
They are seeking damages in a jury trial.
In an interview with CBS This Morning, Faith describes an upsetting-to-read encounter with R. Kelly that took place in New York.
"He turns on all the lights and he's like, 'Take off your clothes' and he says it with authority in his voice."
That is unsurprising from a man who is accustomed to having women obey his every command.
"I didn't take off my clothes because why would I? I just wasn't ready for sex."
Unfortunately, he then forced non-consensual sex upon her, Faith alleges.
"He has this type of like intimidation right off the bat, so I was just waiting for it to be over."
On top of that, she says that he did not warn her that he had herpes.
R. Kelly is accused of keeping women as "pets," and we are all too familiar with accusations of him isolating them and depriving them of food.
Faith says that she got out before she was fully part of his traveling group of kept women.
She does, however, describe why she accuses him of false imprisonment.
She says that Kelly allegedly locked her in a car for eight hours.
Faith's next words may send a chill down your spine as you take in the scope of R. Kelly's alleged victims.
Faith believes that the abuse was all to prepare her to become another one of his "pets."
"He goes on to tell me that he raises five women -- some of them have been with him for 15 years and he basically was trying to make it seem like it was a family thing."
Creepy. And those words are very familiar.
"Raising" is a word fans have heard before, in references to women whom R. Kelly allegedly "trained" since they were minors.
Including an alleged 14-year-old sex slave.
It sounds like some women have lost their entire lives to Kelly. Faith, at least, got away from what her life might have been with Kelly.
R. Kelly has always strongly denied the allegations against him.
View Slideshow: Hollywood Sex Scandal: Who's Been Caught? Accused? Fired?



Jenelle Evans & David Eason: The Haters Want Us to Get Divorced!

Divorce rumors seem to circulate non-stop for just about every married couple in the Teen Mom franchise.

(With the exception of Cole DeBoer and Chelsea Houska, of course. No one seems to doubt that those two are in it for the long haul.)

But there's only one marriage that fans actively want to fail:
Yes, every time there's a new report that Jenelle Evans and David Eason are getting divorced, a certain segment of the Teen Mom 2 fandom jumps for joy.
It's not so much that they all want Jenelle to be miserable (although some certainly do).
It's more that the longer the Evans-Eason marriage continues, the more likely it is to end in disaster.
And since the couple has five kids between them, most viewers would like to see them call it quits before any irreparable harm is done.
But no matter how much you tweet or how many David- and Jenelle-shaped voodoo dolls you lock in separate cabinets, it seems Ensley's mom and dad are still going strong.
It's a sad fact that fans were reminded of during this week's episode of Teen Mom 2.
The drama-packed reunion special saw Jenelle flipping out on just about every adult in her life except for David.
At one point, she absolutely lost it on Nathan Griffth's girlfriend, Ashley Lanhardt, for daring to hug her mother, the infamous Barbara Evans;
"Because you wanna hug my mother in front of everyone," Jenelle shrieked in an attempt to justify her tantrum.
"Me and my mom have turmoil right now." 
This, among other things, caused Babs to lose it:
"You f-cking b-tch! I have never seen you like this ever," she told Jenelle.
"Even on drugs, you didn't act like this."
At that point, David stepped in, because of course, he did:
"You're right, Barb, you've never seen her like this because you've never seen her stand up for herself."
David probably thought that was a witheringly clever comment, and amazingly, Jenelle agreed with him.
It was then that she made the remark that forced those are eagerly hoping for a Jenelle-David breakup to abandon all hope:
"I love how everyone hates us so much, but we're so in love and happy with each other that it's just like we don't give a f--k," Jenelle stated.
"Nothing's wrong with us."
Obviously, Jenelle has said a lot of questionable things over the years - but that last sentence might be her most ridiculous to date.
Watch Teen Mom 2 online to remind yourself of just ridiculous Jenelle and David truly are.
View Slideshow: David Eason Taunts Kailyn Lowry: You Deserve to Get Your Ass Kicked!



Meredith Phillips, Former Bachelorette Star, Says She Was Drugged and Assault...

Meredith Phillips, the star of ABC's Bachelorette back in 2004, said this week on a podcast that she was drugged and sexually assaulted by a crew member on the set of this long-running ABC reality show.

It's a damning and troubling accusation.
Per Reality Blured, Phillips made this allegation while speaking to Steve Carbone (aka Reality Steve) in response to a question about the most challenging aspect of production.
"Well, besides being always really tired and some of the producers were - how do I say this? Helpful but not helpful, in terms of trying to make me relax," Phillips replied, somewhat mysteriously.
She then elaborated:
"Normally, I wouldn't talk about this, but I'm going to tell you because it's bothered me for years.
"And I know another friend of mine who was working on the show felt the same experience I did, about getting roofied and in a hot tub and kind of accosted."
Wait... what? Roofied?
As in: someone drugged Phillips and took advantage of her?
Yes, she says.
The allegedly awful deed was done by "a masseuse that a producer hired to come into my room and to give me a massage," says Phillips.
The ex-reality star says she assumed the pill this person gave her was an "aspirin or something to loosen up my back." But...
"It definltey wasn't that, that's for sure. The last thing I remember was she got naked and she was in the tub with me, and rubbing my back and rubbing areas probably she shouldn't have.
"And then I was put in bed. I woke up naked. Don't remember much."
Yikes. That's extremely disturbing to hear.
Phillips, whose season of The Bachelorette was filmed in 2003 and aired in early 2004, said that the experience was "hard for me to talk about because I think I've put it somewhere else in my brain."
She was rejected by Bob Guiney on The Bachelor Season 4, finishing as the third runner-up, prior to starring as The Bachelorette and selecting Ian McKee as her winning suitior.
The couple broke up in February of 2005.
Thinking back on this horrifying incident, Phillips said once whatever she had taken kicked in, "I literally couldn't even move my body, so I have no idea what the pill was, at all.
"All I know is that I was told that, 'This will make you feel better.'"
ABC is yet to address this charge, but we'd expect the network to make a statement at some point.
Why didn't she leave the series after this happened?
There was "definitely a part of me" that wanted to, she acknowledges, "but I am also the kind of person that finishes what she starts...
"It is a huge deal. I have worked through it."
The story has come out just days before Becca Kufrin debuts as The Bachelorette on Season 14.
View Slideshow: The Bachelorette Season 14: Who Are Becca's Men?



Ariana Grande DESTROYS Claim That She Caused Mac Miller DUI

Earlier this month, Ariana Grande and Mac Miller split after almost a year of dating.

About a week later, Mac Miller was arrested for a DUI hit-and-run. That's no laughing matter.

When a fan took to Twitter to accuse Ariana of being somehow at fault for Mac's troubles, Ariana shut that down in the best way.
Following Ariana Grande's powerful BMA's performance, she's been a topic of conversation -- even more than usual.
Someone on Twitter apparently needed to get some thoughts about Ariana off of their chest, and on Monday, tweeted:
"Mac Miller totalling his G wagon and getting a DUI after Ariana Grande dumped him for another dude ..."
We should interject here that this is referring to Ariana's reported "very new" relationship with Pete Davidson, to which we referred on the anniversary of the Manchester Arena Bombing.
"... After he poured his heart out on a ten song album to her called the divine feminine is just the most heartbreaking thing happening in Hollywood."
Really? He couldn't think of anything more heartbreaking than that happening in Hollywood?
Ariana clapped back, hard. As one Twitter user phrased it: "ARIANA! HAD! TIME!" Because she is not mincing words.
"How absurd that you minimize female self-respect and self-worth by saying someone should stay in a toxic relationship because he wrote an album about them."
She also takes the time to correct a misconception, though of course no amount of art obligates someone to stay in a relationship.
"Which btw isn't the case (just Cinderella is about me)."
She emphasizes that she was Mac's girlfriend.
"I am not a babysitter or a mother and no woman should feel that they need to be."
She was also not his nurse or his therapist.
She says that she's careda bout his health and well being, starting long before they were dating.
"I have cared for him and tried to support his sobriety and prayed for his balance for years."
She clarifies that their breakup doesn't change her desire for him to be happy and healhty.
"(And always will, of course)"
She continues, however.
"But shaming and blaming women for a man's inability to keep his s--t together is a very major problem."
There is so much of that in the world.
"Let's please stop doing that."
Keep in mind that some have tried to blame one of the victims for last week's Sante Fe High School shooting because she rebuffed the shooter's sexual harassment.
"Of course I didn't share about how hard or scary it was while it was happening but it was."
Most people in relationships don't tell you what it was really like while it's happening. That absolutely applies to people who are dating people with substance abuse issues.
"I will continue to pray from the bottom of my heart that he figures it all out."
She is such a sweetheart.
"And that any other woman in this position does as well."
She ends her epic shutdown with a simple outline of a heart.
The person who posted the original tweet wrote up a lengthy response, saying:
"I'm really sorry this is something you took the time to read and that upset you enough to make such a thoughtful reply."
"I know nothing about your relationship and the heartache you both feel."
"I in no way think you are the cause of Mac's shortcomings. We all have our demons to keep at bay, and I truly worry about his well being."
"I am very sorry I hurt you and I'm sorry you feel my tweet stigmatizes women for ending a toxic relationship. That wasn't my intention at all."
It's safe to say that most people who write about a celeb without actually using their Twitter handle or any tags don't expect an interaction.
When there is a response, it's usually in the form of a "like" or perhaps a heart emoji, because most people have positive things to say.
There is no way that this person was expecting Ariana to see their post. They weren't trying to be cruel, they were just placing blame in the wrong place.
And we think that they learned their lesson.
Ariana is such a strong voice and such an inspiration. She's the hero that this world needs.