Get the latest Hollywood and music industry news, hot celebrity gossip, entertainment news, photos and videos.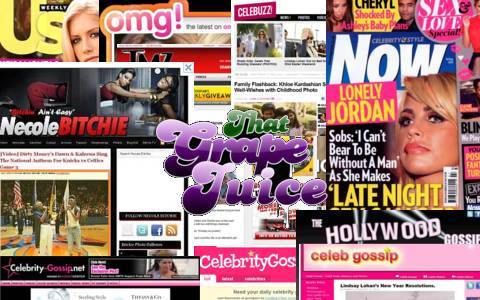 Celebrity Video Highlights
---
Celebrity BUZZ
When Bae Gets Paid What happens when bae thinks she can ball out till she busts? We've all dated that one person who just cannot handle having money burn holes in their pockets. One day they're living off ramen noodles and the next it's five star restaurants and shopping sprees, only to be right back where they started once the cash dries up. Then again, what's the point of making money if you're not going to spend it on anything, right? Also be sure to check out the AMAZING deals on everything from kids' clothes to coffee mugs at Zulily!! Sign up today by clicking HERE, all you need is an email address!!



When the Fall Weather Can't Make Up Its Mind It's that time again when it's officially fall on the calendar, but it's still too hot to wear your new fall outfits from your fall haul. So infuriating! Is sweater weather too much to ask for? I don't think so sun! We shouldn't be getting summer sunburns anymore. We should be enjoying hayrides on a windy fall day. The weather needs to make up its mind. No more going back and forth between the air conditioner and being buried under blankets. Get it together fall weather.



How to Cope With Stress in Your Relationship Do the smallest things stress you out in your relationship? Maybe you can't get your winged eyeliner to match on both sides. And maybe your bf doesn't empathize with your struggles. It's okay because we all have to learn how to cope with our stress. Barbie is an expert on figuring out what bothers her so much so watch her find the solution to her problems in this latest episode! CoupleThing Independent Work: This video is not intended to depict actual people, characters or entities or to suggest any association with or sponsorship by any person, company, or entity. It is intended for the purposes of entertainment and uses satire and parody. It depicts entirely fictional situations and characters, and is the product of our CoupleThing imagination, alone.



When Bae Can't Handle Directions Everyone knows it's never your fault if you get lost... it's your boyfriend or girlfriend's! Some people just can't read a map to save their life, which is ridiculousness because now with apps like waze, uber, and even google maps, it seems like it's near impossible to get lost with all this technology around. Unfortunately some people just can't get it right and a simple right hand turn could leave you stuck on a trash barge in the middle of a river or something.



How Bae Feels About Halloween Halloween might just be bae's favorite holiday! This year she tries to get her bf to dress up with her. They are drawing inspiration from one of the most infamous fights of the season. Unless you live under a rock, you've heard of the debacle between Cardi B and Nicki Minaj during New York Fashion Week. We who better to portray Cardi B than our favorite relationship role model Barbie? Let's just hope she didn't spend too much money on all the shoes! Baelievers would your gf ever force you to dress up like Nicki minaj? Would you ever wear a Cardi B costume?



When Bae Has Trust Issues Everyone in a relationship has had at least one moment where they question what their significant other is up to when they're acting sneaky. Sneaky significant others are the cause of trust issues! Whether it's not wanting you to look at their cellphone, leaving the room when someone calls, or lying about staying late at work, that's all cause for suspicion. It's like they're asking you to have trust issues! Sometimes you just have to turn into a ninja spy to get to the bottom of what bae is doing.



13 Reality TV Hoaxes You Totally Fell For

Admit it: you've been had at some point in the past, haven't you?

You thought what you were watching on reality television was 100% real, only to later learn the devastating truth.

We've all been there. And now we can all be here: relive the most shocking reality TV show hoaxes in history below...

1. Dance Moms
We'll just let Maddie Ziegler, arguably the show's top performer, lay it right out for you, courtesy of an interview with USA Today: "The producers set it up to make us all yell at each other. You know how I said that moms do fight? The moms have a fake fight sometimes. Afterward they just start talking and laugh about it." Host Abby Lee Miller really does suck, however. that's not fake. 2. House Hunters
Bobi Jensen blogged in 2012, on a site titled "Hooked on Houses," that her experience on House Hunter was totally contrived. Turns out, the couple had selected its home prior to appearing on the show and producers even changed Jensen's story over why she was moving. 3. Breaking Amish
Can we change the title of this TLC series to "Having Already Broken Amish?" After the very first episode aired, it came out that most participants had already left their Amish family for the bright lights of the big city. 4. Storage Wars
Dave Hester, a prominent presence on A&E's Storage Wars, left production and sued the network over the phony aspects of the show. He said producers loaded units up with items to give each episode an artificial angle and that they even funneled money to teams to keep each episode's bidding competitive. 5. Ghost Adventures
Ghost Adventures star Aaron Goodwin was fired in 2014 after he stopped by the podcast Are We Alone and explained how the network staged reactions, sound effects and other aspects of the program. He said it was "sickening" that he was part of such a "fraud." 6. The Hills
Lauren Conrad, Brody Jenner and other cast members have come out and said pretty much everything you saw on this MTV reality show as scripted. Shocking, we know! View Slideshow



Maci Bookout: Ryan Edwards Put Me Through Hell ... But I Still Love Him!

Things got emotional on last night's episode of Teen Mom OG.

For years, Ryan Edwards substance abuse issue has been creating chaos not only for his wife, but for his ex and her family, as well.

Through it all, Maci Bookout has made it clear that she very much wants her son to have a relationship with his father -- but Bentley's safety has to come first.

So as Ryan' stint in rehab came to an end, Maci was as nervous as anyone.

And she reached out to Ryan's parents to share her concerns.

Take a look:

1. Hard Times
Ryan and Maci have struggled to co-parent peaceably in recent years, largely due to his substance abuse and legal issues. 2. Downward Spiral
Ryan has been arrested three times in the past 18 months. 3. Protecting Her Family
Earlier this year, Maci was forced to file for an order of protection against Ryan after he threatened violence against her husband. 4. A Difficult Decision
That meant, of course, that Ryan was unable to have any contact with his son Bentley. 5. Picking Up the Pieces
These days, Ryan is fresh from rehab, and he has a second son, who was born while he was in treatment. 6. Turning It Around
With the help of his wife, Mackenzie Standifer, Ryan is reportedly sober, and insiders say he's fully committed to staying that way. View Slideshow



Gwen Stefani: I'm Too Traumatized to Marry Blake Shelton ...

Gwen Stefani is on a mission to spread Christmas cheer ... and to try to force her fans to like Blake Shelton.

In a new interview, the singer isaddressing rumors of secret Gwen and Blake weddings that so many fans have heard.

She says that one of the factors influencing their choices is trauma from past relationships.
Gwen Stefani is happy to announce that, despite rumors, there is "zero pressure" in their relationship.
The interviewer refers to Ellen DeGeneres joking that Blake had confirmed to her that he and Gwen are engaged.
In that interview, Gwen of course told Ellen and her audience: "No he -- no, we're not!"
Now, Gwen explains that "there is zero pressure."
"I think that when there's trauma the way that we had trauma back in the day," Gwen says.
She refers to her contentious split from Gavin Rossdale and Blake's even harder split from Miranda Lambert.
"Like," Gwen continues. "Going through all these hard times to get to a place where you find somebody that's your best friend."
"That you know that you can depend on and trust and just go through life," Gwen adds.
She's been through a lot of emotional upheaval to get to where she is.
She's in no hurry, she explains, to change things up.
"I think that we'll just try and be in the moment as much as we can," Gwen says.
As to whether Blake is her forever man, she says: "I hope so! I hope so."
Gwen admits that there were times when she couldn't imagine the happiness and stability that she currently has in her life.
"I never thought I would get this moment," Gwen confesses.
"So it's just really special," she explains.
After all of the rumors of secret engagements and multiple secret weddings, it's good for fans to hear an explanation.
Some expected that she and Blake would remarry right away.
It is great to see her taking her time.
Gwen also spoke further about their relationship as she discussed filming a music video with Blake.
Apparently, despite being a music star in his own way within the Country Music community, Blake hates filming music videos.
Some musicians feel awkward or inauthentic filming them, even though they can help push songs and become works of art.
The fact that Blake was part of Gwen's video is very sweet and shows how willing he is to indulge her.
That said, a sizable portion of Gwen's fans have seen more than enough of Blake for their liking.
Seeing him in a music video is not what they want.
But he's part of Gwen's life. They will need to accept that.
Gwen's interview made reference to her interview with Ellen.
A source close to Blake told HollywoodLife that Blake was very amused by it.
"Blake thought Gwen's interview with Ellen [DeGeneres] was absolutely adorable," the insider shared.
"She looked gorgeous and was so smart and funny," the source noted.
The insider revealed: "He's watched the video at least ten times now, and it still makes him smile."
That is, admittedly, very cute.
Khloe Kardashian Destroys Troll Who Claims Kim Isn't Chicago's Real Mom
Apparently, some so-called fans are still confused over what Chicago West being born via surrogacy really means.
When Kim Kardashian posted an innocuous photo, some very confused troll claims that Kim and Chicago aren't actually related at all.
It fell to Khloe to set the fool straight, and she did not mince words. Take a look:
Kim Kardashian shared this throwback of her as an adorable young girl.
"Always gorgeous just like both of your baby girls!!!!" Khloe gushed in the comments. "Blessed!!!"
(Apparently, Saint can just choke, or Khloe is weirdly fixated on gendering her compliments)
Kim's family weren't the only ones to take notice.
Her fans raved over the throwback pic, and some of them observed how much young Kim looks like her youngest daughter.
But a comment that attracted a lot of attention came from none other than Kylie Jenner.
"Omg Chicago," Kylie wrote sweetly.
One followers -- and it's unclear if they're confused, a troll, or a conspiracy theorist -- didn't care for that comparison.
Instead, they tried to "correct" Kylie over seeing a similarity between mother and daughter.
The commenter wrote that Chicago "would either look MORE like Kanye or the surrogate mother."
That is, of course, not accurate.
As we all know, Kim had a gestational carrier -- often colloquially referred to as a surrogate.
Kim's egg and Kanye's sperm were used to create the zygote that eventually became Chicago.
The "surrogate" contribute a womb, not chromosomes.
Khloe took it upon herself to educate this misguided soul.
"If you don't really know about someone's situation," Khloe suggests. "Then maybe you shouldn't comment."
That's good advice for most circumstances.
"Try informing yourself first before you make such silly statements doll," Khloe writes.
Khloe uses some terms of endearment in otherwise hostile messages and ... she really missed her calling as a southerner.
She continues: "Your passive wanna be petty comment is simply uneducated."
"Chicago is completely Kimberly's biological child," Khloe affirms.
We all knew that, but allegedly this commenter did not, even though it was explaineda  bajillion times in 2017.
"Praise the lord she was able to have a surrogate," Khloe exclaims.
Not every family has the means to do so.
"And," Khloe concludes. "That we are blessed with sweet gorgeous Chi Chi."
The fan -- or troll -- seemed to still not get it.
"I never said the baby wasn't beautiful [face with tears of joy emoji]," the commenter replied. "SHE DEFINITELY IS,"
"But," the commenter insisted. "She did have a surrogate."
"So," the commenter doubled down. "The baby would either look MORE like Kanye or the surrogate mother."
"That's all love," the commenter signed off.
That is just ... still wrong. The womb doesn't magically imbue genetic characteristics upon a baby.
"I am not saying you said that love," Khloe replies.
Khloe continues: "I am saying you must be more informed before speaking on something that you don't know anything about apparently."
"Chicago is Kimberly's DNA," Khloe oh-so-patiently explains.
"Her and her husband made embryos," Khloe spells out. "And then they were blessed enough to have a surrogate carry their child for them."
If you heat up chili with cheese in a microwave, it doesn't come out microwave flavor.
The gestational carrier is the microwave in this analogy, folks. Kim and Kanye are the chili and cheese.
Khloe notes that this was important "since Kimberly is unable to."
"God bless modern medicine," Khloe concludes.
The lesson here is to not assume you know more than someone's own family, and to only be a know-it-all if you actually know anything.
View Slideshow: Kim Kardashian & Family: 19 Conspiracy Theories That May Actually Be True (Okay, Some of Them)



David Eason Gives Jenelle a Bath, Instagram Users Recoil in Abject Horror

Strange things are taking place on Jenelle Evans' aluminum shed-strewn country estate known affectionately as The Land.

The amazing thing about Jenelle and David Eason is that their lives are so absurd that even though he's been fired from Teen Mom 2 and she won't be appearing in new episodes until next month, there's still so much drama in their lives that it can be hard to keep up.

Fortunately, we're here to help.

In case you haven't heard, today has been one for the books, with Jenelle lashing out at her bosses, bragging about her physique and receiving a sponge bath from her husband for some reason.

Take a look:

1. Life on the Land
Ever since October, Jenelle and David have been locked into the sort of downward spiral that's usually reserved for iconic rock musicians who have recently celebrated their 27th birthday. 2. The Incident
It started with Jenelle accusing David of assaulting her, then quickly backpedaling on that claim. 3. The Right Move
Not long after, Jenelle and David briefly broke up, but alas, they've since gotten back together. 4. One Angry Guy
From there, the situation deteriorated rapidly, thanks in large part to David's bizarre social media activity. 5. David's Got Some Guns
Eason even received a visit from the Secret Service last week after posting violent threats about Donald Trump, Nancy Pelosi, and other elected officials. 6. Taking a Break?
You'd think after so much insanity over a period of just a few weeks, David and Jenelle would keep a low profile for a few days. View Slideshow



Penny Marshall Dies; Film and TV Legend Was 75

Sad news out of Hollywood today, as actress, comedian, and filmmaker Penny Marshall has passed away at the age of 75.

According to TMZ, Marshall passed away due to complications from diabetes.
Born in the Bronx in 1943, Marshall first gained fame for her work as Laverne DeFazio on the 1970s sitcom Laverne & Shirley.
The show ran for seven seasons and made Marshall a household name.
But it may be her work behind the camera for which Marshall is best known to younger audiences.
In the '80s and '90s, Marshall directed a string of wildly successful films, including such modern classics as Big, Awakenings, and A League of Their Own.
She was a frequent collaborator with her brother Garry Marshall, himself an iconic figure for his work on both sides of the camera.
A prolific artist up to her final days, Marshall has appeared in cameo roles in The Simpsons, Entourage, and Sam & Cat, the Nickelodeon sitcom that first introduced the world to Ariana Grande.
Growing up on the Bronx's Grand Concourse along such future luminaries as Neil Simon, Calvin Klein, and Paddy Chayefsky, Marshall was surrounded by show business from a young age.
She eventually married one of her childhood neighbors, Rob Reiner, though the couple divorced after ten years.
"When Rob Reiner and I were children, we lived across the street from each other. We never met because the Grand Concourse was a busy street, and we were too young to cross it,'' Marshall said in 2012 interview.
"He went to PS 8, I went to 80. He moved when he was 7. His father, Carl, was one of the stars on Your Show of Shows, and he was the most famous person in the neighborhood. He was also known for giving out the best Halloween candy."
Insiders say Penny lapsed into a deep depression in the past two years, following the death of her best friend Carrie Fisher and her brother Garry.
Family and friends were reportedly concerned that Marshall had stopped properly caring for herself, but at this time it's not known if anything could have been done to prevent her passing.
Our thoughts go out to Marshall's friends and family during this difficult time.
View Slideshow: Celebrities Who Died in 2018: In Memoriam