Get the latest Hollywood and music industry news, hot celebrity gossip, entertainment news, photos and videos.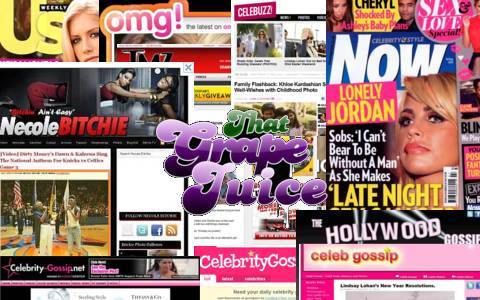 Celebrity Video Highlights
---
Celebrity BUZZ
When the Fall Weather Can't Make Up Its Mind It's that time again when it's officially fall on the calendar, but it's still too hot to wear your new fall outfits from your fall haul. So infuriating! Is sweater weather too much to ask for? I don't think so sun! We shouldn't be getting summer sunburns anymore. We should be enjoying hayrides on a windy fall day. The weather needs to make up its mind. No more going back and forth between the air conditioner and being buried under blankets. Get it together fall weather.



How to Cope With Stress in Your Relationship Do the smallest things stress you out in your relationship? Maybe you can't get your winged eyeliner to match on both sides. And maybe your bf doesn't empathize with your struggles. It's okay because we all have to learn how to cope with our stress. Barbie is an expert on figuring out what bothers her so much so watch her find the solution to her problems in this latest episode! CoupleThing Independent Work: This video is not intended to depict actual people, characters or entities or to suggest any association with or sponsorship by any person, company, or entity. It is intended for the purposes of entertainment and uses satire and parody. It depicts entirely fictional situations and characters, and is the product of our CoupleThing imagination, alone.



When Bae Can't Handle Directions Everyone knows it's never your fault if you get lost... it's your boyfriend or girlfriend's! Some people just can't read a map to save their life, which is ridiculousness because now with apps like waze, uber, and even google maps, it seems like it's near impossible to get lost with all this technology around. Unfortunately some people just can't get it right and a simple right hand turn could leave you stuck on a trash barge in the middle of a river or something.



How Bae Feels About Halloween Halloween might just be bae's favorite holiday! This year she tries to get her bf to dress up with her. They are drawing inspiration from one of the most infamous fights of the season. Unless you live under a rock, you've heard of the debacle between Cardi B and Nicki Minaj during New York Fashion Week. We who better to portray Cardi B than our favorite relationship role model Barbie? Let's just hope she didn't spend too much money on all the shoes! Baelievers would your gf ever force you to dress up like Nicki minaj? Would you ever wear a Cardi B costume?



When Bae Has Trust Issues Everyone in a relationship has had at least one moment where they question what their significant other is up to when they're acting sneaky. Sneaky significant others are the cause of trust issues! Whether it's not wanting you to look at their cellphone, leaving the room when someone calls, or lying about staying late at work, that's all cause for suspicion. It's like they're asking you to have trust issues! Sometimes you just have to turn into a ninja spy to get to the bottom of what bae is doing.



When Bae is Basic There are a lot of fights that couples get into. But nothing bothers your bf or gf more than being called a basic bitch. That is the truth. In the latest episode, Barbie's new friends explain the definition of what makes a person basic. Often times we don't even know we are! The solution is to have a Basic Bitch Bout! Who do you think won? Barbie or Ken? Comment below! CoupleThing Independent Work: This video is not intended to depict actual people, characters or entities or to suggest any association with or sponsorship by any person, company, or entity. It is intended for the purposes of entertainment and uses satire and parody. It depicts entirely fictional situations and characters, and is the product of our CoupleThing imagination, alone.



13 Reality TV Hoaxes You Totally Fell For

Admit it: you've been had at some point in the past, haven't you?

You thought what you were watching on reality television was 100% real, only to later learn the devastating truth.

We've all been there. And now we can all be here: relive the most shocking reality TV show hoaxes in history below...

1. Dance Moms
We'll just let Maddie Ziegler, arguably the show's top performer, lay it right out for you, courtesy of an interview with USA Today: "The producers set it up to make us all yell at each other. You know how I said that moms do fight? The moms have a fake fight sometimes. Afterward they just start talking and laugh about it." Host Abby Lee Miller really does suck, however. that's not fake. 2. House Hunters
Bobi Jensen blogged in 2012, on a site titled "Hooked on Houses," that her experience on House Hunter was totally contrived. Turns out, the couple had selected its home prior to appearing on the show and producers even changed Jensen's story over why she was moving. 3. Breaking Amish
Can we change the title of this TLC series to "Having Already Broken Amish?" After the very first episode aired, it came out that most participants had already left their Amish family for the bright lights of the big city. 4. Storage Wars
Dave Hester, a prominent presence on A&E's Storage Wars, left production and sued the network over the phony aspects of the show. He said producers loaded units up with items to give each episode an artificial angle and that they even funneled money to teams to keep each episode's bidding competitive. 5. Ghost Adventures
Ghost Adventures star Aaron Goodwin was fired in 2014 after he stopped by the podcast Are We Alone and explained how the network staged reactions, sound effects and other aspects of the program. He said it was "sickening" that he was part of such a "fraud." 6. The Hills
Lauren Conrad, Brody Jenner and other cast members have come out and said pretty much everything you saw on this MTV reality show as scripted. Shocking, we know! View Slideshow



Columbus Short: Kim Kardashian is Controlling Kanye With WITCHCRAFT!

After Kanye West's bizarre Oval Office visit in which he doubled down on his support for Donald Trump, his former fans are scratching their heads.

But a former Scandal actor believes that he can explain Kanye's strange behavior.

Columbus Short accuses Kim Kardashian of using witchcraft to torment and control her husband.
Disgraced former Scandal actor Columbus Short took to social media, sharing an image in which Kim smiles for the camera while Kanye stares into the distant.
"I post this picture for one reason and one reason only," Columbus writes.
He then writes that his purpose is "to expose witchcraft."
Yes, you read that correctly. No, this is not an early Halloween prank.
"This," Columbus claims. "Is what it looks like."
We guess that about half the students in any early morning math class anyone's ever taken are also under the thrall of witches, then.
"Its [sic] a unaddressed issue but real and present right now," Columbus continues.
He goes on to claim that: "Both men and women all over the WORLD are unknowingly being tormented by witchcraft."
"And this," he says. "Is what it looks like."
"You can call me crazy," he very correctly states. "But I suggest you guys do your research."
Obviously, no amount of actual research is going to validate his claims.
There are plenty of people whose personal spiritual practices can be described as witchcraft.
They come from a number of faiths or may not subscribe to any religion.
But they are very much not mind-controlling anyone, least of all Kanye West.
Some might say that a little mind-control would do Kanye some good right about now.
Easily the best thing about Columbus' witchcraft theory is the replies.
Sure, some of them are people agreeing with him and warning that they fear for his life since he's "exposing" this "truth."
One person tweeted: "You Already Know What's going on in The Devil Illuminati Industry," which is one hell of a sentence.
Others are arguing with him ... saying that it's not witchcraft mind-control, but MK Ultra mind-control.
Social media is amazing.
This is a little like when Flat Earth "Theorists" start espousing their views, only to get arguments from Hollow Earth theorists.
To the rest of us, one theory seems about the same as the other.
But that's because two concepts, each equally divorced from reality, seem equally absurd.
To those who really believe them, however, it makes all of the difference in the world.
It seems that Columbus really, truly believes that Kim has hexxed Kanye.
On a more serious note, Columbus referring to "torment" by "witchcraft" brings to mind his arrest warrant from just last month.
The warrant was issued in September after he failed to appear in court for a divorce proceeding.
His divorce from Tuere Tanee Short began all the way back in 2014, around the time of his arrest for domestic violence.
She filed for divorce after he threatened to kill her and himself, and she was granted a temporary restraining order at the time.
He has also been accused of other acts of violence, including violence against another woman's child and threatening to kill Jamie Foxx for some reason.
It is unclear if he believes that his life setbacks are the results of sabotage by witchcraft. They are clearly his own fault.
Kanye's behavior has been worrisome to a lot of his fans, and people seem desperate for an explanation.
Some think that Kim is just not good for him.
Others choose to blame mental illness, as if there aren't millions of people with mental illness who manage to not be terrible.
Now, an accused domestic abuser thinks that Kanye is under a witch's mind-control.
When, we wonder, are people going to stop making excuses that turn Kanye into the victim.
Maybe Kanye West is just ... bad. And maybe he has been bad all along, and people can no longer find easy excuses to ignore it.
View Slideshow: 14 Things Kanye West Actually Said in His Meeting with Donald Trump



Selena Gomez: Was Her Breakdown Caused By Justin Bieber's Marriage?

Last month, fans were stunned by the news that Justin Bieber and Hailie Baldwin had gotten married in a small, private ceremony in New York City.

Just weeks later, Justin's most famous ex, Selena Gomez, suffered an emotional breakdown that resulted in her hospitalization.
Fans unfairly blamed Baldwin for Gomez's breakdown, and while such criticisms are patently absurd, the timing of the two headline-making events makes it difficult to argue that there's no correlation.
Now, sources close to Gomez are confirming that Bieber's abrupt engagement and marriage did play a role in her fragile mental state -- but that's not the whole story.
"Selena can be a delicate flower, especially because she has had constant medical struggles, but Justin's engagement and quick marriage threw her off guard and hit her hard," one insider tells People magazine.
"She and Justin have been on and off for years, although they were so young when it all began," the source adds.
"Justin was her first big love, and she isn't over him."
Fortunately, the insider confirms that Selena's condition is improving, and she's fully committed to the hard work of recovery.
"Selena is feeling better," the source tells People.
"She is getting the help she needs."
As for Justin, he's said to be having a tremendously difficult time and is deeply concerned with his ex's well-being.
"This was his first great love, and while he was young and traveling around the world as a superstar, he learned a great deal from her," one insider says.
"He was extremely upset over what has happened to Selena," adds the source, who People identifies as a figure in the Miami music scene.
"He feels like she is part of his life and he wants her to be happy and healthy."
Asked if Selena's issues could have a negative impact on Bieber and Baldwin's relationship, the insider admitted:
"It could be a problem down the road."
Just when you thought the Justin-Selena drama had permanently come to an end.
We guess these two will remain inextricably linked in the minds of fans until the end of time.
Meghan Markle's Terrible Family Has THIS to Say About Her Pregnancy
As you very likely know by now, Meghan Markle is getting set to welcome a new member of her family.
Indeed, the Duchess of Sussex is pregnant!
Unfortunately, Markle's expecting state does not mean she is finished dealing with old members of her family.
In fact, she'll likely be stuck hearing from them even more over the next few months as they angle to meet their future young relative.
We're talking, of course, about Thomas Markle and Samantha Markle.
The former is Meghan's father, from whom she is mostly estranged and who lives in Mexico.
Thomas missed his daughter's wedding in May due to a heart condition and his involvement in a paparazzi photo scandal and has since ratcheted up his criticism of Meghan, saying she is ungrateful for his influence in her life and complaining (already) that he will never meet his grandchild.
The guy sucks.
Samantha Markle, meanwhile, is Meghan's half-sister and she is totally estranged from Meghan.
She is 17 years older than the Duchess; was not raised in the same household as her partial sibling; and barely knows Meghan at all.
But she has still jumped on every media platform available over the past several months to bash the heck out of Markle every chance she gets.
This woman really sucks.
In light of Meghan and Harry's major pregnancy news, however, both Thomas and Samantha has struck a more calm and rational tone.
"It just makes everything that happened over the last year disappear," Samantha said to The Sun this week of the baby bombshell, adding:
"I want Meghan to be happy... and have peace. Everybody needs to be positive."
Naturally, of course, Samantha did manage to get a dig at her half-sister in there as well.
"I would hope that - for the sake of the baby, the family, the world and my dad — that leaving him out of the statement was not intentional," she continued.
"I hope my dad is included and at a proper time. If he is excluded, I won't be happy. It is in the best interests of the baby for my dad to be included."
The statement announcing Markle's pregnancy was short and simple and didn't mention any relatives at all.
It simply read as follows:
Their Royal Highnesses The Duke and Duchess of Sussex are very pleased to announce that The Duchess of Sussex is expecting a baby in the Spring of 2019.
Their Royal Highnesses have appreciated all of the support they have received from people around the world since their wedding in May and are delighted to be able to share this happy news with the public.
In conclusion, Samantha really hammered home the point of how the unnamed child ought to have its grandfather in its life:
"A baby changes everything and softens everyone. I would only hope that there would be some adjustment or some way of including him."
Thomas himself has not yet issued a comment.
But a source close to the grandparent-to-be also spoke to The Sun and praised Meghan while simultaneously angling to, yes, be part of the kid's life.
"Thomas is absolutely delighted," this insider says, adding:
"He heard the news before it was made public and was overjoyed. He thinks Meghan will make a great mum as she is already so maternal. Thomas sees this as a chance to fix the problems between him, Meghan and Harry.
"He is desperate to be there for his grandchild and wants to play an active role in their life."
View Slideshow: Meghan Markle Baby Bump Watch: Is She Showing Yet?

Will Meghan let these awful human beings into her life again?

Into her son or daughter's life again?

Will this ongoing scandal bring down the Royal Family?

Stay tuned, folks.

Meghan's life is about to get far more cute and far more ugly at the same time.





Pippa Middleton Welcomes First Child!!!!!

Forgive the most obvious opening ever, but it's also the most apt opening ever.

Okay? Here it goes:

PIP! PIP! HOORAY!
Such a full-throated cheer is very much called for at the moment because Pippa Middleton has given birth!
To her first child ever!
According to various outlets, the sister of Kate Middleton - who rose to fame by attending her sibling's wedding and receiving a lot of praise for her derriere - welcomed a baby boy alongside husband James Matthews on Monday at 1:58 p.m.
The newborn wasn't small, either.
Sources say he entered the world weighing eight pounds and nine ounces.
"Everyone is delighted and mother and baby are doing well," Pippa's representative said in a simple statement.
Middleton, clearly on the verge of giving birth, was spotted over the weekend at Princess Eugenie's wedding.
Her exciting piece of news also comes on the heels of Meghan Markle and Prince Harry at last confirming that Markle is pregnant, ending weeks of speculation and setting off celebrations all around Great Britain.
It's quite a time to be a Royal there days, huh?
Pippa confirmed her own pregnancy in June and later talked about working out during her first trimester.
"I'm fanatical about sport and have looked at loads of books and websites on exercise during pregnancy but have been disappointed by the limited technical information on what you can and can't do," she wrote in a guest column for the U.K.'s Waitrose magazine at the time.
The beauty noted that she's had to change up her routine to accommodate her circumstances:
"And this being my first pregnancy, I had so many questions I felt were still unanswered."
Also worth noting:
Pippa followed in the footsteps of her famous oldier sister by giving birth in the Lindo Wing of St. Mary's Hospital.
This the same place where Kate and Prince William welcomed all three of their royal kids.
Unlike Kate, however, we should not expect Pippa to pose in front of this hospital with her son just hours after he came into existence.
For one thing, she isn't officially a member of the Royal Family.
For another, she would prefer to live a quiet, private life.
In addition to cousins Prince George, Princess Charlotte and Prince Louis, meanwhile, Matthews' younger brother, Spencer Matthews, welcomed his first child, a son, with his wife, model Vogue Williams, in early September.
There are a whole bunch of cute well-known babies and toddler walking/crawling around England these days.
Middleton and Matthews got married on May 20, 2018 at St. Mark's Church in Englefield.
Her royal nephew and niece, George and Charlotte, served in the bridal party.
View Slideshow: Meghan Markle Baby Bump Watch: Is She Showing Yet?

In her final column for the aforementioned publication, Pippa wrote that she had turned to meditation in her final trimester.

"I was skeptical at first, but after practicing this discipline for the past month I have noticed a huge difference in my mental wellbeing and sense of clarity," she wrote.

"It's a good idea to take some wellbeing time for mummy-to-be now and, most importantly, for the future."

We send our very best wishes to the new mother and father!





Jazz Jennings: My Gender Confirmation Surgery Had a Complication ...

Early this summer, trans teen star Jazz Jennings underwent gender confirmation surgery.

Receiving bottom surgery -- what it's called when a transgender person's genitals are altered to combat dysphoria -- was a huge milestone for her.

Unfortunately, as she has now revealed, that surgery had a complication.
In an interview with ABC News, Jazz Jennings gushed about how amazing it is to finally feel at home in her own body.
"It was like a dream," Jazz affirms. "It was."
"This is a moment that I had always envisioned," she shares. "And just experiencing it was so surreal."
"I was like," Jazz says of the experience. "I can't believe this is happening."
Jazz even provides an example of how long she has waited to undergo this life-affirming procedure.
"When I was 2 years old," Jazz says. "I went up to my mom and asked her, 'When is the good fairy going to come with her magic wand and change my penis into a vagina?'"
"I've gone through the whole medical process," Jazz notes, explaining that she won't need to schedule any other surgeries.
"And," she confirms. "This is really the last thing that will validate my identity as a woman."
"There is nothing else after this," she clarifies.
"I just get to be myself," she gushes. "Be in the body that I've always wanted."
"And then," she says. "I can live my life as just Jazz."
Jazz does reveal that her surgery had an unexpected complication.
"There was just an unfortunate event and setback," she shares. "Where things did come apart."
"And," she says, remaining vague because she's discussing her genitals. "There was a complication."
"I had to come back in for another procedure," Jazz admits. "But it was just all part of the journey."
"The good thing though is that it was only cosmetic and external," Jazz shares.
"So," Jazz continues, keeping things in perspective. "it wasn't too dramatic."
"I've been ready for this my entire life," Jazz says.
She does note that there was one major challenge -- she had to lose 30 pounds before her bottom surgery.
"That was really, really challenging because I had an addiction to food," Jazz explains.
"And it was something that gave me comfort," she shares.
"And I had to let that go," she reasons. "Because the surgery is so much more important to me than any slice of cake or pizza."
They refer to genital surgery as "bottom surgery" in part because it's less graphic than explaining how one set of genitals is transformed into another.
it is also called this to differentiate it from top surgery, which is when breasts are either removed or implanted.
(Those like Jazz, who are able to start puberty blockers in time, usually do not need to undergo top surgery)
Of course, as Jazz -- as a lifelong advocate for the transgender community -- would be the first to tell you, not all trans people undergo bottom surgery.
Jazz has struggled with body dysphoria for her entire life, but that is not universal to the transgender community. Gender is complicated.
Additionally, some who would love the affirmation of surgery simply cannot afford it, or are waiting for medical science to give them better options.
Despite Derick Dillard's vicious transphobic attacks on Jazz and her parents, Jazz's life is going well.
In fact, I Am Jazz Season 5 premieres in 2019.
Jazz, who stunned interviewers with her ability to articulate her gender identity when she was still a small child, continues to live her best life.
Season 5 will cover her bottom surgery, but also other milestones including her first prom.
This is a huge deal, and viewers will be happy to be along for the ride.
View Slideshow: Jazz Jennings: 13 Things to Know!