Get the latest Hollywood and music industry news, hot celebrity gossip, entertainment news, photos and videos.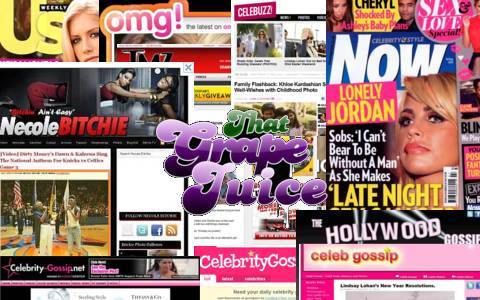 Celebrity Video Highlights
---
Celebrity BUZZ
When Bae Gets Paid What happens when bae thinks she can ball out till she busts? We've all dated that one person who just cannot handle having money burn holes in their pockets. One day they're living off ramen noodles and the next it's five star restaurants and shopping sprees, only to be right back where they started once the cash dries up. Then again, what's the point of making money if you're not going to spend it on anything, right? Also be sure to check out the AMAZING deals on everything from kids' clothes to coffee mugs at Zulily!! Sign up today by clicking HERE, all you need is an email address!!



When the Fall Weather Can't Make Up Its Mind It's that time again when it's officially fall on the calendar, but it's still too hot to wear your new fall outfits from your fall haul. So infuriating! Is sweater weather too much to ask for? I don't think so sun! We shouldn't be getting summer sunburns anymore. We should be enjoying hayrides on a windy fall day. The weather needs to make up its mind. No more going back and forth between the air conditioner and being buried under blankets. Get it together fall weather.



How to Cope With Stress in Your Relationship Do the smallest things stress you out in your relationship? Maybe you can't get your winged eyeliner to match on both sides. And maybe your bf doesn't empathize with your struggles. It's okay because we all have to learn how to cope with our stress. Barbie is an expert on figuring out what bothers her so much so watch her find the solution to her problems in this latest episode! CoupleThing Independent Work: This video is not intended to depict actual people, characters or entities or to suggest any association with or sponsorship by any person, company, or entity. It is intended for the purposes of entertainment and uses satire and parody. It depicts entirely fictional situations and characters, and is the product of our CoupleThing imagination, alone.



When Bae Can't Handle Directions Everyone knows it's never your fault if you get lost... it's your boyfriend or girlfriend's! Some people just can't read a map to save their life, which is ridiculousness because now with apps like waze, uber, and even google maps, it seems like it's near impossible to get lost with all this technology around. Unfortunately some people just can't get it right and a simple right hand turn could leave you stuck on a trash barge in the middle of a river or something.



How Bae Feels About Halloween Halloween might just be bae's favorite holiday! This year she tries to get her bf to dress up with her. They are drawing inspiration from one of the most infamous fights of the season. Unless you live under a rock, you've heard of the debacle between Cardi B and Nicki Minaj during New York Fashion Week. We who better to portray Cardi B than our favorite relationship role model Barbie? Let's just hope she didn't spend too much money on all the shoes! Baelievers would your gf ever force you to dress up like Nicki minaj? Would you ever wear a Cardi B costume?



When Bae Has Trust Issues Everyone in a relationship has had at least one moment where they question what their significant other is up to when they're acting sneaky. Sneaky significant others are the cause of trust issues! Whether it's not wanting you to look at their cellphone, leaving the room when someone calls, or lying about staying late at work, that's all cause for suspicion. It's like they're asking you to have trust issues! Sometimes you just have to turn into a ninja spy to get to the bottom of what bae is doing.



13 Reality TV Hoaxes You Totally Fell For

Admit it: you've been had at some point in the past, haven't you?

You thought what you were watching on reality television was 100% real, only to later learn the devastating truth.

We've all been there. And now we can all be here: relive the most shocking reality TV show hoaxes in history below...

1. Dance Moms
We'll just let Maddie Ziegler, arguably the show's top performer, lay it right out for you, courtesy of an interview with USA Today: "The producers set it up to make us all yell at each other. You know how I said that moms do fight? The moms have a fake fight sometimes. Afterward they just start talking and laugh about it." Host Abby Lee Miller really does suck, however. that's not fake. 2. House Hunters
Bobi Jensen blogged in 2012, on a site titled "Hooked on Houses," that her experience on House Hunter was totally contrived. Turns out, the couple had selected its home prior to appearing on the show and producers even changed Jensen's story over why she was moving. 3. Breaking Amish
Can we change the title of this TLC series to "Having Already Broken Amish?" After the very first episode aired, it came out that most participants had already left their Amish family for the bright lights of the big city. 4. Storage Wars
Dave Hester, a prominent presence on A&E's Storage Wars, left production and sued the network over the phony aspects of the show. He said producers loaded units up with items to give each episode an artificial angle and that they even funneled money to teams to keep each episode's bidding competitive. 5. Ghost Adventures
Ghost Adventures star Aaron Goodwin was fired in 2014 after he stopped by the podcast Are We Alone and explained how the network staged reactions, sound effects and other aspects of the program. He said it was "sickening" that he was part of such a "fraud." 6. The Hills
Lauren Conrad, Brody Jenner and other cast members have come out and said pretty much everything you saw on this MTV reality show as scripted. Shocking, we know! View Slideshow



Kailyn Lowry Issues Dire Warning: I May Have SIX Kids!

Kailyn Lowry is 28 years old and about a month away from welcoming her fourth child.

It's her fourth child by three different men, we ought to add, none of whom live with Kailyn or assist her in the daily care of these children.

No judgment meant here. Just facts.
And one might think that these facts would prompt Lowry to tie her tubes shortly after giving birth -- or, at least, to scoff at the notion of expanding her immediate family beyond herself and four boys under the age of 10.
Alas, nope.
The Teen Mom 2 star said this week that she probably isn't done procreating.
Heck, she may not be done even after getting pregnant again after this latest time.
"I don't think I would have ever pictured myself 10 years ago when I had Isaac having four kids," Lowry told her co-host Lindsie Chrisley on the latest edition of their Coffee Convos podcast.
As for what she can picture down the line?
"Six is my max," Kailyn said her having more offspring, later adding:
"I'm not confirming or denying, I'm just saying I would not have more than six."
For the record:
The MTV personality is mom to 10-year old Isaac, whom she shares with ex Jo Rivera.
She's also mom to six-year old Lincoln, whom she shares with ex-husband Javi Marroquin.
She's also mom to two-year old Lux, whom she shares with ex-lover Chris Lopez.
Lowry is on decent terms with her first two exes, both of whom are involved in the lives of their sons.
She's NOT on strong terms at all with Lopez... despite currently expecting her second child with the sketchball.
Kailyn actually had a restraining order against Lopez at the time their unprotected sexual dalliance led to this impending baby. It's a long story and an unusual one, that's for sure.
On the podcast, Lindsie said that she questions someone's "mental stability" who wants to have six kids, but Lowry explained her basis for entertaining such a possibility.
"I've said it before…I just didn't have siblings or family before, so, like, having a big family…since I started having kids, I always wanted my kids to have siblings," she said.
This makes a little bit of sense.
At some point, however, you'd think that three siblings for each kid would be enough. And you'd also think that maybe Kailyn wouldn't want any more kids until she was in a stable relationship.
But, look, judge Lowry all you want.
Truth be told, her children all seem happy and healthy.
Unlike some other Teen Moms, Lowry has never really been accused of endangering them or of not making them a priority in her life.
Her home life isn't exactly the norm, but whatever works, right? Whatever makes her happy and whatever ensures her sons are living a content and productive existence.
All this said, Lowry acknowledges that her blended life presents a challenge. 
She has no relationship at all with Javi's girlfriend, Lauren Comeau, and her relationship with Lopez is anything but simple to explain.
"If Chris were to have kids with someone else, that would be really, really difficult for me," she said on the podcast.
"But I definitely think that, ultimately, when push comes to shove, I would put Lux's relationship with his siblings first.
"I mean, maybe not right away, but I definitely would come around to it, just because I want them to have that relationship with their siblings."
Lowry is due in August -- and she dropped another bombshell on Teen Mom 2 fans in this discussion:
She plans to have a home birth, and to have it filmed!
"I say that now, but when I'm in active labor I don't know what I'm going to do," Lowry quipped on the show, adding that it would be a first for the franchise.
"They've never seen a home birth," Kailyn said. "I told one of the producers, 'I'm definitely willing to film it as much as I can on my own, but I do not want the crew there.'"
View Slideshow: Kailyn Lowry to Briana DeJesus: Since You Tried to Bang My Baby Daddy, I'm Gonna Bang Yours!



Ellen DeGeneres: Are She & Her Show About to Get Canceled?

Ellen DeGeneres may soon get canceled, according to a stunning new report.
We don't mean this in the broad, social media sense, either.
We don't mean this in the sense that Ellen DeGeneres is being criticized by an online mob and users are saying she should be ostracized from the general conversation and/or the public stage.
We mean this literally.
Rumors surrounding her future have been flying around that we never expected to entertain just a few months ago.
Ellen may actually get canceled as a talk show.
Amid insiders whispering about this possibility, The New York Post spoke to a represenative from DeGeneres' production company, who simply said the following:
"Telepictures can confirm it's untrue."
How is this even being discussed at the moment?
How could Ellen, one of the most popular and successful figures in all of entertainment, have fallen this far so quickly?
Back in April, Ellen was accused of cruel behavior toward her guests and also toward her employees in a series of articles.
These reports began to circulate once she began airing a stripped-down version of her talk show amid the coronavirus pandemic.
According to insiders, the 62-year-old talk show icon allegedly communicated very poorly with her staff during this period.
And then ripped them off.
Crew members "received no written communication about the status of their working hours, pay, or inquiries about their mental and physical health from producers for over a month," said two sources.
According to Variety, both insiders spoke out only under the condition of anonymity because the situation was so toxic.
Then, with the country in the grips of a long overdue conversation regarding income inequality, especially in the midst of the global pandemic, the real bombshell hit.
After weeks of uncertainty, "nearly all crew members were told last week to brace for a 60% reduction in pay, even as the show continues to air," the report continued.
For the record, Ellen is worth approximately $330 million.
In the wake of this backlash, ratings for Ellen have plummeted.
Is that because of the negative press? It's hard to imagine it's not, since Americans are at home watching TV more than ever, and Ellen's ratings recently fell 14 percent to a new season 17-low rating of 1.2.
The "stories are all true," a former employee of Ellen's long-running daytime talk show has told the Post, seemingly confirming allegations of abusive behavior by DeGeneres.
This remains a shocking revelation after many years of DeGeneres presenting herself on air as an especially friendly and benevolent celebrity.
"Is she always nice? No," added a former staffer. "It irritates me that people think she's all sweetness and light and she gets away with it."
Not so much any longer, it seems.
The contradiction between such accounts and Ellen's public persona is hard to reconcile, but perhaps that's why the push to unmask her (so to speak) has been so pronounced this year.
On March 20, comedian Kevin T. Porter launched a Twitter thread that went viral, calling for anyone who encountered DeGeneres to respond with "insane" stories about "Ellen being mean."
Replied TV writer Ben Simeon to that particular call to action:
"A new staff member was told, 'Every day she picks someone different to really hate. It's not your fault, just suck it up for the day and she'll be mean to someone else the next day.'
"They didn't believe it, but it ended up being entirely true."
If that were an isolated case, it would be easily dismissed.
But more of these stories began to emerge, and each one - even if only partially true - painted a worse picture than the last.
DeGeneres has not directly responded to these accusations, but a source told celebrity gossip magazine Us Weekly shortly after they started coming out that "Ellen is at the end of her rope."
What does this actually mean and will we see any changes or statements from DeGeneres or her team?
We can't say at the moment, but it will be very interesting to see what happens, to put things mildly.
Byron Bernstein, Popular Gamer Known as "Reckful," Dead at 31
The gaming community is mourning the loss of a wildly popular and successful player.
Byron Bernstein, a Twitch user known as Reckful -- who had nearly a million followers on the streaming platform -- has died, seemingly by suicide.
He was 31 years old.
"We're devastated to hear of Byron's passing.
"Our hearts go out to his family, friends, and community. He was a streaming pioneer and helped propel the whole industry forward," a Twitch statement reads.
"Byron was someone who talked about his struggles to help make from for others to do the same.
"As we process this loss, we have to recognize that the stigma around mental health and treatment often prevents people from seeking and getting the help they need."
Just hours prior to his death, Bernstein shared a series of photographs to Twitter -- and also asked his ex-girlfriend, Becca, to marry him.
"I know I'll always be a little too crazy... and this is proof... but at least you'll never be bored. Will you marry me, Becca?" he wrote online, along with photos of his girlfriend.
"DO NOT make her feel pressured to say yes, i am completely insane here. I have not seen her in 6 months.
'The reason for the post is I know she's the one I want forever, and I wanted her to know my commitment is real."
Reckful was one of the highest-ranking "World of Warcraft" players on the planet, boastong more than 936,000 followers on Twitch. 
He would share cooking and gaming broadcasts on this platform and was working on a new game called "Everland" prior to his passing.
Becca eventually responded to the above proposal in a lengthy Twitter post.
Titled "RIP July 2, 2020," the message indicated that Becca didn't see the proposal "until it was too late."
"That doesn't change the fact that I wasn't able to be there for him. He was amazing," she wrote.
'He taught me how to have fun, to experience more, and challenged me to try to be more than what I was. He was larger than life, too big for this world.
"He brought me to realize that I knew NOTHING about depression, NOTHING about mental health issues.
"I had this vague idea of what it was and embarrassingly thought that I could help with trivial bulls--t."
She concluded:
"We need better support for those with mental needs. I remember Byron telling me how traumatized he was when he had the authorities called on him for being at risk of suicide.
"Anyone that knew him knew how much it scared and affected him.
"THIS CANT BE HOW PEOPLE FEEL ABOUT THE PLACES THAT SHOULD BE KEEPING THEM SAFE."
Fans grew concerned over Byron early Thursday morning when he posted a number of troubling tweets.
"Ahh, I feel bad for anyone who has to deal with my insanity," he wrote, adding:
"Please just know in these situations the insane person does not feel in control of their actions."
To be clear, however, we cannot confirm at this time that he took his own life.
In January, Bernstein -- whose brother committed suicide -- used YouTube to open up about the improvements he has made with his mental health.
The video was titled, "Reckful is no longer depressed for the first time in 16 years."
"I am actually day-to-day happy," Bernstein said back then. "I've never felt this way in my life. I'm not saying it's gonna last forever, but right now I'm happy."
If you or someone you know is considering suicide, please contact the National Suicide Prevention Lifeline at 1-800-273-TALK (8255), text "STRENGTH" to the Crisis Text Line at 741-741.
Or go to suicidepreventionlifeline.org.
May Byron Bernstein rest in peace.
View Slideshow: Celebrities Who Died In 2020: In Memoriam



Jana Duggar: Can Someone Marry Me Please?!?

Jana Duggar is 30 years old.

And single.

This would not be a noteworthy fact if not for the reality star's last name.
It's nearly unheard of for a woman of this age, from this family, to not be married with, at minimum, 8 or 9 children.
We kid. 
Sort of.
The truth, however, is that Jana's non-married status is a major source of debate and consternation across the Internet, with many observers wondering if she's actually in a same-sex relationship with Laura DeMasie.
Such a romance, of course, would be frowned upon (and then some!!!!) by Jana's very conservative parents.
The topic, as you might expect, was not addressed during Jana's interview on July 2 with Us Weekly.
Asked by the tabloid about her love life -- or lackthereof -- Duggar responded as follows:
"I'm not that worried.
"Yes, I long to be married and one day I think that will come, but I think … I'm just also just trying to stay busy with whatever comes along my path."
It's pretty depressing to hear a woman say she longs to be married, as if this ought to be someone's ultimate life goal and as if marriage in general -- as opposed to a marriage to the right person -- is what one should aim for.
But what else would you expect from a female raised by Michelle and Jim Bob Duggar?
Sitting alongside her controlling mother, Jana confessed that she sometimes feels "a little more pressure" to take tie the knot.
However, for now, she's focusing on "making the most" of her single years.
"I think if I sit there and I'm like, 'Oh no, I'm not married' and just [get] all worried about it, it makes things way worse," Jana said.
Jana has been asked about her lack of a husband for years now.
She opened up about her dating life during an October 2019 episode of TLC's Counting On, admitting that there "have been a number of guys" who have asked her out -- but "none of them worked out."
She added back then:
"[My siblings] have been in relationships, courtships, whatever you want to label it as. Of course, it doesn't always end in marriage and that's okay.
"You have to sometimes talk to someone, get to know someone and realize, you know what, it doesn't have to end in marriage."
What a novel, and smart and mature and insightful, concept!
In this same exchange with Us Weekly, meanwhile, Jana cites her parents as having a model union.
"They're quick to forgive and to make, really try to make things right," she said of Michelle and Jim Bob, concluding:
"The genuine love that they still have for one another … this young love and they still have that, you know, today.
"I think that's rare to see couples that are their age and been married that long."
View Slideshow: The Duggars: Who's Courting? Pregnant? Next In Line? [UPDATED WITH EVEN MORE BLESSINGS!]



Kristen Doute's New Boyfriend Defends Former Vanderpump Star Against Allegati...

When Stassi Schroeder and Kristen Doute first got fired from Vanderpump Rules, it looked as though the former reality stars would go through the usual stages of celebrity scandal.

They laid low for a couple days and offered unconvincing apologies, and the expectation was that they'd disappear for a year or two, attempt some sort of lame comeback, and then fade into obscurity.
But in their own minds, Stassi and Kristen are A-list talents, the likes of which the world has never seen.
So it should come as no surprise that they assumed they were special enough to skip over the hiatus portion and jump right to the comeback stage.
Less than a week after the problematic pair was kicked to the curb for their racially-motivated harassment of black co-star Faith Stowers, a campaign to revitalize their careers and reputations was already in full swing.
Stassi's mother launched an Instagram page devoted to getting Schroeder and Doute re-hired.
Shortly thereafter, tone deaf fans circulated a petition on Stassi and Kristen's behalf.
Basically, these two are convinced that they're gonna be back on TV in 2021, meanwhile, former fans are urging Bravo to cancel Vanderpump Rules entirely and be done with the whole messy lot of them.
This week, Kristen really kicked her victim narrative into high gear and ramped up her efforts to shift the conversation to a new topic.
Unfortunately, her social media followers saw right through Doute's attempt to rescue her reputation and career, and they basically instructed her to STFU.
That's apparently when Kristen's new boyfriend, Alex Menache, decided to step in and remind the world that Karen Kristen Doute is the real victim here, as opposed to the innocent co-star whom she tried to have imprisoned.
"This woman has been put thru the ringer these last few weeks and has taken it like a champ," Menache wrote on Instagram, according to Page Six (he's since set his acount to private).
"Anyone that knows you knows your heart is pure and kind. She has dealt with it with grace and strength, and is putting in the work behind the scenes. I honor you @kristendoute and will always be your #1 big idiot fan!"
In case you're wondering what sort of D-bag would 1. get involved with Kristen, and 2. expect anyone to feel sympathy for a white woman who sicced the LAPD on a black woman for fun, Menache is one of those gentrification-happy house flippers who buys up properties in struggling neighborhoods so he can turn them into Air BnBs or some crap.
"From abandoned junkie trap house, to a flipped beauty designed by moi," he captioned a photo of a recent project.
The bad news is, Menache missed his opportunity to make the jump from "fake job" to "fake job that pays more" by going from house-flipper to reality star.
The good news is, he's only got a few thousand followers on Instagram, so it's not too late for him to just slink away from this situation without anyone really noticing.