Get the latest Hollywood and music industry news, hot celebrity gossip, entertainment news, photos and videos.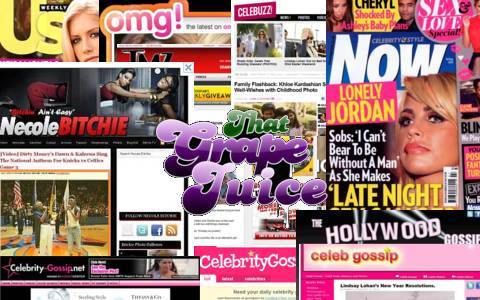 Celebrity Video Highlights
---
Celebrity BUZZ
Kim Kardashian and Kanye West Don't See Much of Their Surrogate They're pretty hands off.


Kendall Jenner Getting a Parking Ticket Leads Today's Star Sightings Not even she can escape the law.


Bijou Phillips Accused of Gay-Shaming 'Mean Girls' Star Daniel Franzese "She body shamed me and ridiculed me about my sexuality and physically assaulted me."


Are Prince Harry and Meghan Markle Engaged? Wedding bells may be ringing in the near future...


Khloé Kardashian's Pregnancy Cravings Lead Today's Star Sightings Her new diet is no joke!


Ed Westwick Accused of Sexual Assault by a Second Woman The list is growing.


The Bachelorette Spoilers 2017: Final Three, Winner CONFIRMED! Who Does Rache...
The Bachelorette is about to begin its 13th season on ABC.
While we've yet to see a single episode, Rachel Lindsay's epic journey for love has just concluded with a final rose ceremony in Spain.
Customarily, The Bachelor spoilers have already leaked.
Hands in the air if you're surprised ... hello? Anyone?!
There are no hands in the air because The Bachelorette spoilers leaking before the season begins, let alone ends, is a foregone conclusion.
It's even more of a given than the winners of the previous season breaking up, which is really saying something given the show's history!
We apologize for the pessimism in what should be an uplifting time, but we tell it like it is, and they're batting around .070. Just saying.
Anyway, back to the lecture at hand, as Snoop would say:
Starting Monday night, more than two dozen guys will arrive at the Bachelor mansion to begin their formal courtship with Chris Harrison.
Er, sorry. With Rachel Lindsay. Here's the full lineup"
View Slideshow: The Bachelorette Suitors: Meet Rachel Lindsay's Men!

Soon, she will begin to pare down the field until only a few contenders are left and, eventually, a final rose recipient is selected.

To the surprise of no one, Reality Steve (a.k.a. the Soothsayer of The Bachelorette spoilers) has already uncovered the scoop.

As a result of his sleuthing, we can confirm who Rachel has already gone on hometown dates with, and who gets cut after that.

Moreover, we can tell you who among her final three guys walks away from the finale engaged to the beautiful attorney from Dallas.

Ready to find out exactly who the final four are, and whose life will be intensely scrutinized as soon as the season finale airs?

The four dudes who make it to hometowns are:
1. Dean Unglert (above). He is a startup recruiter who has his mother's initials tattooed on his chest. Will he add "RL" next?!
2. Bryan Abasolo (above). Dr. Bryan, as he is sometimes referred to, is a chiropractor who has spoken Spanish since he was a child.
Talk about a cool and useful skill set. Will it be part of the whole package that lands him in the winner's circle, or will it be ...
3. Eric Bigger (above). This is a personal trainer who considers himself to be somewhat of a neat freak. We all have our neuroses.
Also, he is jacked out of his mind. Like, shredded. Do you even lift?! We're guessing he does ... but seriously, is that an eight-pack!?
Goodness gracious.
4. Peter Kraus (above). This is a business owner who has a fear of heights, according to his oh-so-revealing ABC biography.
A quartet of worthy contenders, to be sure, so you know when it came down to the final three, Rachel had a tough decision.
Which three to take on overnight dates (read: take into the Fantasy Suite for sexiness), and which one to send home alone?
Dean Unglert, according to Steve, is eliminated, at this stage, but rest assured, he'll be off to Bachelor in Paradise. Phew.
That leaves us with a final three of Eric Bigger, Peter Kraus and Bryan Abasolo, all of whom meet Lindsay's family in Dallas.
So, the million dollar question: Who will win the final rose, and become Rachel's fiance at season's end (if she picks one)?!
Bryan Abasolo. Rachel is engaged to Bryan Abasolo.
It's still not clear who made the final two, or where the exit of the third-place finisher occurred, but Bryan wins, and proposed in Spain.
As always, in Reality Steve's own words, this is a lock.
The man's track record speaks for itself. Yes, he has been wrong before, but very rarely so, and he'll cheerfully admit when he is.
He's simply spot-on accurate almost always.
So between now and early August, when we expect the season finale will air, expect a whole lot of rumors, half-truths and misdirection.
Maybe there will in fact be a mammoth twist that blows The Bachelorette spoilers above to smithereens at the last second.
We just wouldn't bet on it.
View Slideshow: Rachel Lindsay: The Bachelorette Star in Photos!

Granted, as those who follow this stuff religiously know, Steve initially told us Peter Kraus would take home the final rose, not Bryan.

That prediction? Well, it's now been amended.

We'll have more episodic details, spoilers and specifics about how everything plays out once they become available next week and beyond.

We'll also update this with any twists or inaccuracies that need correcting or addendums. Again, though, we don't anticipate the former.

As for whether love will last for Ms. Lindsay?

We would not bet on it, that's for darn sure. Which is not a knock on Rachel, but simply a commentary on the show and its track record. 

Please, prove us wrong, Rachel and Bryan!
View Slideshow: The Bachelor and Bachelorette Couples: Are They Still Together?



13 Reality TV Hoaxes You Totally Fell For

Admit it: you've been had at some point in the past, haven't you?

You thought what you were watching on reality television was 100% real, only to later learn the devastating truth.

We've all been there. And now we can all be here: relive the most shocking reality TV show hoaxes in history below...

1. Dance Moms
We'll just let Maddie Ziegler, arguably the show's top performer, lay it right out for you, courtesy of an interview with USA Today: "The producers set it up to make us all yell at each other. You know how I said that moms do fight? The moms have a fake fight sometimes. Afterward they just start talking and laugh about it." Host Abby Lee Miller really does suck, however. that's not fake. 2. House Hunters
Bobi Jensen blogged in 2012, on a site titled "Hooked on Houses," that her experience on House Hunter was totally contrived. Turns out, the couple had selected its home prior to appearing on the show and producers even changed Jensen's story over why she was moving. 3. Breaking Amish
Can we change the title of this TLC series to "Having Already Broken Amish?" After the very first episode aired, it came out that most participants had already left their Amish family for the bright lights of the big city. 4. Storage Wars
Dave Hester, a prominent presence on A&E's Storage Wars, left production and sued the network over the phony aspects of the show. He said producers loaded units up with items to give each episode an artificial angle and that they even funneled money to teams to keep each episode's bidding competitive. 5. Ghost Adventures
Ghost Adventures star Aaron Goodwin was fired in 2014 after he stopped by the podcast Are We Alone and explained how the network staged reactions, sound effects and other aspects of the program. He said it was "sickening" that he was part of such a "fraud." 6. The Hills
Lauren Conrad, Brody Jenner and other cast members have come out and said pretty much everything you saw on this MTV reality show as scripted. Shocking, we know! View Slideshow



Kendra Wilkinson Picks Cotton, Gets Accused of Racism

Kendra Wilkinson is the outspoken star of We TV's Kendra on Top. 

We say outspoken because, well, she has no filter. Whether she's posting a sultry selfie on social media, or just appearing on her reality TV show, she's always stirring up some sort of controversy. 
We're not even sure she knows she's doing it, and that's likely why she's such a draw with viewers. 
The 32-year-old was on a road trip with her husband, Hank Bassett, and thought it would be fun to stop by a cotton field in Texas because "she always wanted to pick cotton."
Have a look at the picture in question below. It shows Wilkinson posing with some cotton and a whole field of cotton behind her. 
People took offense to the post and immediately started slamming the star in the comments section of the snap. 
"Racist piece of s–t," one user wrote. Added another: "People are upset because you are joking about history that you are just simply ignorant about. Some things just keep to yourself."
While some chose to go on the offensive, the star's legion of fans also came to her defense. 
"Been watching Kendra from day one, she's a free spirit," one fan commented. "You are just combing through social media praying for anything to pound on and rip it to shreds… Hello her husband and children are part black."
"Don't give the haters the benefit of explaining what ur doing like picking cotton," said another. 
One final fan wanted the haters to disappear: "Keep your head up. Ignore the ignorance. I have always liked you and your real fans know you are not a racist and you love everyone equally. Live! Laugh! Love!"
The hatred did not go unnoticed by Kendra who returned to social media to clap back at the people assassinating her character. 
"Lol. I just wanted to pick cotton from a plant cuz I've always wondered how it really felt. Never in my life thought of color or race at the time," she wrote on Wednesday.
"I was trespassing n ran up to grab some cotton. I am not racist. Was just having fun n wanted to feel n wondered how it felt. Hahahahah. I can't believe I'm getting accused of being racist when I'm sitting here with my black father in law rt now baffled at the accusations.
"F–k off to anyone who don't know me n know what I'm about. Just cuz I picked some f–king cotton. It's a f–king plant. Omg I can't."
Like we said, Kendra is not afraid to hit back at people throwing shade her way. The star was very likely on the trip why she recovered from a mysterious hospital visit. And, no, it had nothing to do with handjobs this time around ... we hope. 
The star has been acting in Sex Tips for Straight Women From a Gay Man, and disaster struck when some of the shows had to be canceled after she found herself in hospital.
"Super sick. Going to have to cancel the late show tonight. My heart couldn't cancel both. Sorry late show," she said at the time.
"Sooooo sorry guys gotta cancel both shows tonight. Going to ER. Hurtin bad. I'll make it up to you."
What do you think about all of this?!
Sound off below. 
View Slideshow: 19 Best Celebrity Boob Jobs of All-Time!



19 Famous Side Dishes These Stars Should Not Have Tasted

This just in:

Not all famous people are loyal.

Some cheat. Many cheat, in fact.

And, in turn, the people with whom they cheat become famous themselves.

Below, for example, is a rundown of well-known men and women who allegedly slept with celebrities while those celebrities were in relationships...

1. Sara Leal
Sara Leal was the 22-year old who told Us Weekly all about the time Ashton Kutcher had sex with her in a hot tub...while he was still wed to Demi Moore. 2. Rachel Roy
She sort of outed herself as Jay Z's mistress after Beyonce released an album titled "Lemonade" that clearly accuse her husband of cheating. (We said Rachel Roy, people. Not celebrity chef Rachael Ray.) 3. Rachel Uchitel
Patient zero of the Tiger Woods scandal. She later went on to serve as David Boreanaz's side-piece. 4. Ava London
London's dalliance with Hank Baskett is still stirring up drama. We hope for her sake that she's working on scoring a reality show deal. 5. Cady Groves
Cady Groves was a little-known singer songwriter...until she (allegedly) broke up the biggest marriage in country music. We don't know if Cady is any good when it comes to writing country songs, but she sure knows how to live one! 6. Chloe Bartoli
Photos of Chloe canoodling with Scott Disick led to the reality star getting dumped by Kourtney Kardashian. She still says the pics were misleading, and nothing happened between them. View Slideshow



Kylie Jenner: Is She REALLY Faking Her Pregnancy?!

As you've no doubt heard by now, Kylie Jenner is pregnant with her first child.

We think.

Kylie has yet to confirm that she's expecting, and a surprisingly large contingent of fans believe that's because she's not actually knocked up.

Why would she engage in such a foolish stunt? What makes Kylie's biggest fans think she's misleading the public? And why the hell won't she just come out and say whether she's pregnant?

Join us as we put on our Sherlock Holmes caps to answer these questions and more:

1. Body of Evidence
Kylie is keeping mum on the issue of her rumored pregnancy. That hasn't stopped her from posting on social media, of course, but as you can tell from the photo above, she's been going to great lengths to conceal her midsection. 2. Deceptive Selfies?
Naturally Kylie is still posting selfies, and fans are putting them under the microscope in search of a baby bump, but thus far, no solid evidence has emerged. 3. Kylie's Closeup
Kylie obsessives are so desperate for proof they've cited THIS photo--a closeup of Kylie's face--as evidence that she's knocked up. We kid you not; several fans have commented on Kylie's "obvious pregnancy face." 4. Snapchat Slip-Up?
Of course, it's impossible to post on social media as often as Kylie does without occasionally revealing more than one wants to. Some fans think Kylie messed up with this Snapchat post from early November that appears to show her buying tampons. 5. Offspring Bonanza
Others think it's suspicious that three Kardashian women are expecting children at the same time ... and that the news coincides with a recent decline in the family's popularity. 6. But Why Would Kylie Lie?
Obviously, the Kards aren't averse to publicity stunts, but a fake pregnancy would be ridiculous even by Kris Jenner's standards. Still, that hasn't stopped fans from compiling a number of theories as to why Kylie would pretend to have a bun in the oven ... View Slideshow



Wendy Williams: I Was Groped By My "Worst Guest Ever"

Wendy Williams passed along a very personal message on television this week:

Me. Too.

The talk show host told viewers that she, too, has been the victim of sexual harassment.
Moreover, it happened live in front of her studio audience.
During Monday's episode of her program, Williams brought up the allegations against Charlie Rose and then began to recount her own unwanted experience with an unnamed guest.
"My worst guest? I'm not going to name, but I can tell you this - it had to do with some groping.
"You all saw it, but didn't say a word and I felt it and I didn't say a word," she recalled.
"My staff saw it and that guest will never be here anymore. He's not relevant anyway."
As mentioned above, Williams did not name this aggressive guest.
But she did drop some clues as to his identity.
He was a short comedian, she explained, who appeared on the program in either her second or third season.
While Williams assured her fans she would "feel very comfortable in pushing a man through my glass coffee table if anything gets seedy" today, that was a different time.
She had not yet established herself.
She was still new on the small screen and didn't really know how to react in the moment, especially considering the cameras were rolling.
"I didn't know what to do because I'm brand new on TV," Wendy said, laughing a bit:
"Then, after the hug, he looked up at me. He goes, 'Oh, you're not Oprah [Winfrey].'
"I didn't know how to take that and the whole interview was just weird and I just would never have him here again and I am two seconds away from saying his name, but it's not worth it."
No need, Wendy.
Astute Internet users have dug up this photo of Gilbert Gottfried from 2011:
A short comedian?
Not relevant any longer?
Has a distinct voice?
Check. Check. Check.
Inside Edition reached out to Gottfried on Tuesday and he said he didn't recall his appearance on the show from so many years ago.
He added that he "wasn't aware" of being banned from the program or anything of that nature.
Let's face it, though:
There's no reason to officially ban Gilbert Gottfried.
There's simply no reason to have him as a talk show host any longer.
View Slideshow: 18 Times Wendy Williams Has Totally Sucked as a Person