Get the latest Hollywood and music industry news, hot celebrity gossip, entertainment news, photos and videos.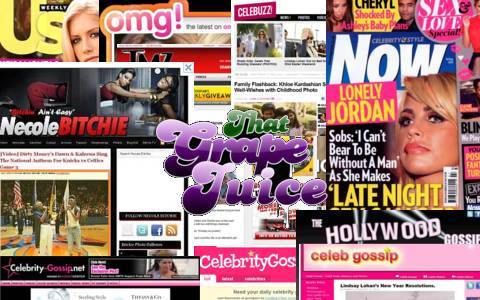 Celebrity Video Highlights
---
Celebrity BUZZ
When Bae Gets Paid What happens when bae thinks she can ball out till she busts? We've all dated that one person who just cannot handle having money burn holes in their pockets. One day they're living off ramen noodles and the next it's five star restaurants and shopping sprees, only to be right back where they started once the cash dries up. Then again, what's the point of making money if you're not going to spend it on anything, right? Also be sure to check out the AMAZING deals on everything from kids' clothes to coffee mugs at Zulily!! Sign up today by clicking HERE, all you need is an email address!!



When the Fall Weather Can't Make Up Its Mind It's that time again when it's officially fall on the calendar, but it's still too hot to wear your new fall outfits from your fall haul. So infuriating! Is sweater weather too much to ask for? I don't think so sun! We shouldn't be getting summer sunburns anymore. We should be enjoying hayrides on a windy fall day. The weather needs to make up its mind. No more going back and forth between the air conditioner and being buried under blankets. Get it together fall weather.



How to Cope With Stress in Your Relationship Do the smallest things stress you out in your relationship? Maybe you can't get your winged eyeliner to match on both sides. And maybe your bf doesn't empathize with your struggles. It's okay because we all have to learn how to cope with our stress. Barbie is an expert on figuring out what bothers her so much so watch her find the solution to her problems in this latest episode! CoupleThing Independent Work: This video is not intended to depict actual people, characters or entities or to suggest any association with or sponsorship by any person, company, or entity. It is intended for the purposes of entertainment and uses satire and parody. It depicts entirely fictional situations and characters, and is the product of our CoupleThing imagination, alone.



When Bae Can't Handle Directions Everyone knows it's never your fault if you get lost... it's your boyfriend or girlfriend's! Some people just can't read a map to save their life, which is ridiculousness because now with apps like waze, uber, and even google maps, it seems like it's near impossible to get lost with all this technology around. Unfortunately some people just can't get it right and a simple right hand turn could leave you stuck on a trash barge in the middle of a river or something.



How Bae Feels About Halloween Halloween might just be bae's favorite holiday! This year she tries to get her bf to dress up with her. They are drawing inspiration from one of the most infamous fights of the season. Unless you live under a rock, you've heard of the debacle between Cardi B and Nicki Minaj during New York Fashion Week. We who better to portray Cardi B than our favorite relationship role model Barbie? Let's just hope she didn't spend too much money on all the shoes! Baelievers would your gf ever force you to dress up like Nicki minaj? Would you ever wear a Cardi B costume?



When Bae Has Trust Issues Everyone in a relationship has had at least one moment where they question what their significant other is up to when they're acting sneaky. Sneaky significant others are the cause of trust issues! Whether it's not wanting you to look at their cellphone, leaving the room when someone calls, or lying about staying late at work, that's all cause for suspicion. It's like they're asking you to have trust issues! Sometimes you just have to turn into a ninja spy to get to the bottom of what bae is doing.



13 Reality TV Hoaxes You Totally Fell For

Admit it: you've been had at some point in the past, haven't you?

You thought what you were watching on reality television was 100% real, only to later learn the devastating truth.

We've all been there. And now we can all be here: relive the most shocking reality TV show hoaxes in history below...

1. Dance Moms
We'll just let Maddie Ziegler, arguably the show's top performer, lay it right out for you, courtesy of an interview with USA Today: "The producers set it up to make us all yell at each other. You know how I said that moms do fight? The moms have a fake fight sometimes. Afterward they just start talking and laugh about it." Host Abby Lee Miller really does suck, however. that's not fake. 2. House Hunters
Bobi Jensen blogged in 2012, on a site titled "Hooked on Houses," that her experience on House Hunter was totally contrived. Turns out, the couple had selected its home prior to appearing on the show and producers even changed Jensen's story over why she was moving. 3. Breaking Amish
Can we change the title of this TLC series to "Having Already Broken Amish?" After the very first episode aired, it came out that most participants had already left their Amish family for the bright lights of the big city. 4. Storage Wars
Dave Hester, a prominent presence on A&E's Storage Wars, left production and sued the network over the phony aspects of the show. He said producers loaded units up with items to give each episode an artificial angle and that they even funneled money to teams to keep each episode's bidding competitive. 5. Ghost Adventures
Ghost Adventures star Aaron Goodwin was fired in 2014 after he stopped by the podcast Are We Alone and explained how the network staged reactions, sound effects and other aspects of the program. He said it was "sickening" that he was part of such a "fraud." 6. The Hills
Lauren Conrad, Brody Jenner and other cast members have come out and said pretty much everything you saw on this MTV reality show as scripted. Shocking, we know! View Slideshow



Khloe Kardashian Finally DUMPS Tristan Thompson!

Well, it only took 10 months, but Khloe Kardashian has finally come to her senses.

According to a report published today by Radar Online, Khloe has broken up with Tristan Thompson, the NBA star who was caught cheating on her while she was pregnant with his child.
"They are done — for good," a family insider tells the site.
Khloe began to see what everyone else had been seeing for months: that he doesn't deserve her."
Fans noticed that Tristan and Khloe seemed to be spending very little time with another in 2019 -- and it seems there was good reason for that.
"Khloe suspected he had cheated on her during the holidays, and that was when she decided to remain in Los Angeles with True," the source claims.
The tipster adds that Khloe is not terribly upset about the breakup, as motherhood is her dream come true and takes up 100 percent of her focus.
"Her only priority is True," says the insider.
Fans began to suspect that something was amiss when Khloe spent Valentine's day alone.
The very next day, she posted a cryptic message to Instagram that led many fans to believe she'd kicked Tristan to the curb.
"Shout out to every woman who is trying to heal from things they can't talk about," Khloe wrote on her Instagram story.
"Sometimes God breaks your heart to save your soul."
The informant says Khloe has a very good reason for giving Tristan a second chance, and she's not keeping it a secret any longer:
"She is out of the fog, and blaming it on baby hormones," the insider explains.
"She sees the situation for what it is."
Yes, it may have been easy for all the outsiders urging her to give Tristan the boot, but the situation was a bit more complicated for Khloe herself.
As a new mom who's been longing for a family of her own for years, the decision to end her relationship couldn't have been an easy one.
We wish Khloe all the best going forward.
View Slideshow: Khloe Kardashian: Why She SHOULD Leave Tristan Thompson, But Never Will



Colin Kaepernick Settles Lawsuit Against NFL; How Much Did He Get?

Colin Kaepernick has earned both praise and outrage for his bold, silent protest against the killing of unarmed black men.

His protest also ended his NFL career. He has been a free agent since 2016.

He sued the NFL for conspiring to keep him off of the field. And now that lawsuit has been settled.
Attorneys Mark Geragos and Ben Meiselas released a joint statement on Friday, February 15.
"For the past several months, counsel for Mr. Kaepernick and [Carolina Panthers safety Eric Reid]," the statement begins.
It continues: "have engaged in an ongoing dialogue with representatives of the NFL."
"As a result of those discussions," the statement reads. "The parties have decided to resolve the pending grievances."
"The resolution of this matter is subject to a confidentiality agreement," the statement concludes. "So there will be no further comment by any party."
This settlement is a long time coming.
As you may recall, Kaepernick filed a grievance agains tthe NFL and its owners in late 2017.
He accused them of colluding to keep him off of the field.
Kaepernick became "controversial" in 2016 for peacefully kneeling during the anthem as a form of silent protest.
But though he was protesting the murders of unarmed black men by police, who then go unpunished, some political forces made him a target.
They present him and his protest as anti-American.
He accuses the NFL of responding to this controversy by conspiring to sabotage his career.
Eric Reid was the first to join Kaepernick's silent protest.

The NFL Player's Association filed a similar grievance against the NFL in 2018 on Reid's behalf.

"We continuously supported Colin and Eric from the start of their protests," the NFLPA said Friday in a statement to ESPN.

The NFLPA "participated with their lawyers throughout their legal proceedings and were prepared to participate in the upcoming trial."

They did all of this "in pursuit of both truth and justice for what we believe the NFL and its clubs did to them."

"We are glad that Eric has earned a job and a new contract," the statement concludes. "And we continue to hope that Colin gets his opportunity as well."
Fortunately, Colin Kaepernick's misfortunes were alleyed.
Nike decided to go all in, placing Kaepernick front and center on their campaign in 2018.
The controversial move had avowed racists throwing away or destroying their Nike shoes.
Just days ago, a store that had removed all Nike products from its shelves closed because of sales losses. Womp womp.
Nike, on the other hand, saw massive sales in 2018.
Their move not only supported Kaepernick when he needed it, but signaled something very affirming.
Ultimately, being progressive was the more profitable move than capitulating to racists. That should be encouragement for all of us.
Kaepernick has been a controversial figure for multiple reasons.
To racists and others in Donald Trump's base, he was a target because he's a black man taking a stand for what he believes in.
It's interesting to note that the people who complain about louder, less convenient protests tend to say "protest like Dr. King would!"
Their attempt to weaponize Dr. Martin Luther King is clearly empty words, since Kaepernick's protest is as silent and peaceful as a living human can be.
On the Left, Kaepernick was controversial because he did not vote in the 2016 election.
Many find it difficult to imagine how someone could risk (and lose) his career for a political cause, yet refuse to do his civic duty and vote for a better world.
Ultimately, though, Kaepernick is a politically significant and widely loved figure.
And no, it's not just because he's really, really, ridiculously good-looking.
It's also not just because of his skill on the field.
Kaepernick and Reid took a stand against white supremacy, against Trump, and against the NFL, which has been characterized as one of the world's most predatory businesses.
It is widely assumed that Kaepernick and Reid have made a substantial amount of money in this secret settlement.
If so, good for them.
However, it is unlikely that we will ever see confirmation of how much of a payout they received.
Kansas Man's "Need to Defecate" Hilariously Mistaken For Bomb Threat
They say no good deed goes unpunished.
A Kansas man learned that lesson the hard way this week when his honorable warning to his fellow Home Depot customers was mistaken as a dangerous bomb threat.
According to police, the unidentified man informed other bathroom users that he desperately needed to, um ... liquidate some lumber.
Unfortunately, a poor choice of words and some confusion over common fecal slang led to a very messy situation.
Allow us to explain:
A police report from the incident indicates that the entire store was evacuated when the man was overheard remarking:
"You all need to get out of here because I'm fixin' to blow it up."
According to a witness, two patrons laughed because they understood the man "was in a serious need to defecate, and that he was attempting to provide a polite warning to the other patrons of the bathroom."
But a third shopper clearly wasn't in on the joke.
A 911 call from a Home Depot employee reveals that at least one customer mistakenly believed the man was planning to drop a literal bomb.
"We just had a customer here made what may have been a bomb threat," the caller said.
"He said, uh, somebody told me there's a bomb in here and you need to leave the building. He said it three times."
We're not sure why anyone thought an actual bomber would announce his violent intentions to his potential victims, but police were quick to evacuate everyone in the store, including one man who was "standing at a urinal" at the time of the incident.
Fortunately, someone eventually explained to police that the bathroom bomber "meant a bowel movement" and was not referring to an actual explosive device.
Unless he had recently eaten Taco Bell, in which case there's no telling what might have happened.
On Twitter, the story elicited much laughter and the use of many a smiling poop emoji.
"These are very touchy times. Instead of threatening to blow up a place with a bowel movement, just do it," tweeted Ira Kutis.
Obviously, that's great advice.
If you follow it every time you deuce in the Depot, it should ensure that the only thing being evacuated will be your colon.
Interestingly, it seems that Home Depot bathrooms are frequently witness to LOL-worthy chicanery.
In 2013, a woman somehow Superglued herself to a toilet inside the store.
Okay, we guess there are only two wacky Home Depot bathroom stories that made national headlines.
But hey, that's twice as many as Lowe's!
That may sound like a condemnation, but actually, it's an endorsement.
After all, who doesn't like a little bathroom humor when they're shopping for a new plunger?
Derick Dillard: Was He Actually Nice to Jill Duggar for Valentine's Day?!
Look, nobody likes Derick Dillard, right?
Well, like we're sure Jill thinks he's OK, and he has family and friends and all that.
And then there are the people who are obsessed with the Duggars, who think they are a beautiful, wholesome family and all that stuff with Josh was no big deal because hey, everybody makes mistakes.
But when it comes to the casual observers of this family, the people who are familiar with them and actually have some common sense?
Yeah, Derick is the worst.
And this is for many reasons.
Of course Derick holds the same conservative beliefs as the rest of the Duggars, that's no surprise.
The difference is that Derick is just super, super outspoken about it.
You probably know where this is going -- remember when he thought it was a good idea to go after Jazz Jennings, a transgender teenager who also has a show on TLC?
He's done this several times, actually, but it's always the same.
He misgenders her on purpose, referring to her as "him" and "he" when Jazz has made it abundantly clear that she's a "she," and he believes that that her parents are abusing her by allowing her to transition.
These kinds of comments got him, along with Jill, fired from Counting On.
On top of that, there's all the begging for money.
Derick has asked fans for donations many, many times for their missionary trips, even though they were reality stars for most of that.
Jill's dad owns several private jets, you'd think they could afford to go to Central America, you know?
Lots of people thought Derick was taking advantage of his wife's fame to get money and to avoid getting a real job, and that's because he was.
These days, Derick is going to law school, which is cool, but he's still not working.
And that leads us (kind of) into the next thing ...
Which is that Derick really just seems to be a not-so-great husband.
He's taken Jill with him to class or to the library several times and called it "date night," which is just sad.
Obviously he's busy with school, but lots of Duggar fans seem to think that he's putting in minimal effort in his marriage.
They also think he's not putting in effort for their two sons, either.
Last month, he called them a "curse" in a tweet, so that should show you how he feels about that.
Derick just has lots of bad qualities, and there's no way around that.
But was he characteristically awful for Valentine's Day, too?
He actually wasn't!
As Jill explained on Instagram, "He ordered flowers last week to be sent to our house today with a note that told me to look in the trumpet on the piano."
"It had a handwritten note rolled up and placed in the end of it that he had placed there this morning!"
"So very thoughtful!" she gushed. "Love my hubby!"
"Ok, so funny story though," she continued. "He hoped they would be delivered while he was at school ... but when he got home this evening, the UPS truck was just pulling away and some of our neighbor's packages were on our doorstop."
She said that their packages and their neighbor's packages are "continually getting mixed up," but that "when he took them over to her place, my flowers with my name were on her doorstep!"
"I was distracted giving the boys baths when Derick came in," she wrote, "so in the end it still worked out great."
"He got the flowers all fixed up and then called me in ... I just love that he put so much thought into it all ... so great!"
She finished up her story with a sweet "Love you babe!"
It's hard to make out the note Derick wrote for her, but it begins with "When I think of all the ways the lord has blessed me, you're at the top of my list."
Honestly, this really was sweet of Derick, right?
Flowers, a handwritten note expressing love and appreciation for your spouse -- it's basically what Valentine's Day is all about.
Here's hoping that he can keep up this same energy for a while instead of going back to the same old terrible Derick.
It would be neat if he had a redeeming quality, wouldn't it?
View Slideshow: Jill Duggar & Derick Dillard Net Worth: Are They REALLY Broke?!



Mackenzie Edwards Wishes Imprisoned Husband a Happy Valentine's Day

Mackenzie Edwards is really trying, you guys.

She's trying to act all happy and normal and content with her life, even though one rather important person being missing from it.

We speak, of course, about husband Ryan Edwards. Who is in prison.
The former Teen Mom star has been behind bars for several weeks now, ever since his latest arrest for drug possession.
He'll be stuck behind bars until at least April, but all indications point to Mackenzie remaining by Ryan's side despite his numerous run-ins with the law.
Various insiders have said she won't file for divorce or leave him -- and now Mackenzie herself has basically confirmed this chatter.
In honor of the holiday that falls on February 14 each year, the abandoned new mother shared the following photo on her Instagram story yesterday:
"Happy Valentine's Day," Mackenzie wrote as a caption to the image, which features a bouquet of flowers, along with a photo of her and Ryan and Ryan and his son, Bentley, alongside the pink roses.
It's actually a really sad image.
Poor Mackenzie was all alone on Valentine's Day because her husband has a major drug problem.
That's pretty depressing.
Edwards spent 90 days in rehab after he got arrested in the summer of 2018.
He missed the birth of his son with Mackenzie as a result, but returned home around Thanksgiving, presumably a new and improved man.
The photo shared at the top of this article was snapped in December, prior to Ryan's latest arrest, when it seemed as if he'd be a dedicated husband to Mackenzie and father to his two kids.
Alas, it didn't take long for multiple rumors to make their way around the Internet.
He allegedly signed up for Tinder within weeks of geting out of rehab, and allegedly asked a woman he met on that dating service for cocaine.
Then, in January, Edwards was arrested for heroin possession and for theft after he left a restaurant without paying his tab.
By our estimation, this marked the third time Edwards was arrested on a drug-related charge.
You can learn the details of what transpired here:
View Slideshow: Ryan Edwards Arrest Details: He Drank (6 Whiskeys!), He Dashed, He Got Caught, He is F--ked [UPDATED]

Edwards appeared in court on Monday, January 28 for these, with a law clerk telling Radar Online:

"The case has been continued to April 15, 2019. He's going to serve time in county jail until then."

Mackenzie, however, isn't prepared to ditch her law-breaking, drug-addicted husband.

"This is devastating for Mackenzie, to have Ryan locked up again and away form her and the kids is almost too much to handle," a source previously told Hollywood Life, expounding:

"You have to understand how hard this all is on her though. Believe me, a part of her wants to just lay down in bed and stay there."
But she did partially know what she was signing up for when she started to date Ryan and she does have children to worry about and, look, the heart wants what the heart wants.
"She has no plans to leave Ryan," this same insider insists.
"She is standing by him and believes that they will overcome this together" because "she has young children to remain strong for and that is what is keeping her going."
Fair enough. Maybe even admirable.
For all the mockery Ryan often receives online, the guy is a father of two and clearly has a significant problem.
We really do hope he gets help.