Get the latest Hollywood and music industry news, hot celebrity gossip, entertainment news, photos and videos.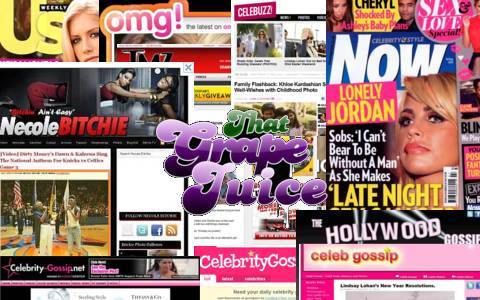 Celebrity Video Highlights
---
Celebrity BUZZ
When Bae Misinterprets a Text Nothing is more frustrating than when your bf or gf continuously misinterprets your text messages! There are serious consequences when bae can't understand your texts. That is why you have to learn how to text properly. There is a very specific etiquette and sensitivity one has to apply when communicating in relationships, otherwise it will always end up in a fight. Couples fight all the time over the cell phone. That is why this information is so important. These funny Barbie videos are the best tutorials on how to avoid major fighting with your boyfriend or girlfriend.



When Bae is Obsessed with #relationshipgoals Sometimes bae feels the need to compete with her couple friends on social media, but being #couplesgoals and #relationshipgoals is hard work. You have to schedule Instagram photoshoots and drag your bf along for the crazy ride. Getting the perfect shot might reveal some anger management issues, but it's all worth it for the ultimate couple goals comment from your friends on your post!



That Awkward Moment in Your Relationship From the very beginning of your relationship you were dreading the most awkward moments. When bae farts or admits to boob sweat for the first time, it can revolutionize your love for each other because you'll finally be free to express your true emotions. Farting is always the worst though, but something about this funny Barbie video when she blows the hell out of her bf with her powerful gass cracks us up. We like cheap laughs and hopefully you do to. CoupleThing Independent Work: This video is not intended to depict actual people, characters or entities or to suggest any association with or sponsorship by any person, company, or entity. It is intended for the purposes of entertainment and uses satire and parody. It depicts entirely fictional situations and characters, and is the product of our CoupleThing imagination, alone.



Relationship Advice: How to Be a Better GF Do you struggle with being better in your relationship? Don't you wish there was an easy fix? Well this funny Barbie video would like to introduce you to a new product called Better Bae. It's a robot who helps you when the going gets rough. Do you have a lazy boyfriend? Better Bae will help you to cope. Love is rough sometimes, but thanks to Better Bae you won't have to fight and argue with your boyfriend anymore. Or will you? CoupleThing Independent Work: This video is not intended to depict actual people, characters or entities or to suggest any association with or sponsorship by any person, company, or entity. It is intended for the purposes of entertainment and uses satire and parody. It depicts entirely fictional situations and characters, and is the product of our CoupleThing imagination, alone.



The Pros and Cons of Dating My BF Have you ever made a list of all the pros and cons of dating bae? Chances are you and your bf have done this. Maybe you didn't write them into your diary like Barbie does in this video but you definitely thought about it. Right? That's because relationships take a lot of effort and keeping a boyfriend or girlfriend is a full time job. Take our advice tho. Learn to appreciate your partner. Watch these funny Barbie videos and remember to just do better. CoupleThing Independent Work: This video is not intended to depict actual people, characters or entities or to suggest any association with or sponsorship by any person, company, or entity. It is intended for the purposes of entertainment and uses satire and parody. It depicts entirely fictional situations and characters, and is the product of our CoupleThing imagination, alone.



When Bae's a Control Freak Sometimes your BF can push you into being an obsessive control freak. Don't worry, it's not your fault : ) Everything would be perfectly fine if he knew how to clean correctly, help you around the house and understand your basic needs. He is the reason that you have road rage, not your need to control everything. If everything was done correctly, you wouldn't have the need to control. Try a little meditation, it might help you win an argument about this with bae!



13 Reality TV Hoaxes You Totally Fell For

Admit it: you've been had at some point in the past, haven't you?

You thought what you were watching on reality television was 100% real, only to later learn the devastating truth.

We've all been there. And now we can all be here: relive the most shocking reality TV show hoaxes in history below...

1. Dance Moms
We'll just let Maddie Ziegler, arguably the show's top performer, lay it right out for you, courtesy of an interview with USA Today: "The producers set it up to make us all yell at each other. You know how I said that moms do fight? The moms have a fake fight sometimes. Afterward they just start talking and laugh about it." Host Abby Lee Miller really does suck, however. that's not fake. 2. House Hunters
Bobi Jensen blogged in 2012, on a site titled "Hooked on Houses," that her experience on House Hunter was totally contrived. Turns out, the couple had selected its home prior to appearing on the show and producers even changed Jensen's story over why she was moving. 3. Breaking Amish
Can we change the title of this TLC series to "Having Already Broken Amish?" After the very first episode aired, it came out that most participants had already left their Amish family for the bright lights of the big city. 4. Storage Wars
Dave Hester, a prominent presence on A&E's Storage Wars, left production and sued the network over the phony aspects of the show. He said producers loaded units up with items to give each episode an artificial angle and that they even funneled money to teams to keep each episode's bidding competitive. 5. Ghost Adventures
Ghost Adventures star Aaron Goodwin was fired in 2014 after he stopped by the podcast Are We Alone and explained how the network staged reactions, sound effects and other aspects of the program. He said it was "sickening" that he was part of such a "fraud." 6. The Hills
Lauren Conrad, Brody Jenner and other cast members have come out and said pretty much everything you saw on this MTV reality show as scripted. Shocking, we know! View Slideshow



Javi Marroquin and Lauren Comeau: Is the Baby Coming Soon?!?

While Javi Marroquin continues to clash with his ex-wife over their past, many questions continue to be asked about this reality star's future.

Specifically, about his future with Lauren Comeau.
The couple, of course, stunned celebrity gossip followers back in late May when they announced they were expecting a baby.
This news came mere months after Javi split from Briana DeJesus and also stopped hooking up (again) with Kailyn Lowry.
Marroquin and Comeau had met at a wedding last summer and actually dated briefly in 2017... until they reportedly broke up because Javi slept with another woman.
We haven't been here to judge, however, simply to wish these two and their impending child the best.
Perhaps Javi really is a changed man and will dedicate himself entirely to this new family. You never know, right?
Along with the baby bombshell, meanwhile, has come various speculation regarding Comeau, considering she's now very much involved with a prominent MTV personality.
As we've posted about over the past few weeks...
... will she appear on Teen Mom 2?
... will she and Marroquin get married?
... heck, are they already married?
Now, based on the photos above and below of Comeau, we can add another inquiry to this list:
JUST WHEN IS LAUREN DUE?!?
Taking to both basic Instagram and her Instagram Stories page over the past week or so, Comeau has shown off her baby bump on multiple occasions.
And it ain't small!
All Comeau and Marroquin have said thus far is that their son will enter this world at some point in 2018.
That much is clearly true, but the size of Lauren's precious tummy makes it appear here as if their son may enter the world at some point in the fall of 2018.
We make note of this partly because it's very exciting and it will be cool to meet yet another baby produced by a member of the Teen Mom 2 cast.
But also because Comeau's due date does make one wonder when she and Marroquin got it on and whether he cheated on DeJesus with his baby-mama-to-be.
The timeline does cause fans to ponder this possibility.
Whether or not Javi stepped out on Briana, though, he and Lauren appear to be going strong.
They are posing together in a number of Instagram photos, often with Marroquin and Lowry's son, Lincoln.
Lauren has also now moved to Delaware and is shacking up with her famous lover.
At some point, Javi swears, wedding bells will even ring for the eventual parents.
"Definitely in the future I will propose," the MTV star recently told Radar Online, quelling rumors that they were already betrothed.
He says it will happen, he promises, but he and Comeau have something else to concern themselves with in the meantime.
Or someone else, we should say:
"The focus is on the baby first." 
View Slideshow: Lauren Comeau & Javi Marroquin Reveal Baby's Gender ... and Proposal?! [UPDATED]



Jill Janus, Singer of Rock Band Huntress, Commits Suicide

Jill Janus, the frontwoman for popular heavy metal band Huntress, was found dead on Tuesday, others in this group have confirmed.

She was 43 years old.
While details are still coming in regarding her passing, this is what band members wrote on Facebook last night as tragic confirmation of the news:
"It is with crushed hearts that we announce that Jill Janus - frontwoman for the California heavy metal band Huntress - passed away on Tuesday, August. 14.
"A long-time sufferer of mental illness, she took her own life outside of Portland, Oregon."
Continued this post:
"Janus spoke publicly about these challenges in hopes of guiding others to address and overcome their mental illness."
Huntress were formed in 2009 and released its first album, Spell Eater, in 2012.
The band went on to release a further a pair of orther records as well, while supporting and opening at times for rock bands Motörhead and Lamb of God.
Best known for the singing gig described above with Huntress, Janus also sang for a handful of female metal cover bands over the years, including The Starbreakers and Chelsea Girls.
"Beyond her accomplishments in the music world and her advocacy for mental health issues, she was a beautiful person passionate about her family, animal rescue and the world of natural medicine," the Facebook message reads, concluding
"She will be missed more than she could have ever known."
It is unclear at the moment just how Janus took her own life.
The artist was diagnosed with bipolar disease aged 20, telling Revolver magazine in 2015 that she struggled in high school after starting to show signs of this illness at 13 years old.
In response to this awful news, partner and Huntress member Blake Meahl paid tribute to Janus as follows yesterday:
"[We] spent 9 years together creating a home, having a family and building our passion project Huntress.
"The devastation of knowing I will never see her again is the most gutting emotion I have ever experienced. I hope you have found the peace that you couldn't find on this planet."
Added Lizzy Hale of Halestorm:
"I'd like to take a moment to state again how important it is to talk about mental health, and remind all of you out there battling demons that you are not alone.
I have to navigate my own dark labyrinth and I turn to music and writing for my lifeline. I want to encourage you to keep searching for Your lifeline, something that makes You happy.
To Jill, My sister of scream, I hope wherever you are you have found the peace that you couldn't here.
My deepest sympathy's go out to Jill's Family and her band Huntress during this time.
If you or someone you know might be at risk of suicide, call 1-800-273-8255 to reach the National Suicide Prevention Lifeline.
It provides free and confidential support 24 hours a day, seven days a week for people in suicidal crisis or distress.
View Slideshow: 32 Musicians Who Died Too Young



Celebrities Who Died in 2018: From Aretha to Anthony...

Below is a tribute to celebrities we have lost in the year 2018.

These entertainers are gone, but will never be forgotten by their fans.

May they rest in eternal peace.

1. Anthony Bourdain
Anthony Bourdain, world traveler, celebrity chef and CNN journalist, was found dead at the age of 61 in June. There was perhaps no greater star in the food world, and no more unique an individual around. 2. Aretha Franklin
Arguably the greatest singer EVER, Franklin died in August after a brave battle against cancer. 3. Kate Spade
Kate Spade is pictured here back in 2008. The designer very sadly killed herself years later at the age of 55. 4. Mark Salling
Mark Salling took his own life. The Glee star was 35. 5. Jerry Van Dyke
May Jerry Van Dyke rest in peace. The actor, pictured here in 2002, has died at the age of 86. 6. Dolores O'Riordan
Cranberries singer Dolores O'Riordan has passed away. She was just 46 years old. View Slideshow



Angelina Jolie ORDERED to Give Brad Pitt More Visitation With Kids!

Brad Pitt sure is getting a lot of child visitation time for a guy who allegedly barely even pays child support.

But will it last? A report says that a court date for him and Angelina Jolie is looming -- and it's just days away.

These questions of custody, child support, and visitation could be resolved sooner than either estranged ex could imagine.
Until the next court date, which is scheduled for August 21, Angelina is being forced to send her six children to spend time with Pitt.
The court has ordered her, The Blast reports, to hand them over for "four hours every other day on school days and twelve hours every other day on non-school days."
The order that they spend twelve hours with him every other day on non-school days is staggering.
Additionally, as we previously reported, she was ordered to surrender her children's cell phone numbers to Pitt.
She was also instructed that she is not to monitor their communications with him.
As we mentioned, Angelina has accused Pitt of being a deadbeat dad.
In court documents, she alleges that he has made minimal contributions towards their children during the two years since their split.
This, she says, has forced her to shoulder the bulk of the costs of caring for all six of them.
It is not that she cannot afford to care for her children, but that it is the responsibility of both parents to support their children.
Pitt did not care for being called a deabeat -- if not in so many words -- at all.
Brad Pitt accused Angelina of "media manipulation," though her complaint was filed in court documents.
He then went on to claim that, actually, he's paid more than $9 million in child support.
That sounds like plenty to contribute to six children. More than plenty, really.
But Angelina's team replied that he was deliberately distorting facts to make it appear that he was providing for his children more than he really was.
He had apparently given Angelina an $8 million loan after he insisted upon keeping the family home and the belongings within it.
Obviously, a loan is not the same thing as child support.
The loan was given to help Angelina secure a new home, and he is reportedly charging her interest on the amount.
It is possible that Pitt's attorney will argue that since the loan is for a home that the children also occupy, he was helping them with it. That would make his case pretty weak, however.
It is difficult to imagine how that argument would work in court unless Pitt forgives the loan, and even then.
Hopefully, an official amount for future child support payments can be determined soon -- perhaps in a matter of days, if the August 21 hearing goes well.
Many suspect that the court will make a new ruling on child custody and visitation -- though that could, at least potentially, go in favor of either Angelina or Pitt.
Perhaps the court can also clear up who has paid what to whom during the past few years.
Hopefully, the court can do so in a way that does not allow one side or the other to misrepresent the truth using numbers and payments.
What everyone should want is whatever arrangement -- in terms of finances and custody and, well, everything else -- is in the best interests of the children.
View Slideshow: 17 Most Expensive Celebrity Divorces EVER



Fox News Mistakes Patti LaBelle for Aretha Franklin Because Of Course It Does

On Thursday morning, the entire world lost a legend.

As previously reported in detail, Aretha Franklin died at her home in Detroit - while under hospice care, surrounded by family members and loved ones - at the age of 76.

She passed away from pancreatic cancer.

And while the tributes and messages in the singer's honor have come flooding in from all corners of the Internet and television, one in particular has sparked some unfortunate buzz.
It comes from the Fox News Channel.
In relaying to its viewers that Franklin, arguably the most influential and successful solo artist in music history had passed away, the cable network shared the image above.
It features a photo of Franklin; her name; the year she was born; the year she died; and another photo... of Patti LaBelle.
Yes, seriously.
While honest mistakes happen all the time and while we're certain this was nothing more than a mindless snafu, the image has caught the attention of social media users everythwere simply due to its source.
Meaning what, exactly? 
Let's just say that few are surprised that the President's network of choice is the one who mixed up one African-American singer with another.
We'll just leave our commentary at that.
Others, however, had a bit more to say about the Franklin-LaBelle mistake, in meme form and in exasperated Tweet form.
To wit:
The incorrect visual appeared during America's Newsroom, as hosts Bill Hemmer and Sandra Smith discussed Franklin's immense talent and musical legacy.
They said very nice things about her on air.]
Producers just were unable to tell one famous black woman from another.
President Trump, meanwhile, confusingly noted in remarks to the press that Aretha was a person who had "worked for me."
Former President Barack Obama, who had Franklin sing at his 2009 inauguration, Tweeted the following:
Aretha helped define the American experience. In her voice, we could feel our history, all of it and in every shade—our power and our pain, our darkness and our light, our quest for redemption and our hard-won respect.
May the Queen of Soul rest in eternal peace.
And LaBelle, like so many other celebrities, also chimed in on this very sad passing:
Franklin was the first woman inducted into the Rock and Roll Hall of Fame and earned 18 Grammy Awards over her illustrious career.
She was a true icon.
Despite what Fox News accidentally tried to imply above, she was one of a kind.
May she rest in peace.
UPDATE: Fox News has apologized for the mistake and said it meant to include both Franklin AND LaBelle in that image, but the former got cropped out.
There's just one problem: Franklin is not in that Associated Press photo with LaBelle. 
She could not have been cropped out because she wasn't on stage with LaBelle at the time that picture was taken.
"We sincerely apologize to Aretha Franklin's family and friends," said Fox News in this statement, adding:
"Our intention was to honor the icon using a secondary image of her performing with Patti LaBelle in the full screen graphic, but the image of Ms. Franklin was obscured in that process, which we deeply regret."
HOWEVER:
The image of LaBelle the network used was from a 2014 White House concert called "Women of Soul."
Franklin and LaBelle did not perform on stage at the same time. And, as Mediaite points out, the AP photo used in the graphic does not include Franklin at all.
View Slideshow: Aretha Franklin: Mourned, Remembered, R-E-S-P-E-C-T-E-D by Stars Everywhere

Said Aretha's family upon confirming her passing:

In one of the darkest moments of our lives, we are not able to find the appropriate words to express the pain in our heart. We have lost the matriarch and rock of our family.

The love she had for her children, grandchildren, nieces, nephews, and cousins knew no bounds.

We have been deeply touched by the incredible outpouring of love and support we have received from close friends, supporters and fans all around the world.

Thank you for your compassion and prayers.

We have felt your love for Aretha and it brings us comfort to know that her legacy will live on. As we grieve, we ask that you respect our privacy during this difficult time.