Get the latest Hollywood and music industry news, hot celebrity gossip, entertainment news, photos and videos.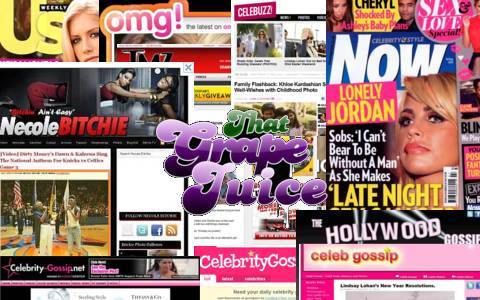 Celebrity Video Highlights
---
Celebrity BUZZ
When Bae Gets Paid What happens when bae thinks she can ball out till she busts? We've all dated that one person who just cannot handle having money burn holes in their pockets. One day they're living off ramen noodles and the next it's five star restaurants and shopping sprees, only to be right back where they started once the cash dries up. Then again, what's the point of making money if you're not going to spend it on anything, right? Also be sure to check out the AMAZING deals on everything from kids' clothes to coffee mugs at Zulily!! Sign up today by clicking HERE, all you need is an email address!!



When the Fall Weather Can't Make Up Its Mind It's that time again when it's officially fall on the calendar, but it's still too hot to wear your new fall outfits from your fall haul. So infuriating! Is sweater weather too much to ask for? I don't think so sun! We shouldn't be getting summer sunburns anymore. We should be enjoying hayrides on a windy fall day. The weather needs to make up its mind. No more going back and forth between the air conditioner and being buried under blankets. Get it together fall weather.



How to Cope With Stress in Your Relationship Do the smallest things stress you out in your relationship? Maybe you can't get your winged eyeliner to match on both sides. And maybe your bf doesn't empathize with your struggles. It's okay because we all have to learn how to cope with our stress. Barbie is an expert on figuring out what bothers her so much so watch her find the solution to her problems in this latest episode! CoupleThing Independent Work: This video is not intended to depict actual people, characters or entities or to suggest any association with or sponsorship by any person, company, or entity. It is intended for the purposes of entertainment and uses satire and parody. It depicts entirely fictional situations and characters, and is the product of our CoupleThing imagination, alone.



When Bae Can't Handle Directions Everyone knows it's never your fault if you get lost... it's your boyfriend or girlfriend's! Some people just can't read a map to save their life, which is ridiculousness because now with apps like waze, uber, and even google maps, it seems like it's near impossible to get lost with all this technology around. Unfortunately some people just can't get it right and a simple right hand turn could leave you stuck on a trash barge in the middle of a river or something.



How Bae Feels About Halloween Halloween might just be bae's favorite holiday! This year she tries to get her bf to dress up with her. They are drawing inspiration from one of the most infamous fights of the season. Unless you live under a rock, you've heard of the debacle between Cardi B and Nicki Minaj during New York Fashion Week. We who better to portray Cardi B than our favorite relationship role model Barbie? Let's just hope she didn't spend too much money on all the shoes! Baelievers would your gf ever force you to dress up like Nicki minaj? Would you ever wear a Cardi B costume?



When Bae Has Trust Issues Everyone in a relationship has had at least one moment where they question what their significant other is up to when they're acting sneaky. Sneaky significant others are the cause of trust issues! Whether it's not wanting you to look at their cellphone, leaving the room when someone calls, or lying about staying late at work, that's all cause for suspicion. It's like they're asking you to have trust issues! Sometimes you just have to turn into a ninja spy to get to the bottom of what bae is doing.



13 Reality TV Hoaxes You Totally Fell For

Admit it: you've been had at some point in the past, haven't you?

You thought what you were watching on reality television was 100% real, only to later learn the devastating truth.

We've all been there. And now we can all be here: relive the most shocking reality TV show hoaxes in history below...

1. Dance Moms
We'll just let Maddie Ziegler, arguably the show's top performer, lay it right out for you, courtesy of an interview with USA Today: "The producers set it up to make us all yell at each other. You know how I said that moms do fight? The moms have a fake fight sometimes. Afterward they just start talking and laugh about it." Host Abby Lee Miller really does suck, however. that's not fake. 2. House Hunters
Bobi Jensen blogged in 2012, on a site titled "Hooked on Houses," that her experience on House Hunter was totally contrived. Turns out, the couple had selected its home prior to appearing on the show and producers even changed Jensen's story over why she was moving. 3. Breaking Amish
Can we change the title of this TLC series to "Having Already Broken Amish?" After the very first episode aired, it came out that most participants had already left their Amish family for the bright lights of the big city. 4. Storage Wars
Dave Hester, a prominent presence on A&E's Storage Wars, left production and sued the network over the phony aspects of the show. He said producers loaded units up with items to give each episode an artificial angle and that they even funneled money to teams to keep each episode's bidding competitive. 5. Ghost Adventures
Ghost Adventures star Aaron Goodwin was fired in 2014 after he stopped by the podcast Are We Alone and explained how the network staged reactions, sound effects and other aspects of the program. He said it was "sickening" that he was part of such a "fraud." 6. The Hills
Lauren Conrad, Brody Jenner and other cast members have come out and said pretty much everything you saw on this MTV reality show as scripted. Shocking, we know! View Slideshow



Blac Chyna Trashes Keeping Up with the Kardashians: It's Fake! Lame! Failing!

It is, sadly and predictably, totally on again between Rob Kardashian and Blac Chyna.

The exes are back to arguing once again over two of the topics that often cause the most tension:

Their daughter... and reality television.
Late last week, Rob made it clear - through his attorney, Marty Singer - that the former couple's two-year old daughter, Dream, would NOT be appearing on Chyna's upcoming Zeus Network reality series.
Due to her age, Dream would need the consent of both her parents to play any role on this program.
And Rob refuses to give it.
"Please be advised that The Zeus Network does not have Mr. Kardashian's consent to Dream's participation in or appearance on the Series or in any related marketing or promotional materials," Singer said on his client's behalf last Wednesday.
It's not too hard to understand why a parent wouldn't want his toddler to be thrown in front of a television camera...
... but try telling that to Blac Chyna.
On Saturday, the mother of two shared a lengthy and scathing statement on social media in response to Rob's stance when it comes to The Real Blac Chyna show.
"As Executive Producer of my show, It is very unfortunate that Rob could not simply have an adult conversation with me 'the mother of his child,' Dream Kardashian appearing on my show 'The Real Blac Chyna,'" she wrote online.
Chyna explained that a significant part of her beef centered on just how Kardashian handled this issue.
"Had Rob contacted me directly rather than through his attorney Marty Singer, Rob would have learned about Dream participation in the show," she continued, adding that she "would never allow" Dream to be "subjected to long hours on the set."
Again, she reiterated, she is in charge of this series.
The ex lovers -- who co-starred on their own E! program back when they were engaged -- agreed to joint custody in September of 2017 following an often contentious romance and that culminated with both side alleging abuse in separate lawsuits.
They actually seemed to be getting along pretty well of late.
Chyna even recently said some nice stuff about Rob as a dad. And as a sex partner.
"I have the ability to control which scenes are included in the show," Chyna added over the weekend, stating, for example, that Dream was NOT around during the publicized fight on her future show between herself and her mother.
The reality star concluded her post by claiming Keeping Up with the Kardashians features Dream in episodes without Chyna's consent.
So, like, come on, dude!
"I also would have pointed out to Rob the hypocrisy of his family's insistence that Dream appear on Keeping Up with the Kardashians in the family's desperate attempt to boost the dismal ratings for their stale and contrived show, without my approval," Chyna said.
She cited out a recent season 16 episode, which aired in May, that depicted Dream's fairy-themed birthday party.
"My show is about my life and my kids are a huge part of my life.
"It's really sad that everything I do to better myself or my family the same people have something to say to stop or hinder it," she added.
View Slideshow: Blac Chyna: Awful at Oral Sex According to Leaked Video, Twitter Reactions



Meghan King Edmonds: I No Longer Trust My Devious Husband!

Meghan King Edmonds has broken her silence on what appears to be a pretty major cheating scandal.

Earlier this week, All About the Tea broke the news that Jim Edmonds may very well have slept around behind the back of his famous wife.
According to an anonymous source, Edmonds -- who played professional baseball for nine seasons -- rekindled a relationship with a woman named Jenn last year.
He even did so while the former Real Housewives of Orange County star was pregnant with twins.
This insider goes on to allege the following:
Edmonds initiated contact with Jenn, despite being married to Meghan.
Edmonds would meet Jenn in hotel rooms whenever he traveled as part of his work as a broadcaster.
Edmonds sent Jenn some photos of his penis.
Edmonds sent Jenn a video of himself masturbating on the day Meghan gave birth.
Edmonds made Jenn sign a non-disclosure agreement.
Pretty daming stuff, right?
And Jim has not denied that he knows this alleged mistress, simply saying in a statement yesterday that he never had a physical relationship with her.
"Regrettably, I had a lapse in judgment. I engaged in an inappropriate conversation with this person," he told Us Weekly, making both an apology and also stating a defense for himself.
He added:
"At no time was there any type of relationship or physical contact. Absolutely none. This is someone trying to profit from my name. I am aware she has done this to others in the past...
"Clearly, I made a very poor decision to expose myself and my family to this type of person. For this, I am truly sorry and sought forgiveness from my wife."
What does Meghan have to say in response to this story and to her husband's side of it?
A lot. A whole lot.
"I found out the same way you guys did, in the tabloids," Meghan, who is Jim's third wife, wrote on her blog on Friday.
She continued:
"I never left a voicemail for the other woman. I called Jimmy and he confessed to me that he had exchanged lewd photos with this woman over the course of several months and a physical relationship never existed.
"He paid her off to protect me so I'd never find out."
What does she think about Jim's explanation of events? Well...
"Do I believe him?  I don't know. Because I don't trust him anymore. Physical or not, he still had an affair and he admits this to me.
"I refuse to be humiliated by this. Marriage is hard, we've been through our ups and downs, I've talked about it openly.  A relationship takes two but it doesn't take two to cheat."
Meghan gave birth to twin boys last year.
She and Jim got married in 2014 and she left the Real Housewives franchise in 2017.
Meghan added that she "did nothing wrong" and didn't deserve any of this.
"Why did he self-sabotage?" she wrote. "And who sends nudies? Doesn't everyone know better than this in 2019?"
The former Bravo personality said she loves her husband, yet signaled she is struggling to forgive him.
"I do not fault any other person except my husband."
"It's not fair," Edmonds added. "I sob so much my face stings from the salt from my tears. I am exhausted. My poor kids aren't getting their devoted mother. And it's only been 36 hours...

"I feel sad. Oh, do I feel so sad!

"I feel abandoned. Lonely. My best friend, my number one person has lied to me. Who is he? Do I even know?"

Meghan concluded that while she is a "victim," she is "not defined by this, and needs "space to heal."

She wrote:

"Ultimately, I have hope our marriage can recover."





Jenelle Evans: David is the BEST Dad! Nugget Asked for It!

Jenelle Evans has been in a great big mess for over a month now.

Probably the biggest mess of her life, which is saying a lot.

Her husband killed her dog, she lost her Teen Mom 2 gig, and CPS removed all of her children from her home.

It's been rough.

But throughout the whole thing, Jenelle has been uncharacteristically quiet.

She's given statements and interviews here and there, but not much, and she hasn't addressed the situation much on social media at all.

Until now!

1. This Girl ...
Jenelle ... well, she doesn't always make the best choices. 2. The Truth
Actually, she pretty exclusively makes terrible ones. 3. Surprise!
Her worst choice? It's tough to say, but it's really looking like it's going to be getting with David Eason. 4. This Guy
David is just the worst, but nobody has time to list every single bit of proof of that. For now, let's just stick with the fact that he murdered Nugget, the family dog, and after police began investigating him, they believed he was so dangerous that they advised CPS to remove all the children from his care. 5. Wow
It's apparently a big deal, and a very difficult thing to do, this emergency removal, but David warranted it. 6. The Kids
And so now Kaiser is with his father, Nathan Griffith, and Ensley is with Jenelle's mother, Barbara, who already has custody of Jace. View Slideshow



Jordan Craig to Khloe Kardashian: Your Tristan Timeline is Totes Fulla S--t!

Jordan Craig is in no way convinced by Khloe Kardashian's recent statement. 

After reports began accusing Khloe of dating Tristan Thompson while he was still with his pregnant and at the time GF, Jordan, back in 2016 - the reality star finally put the stories to rest. 

But now Jordan is throwing the ball back in her court, saying Khloe's timeline just doesn't add up. 
This "you lose 'em how you get 'em" charade has been going on for far too long -- does it really even matter?!
Tristan Thompson sucks.
The entire world knows that. 
But for some reason, people are now trying to pin the homewrecker title on to Khloe because in Jordan's eyes she was the other woman.
Both Khloe and Jordan have felt the pain caused by no good Tristan -- so can't they just move on and call it a day?
Um, no. 
Khloe finally shared "her truth" this week after court documents Craig filed this past November (as part of her child support battle against Thompson) surfaced. 
The claims accused Khloe and Tristan of cheating and Jordan said her pregnancy became "one of the most popular gossip headlines."
She also argued that the drama caused her to have heatlth isses during her pregnancy. 
But Khloe wasn't going to sit back and let her name tarnish, of course. 
"I'm disappointed that I even feel the need to post this but... I need to say my truth," she began her explanation on her Instagram story. 
"My truth is: I met Tristan because HE CHOSE to go on a blind date with me."
She then explained how they went on a few dates and Tristan told her about his pregnant ex.
"Obviously, I was reluctant about us continuing to date or start a relationship."
But Khloe, being the oh so clever woman that she is, checked with his inner circle and even his mother to double check that his relationship with Craig was over. 
"He showed me physical proof (correspondence between the two) and had me on calls with his lawyers to prove his point," she shared.
"His best friends, business associates and even his mother told me, him and his ex were broken up before we met."
Sounds like a lot of investigating for just a few dates -- maybe she should have trusted her gut back in 2016?
"This is my truth!" Khloe continued. 
She then went on to apologize for the entire situation and just in case Tristan and his inner circle did lie, she's sorry. 
"Truthfully, from the deepest parts of my soul, I am sorry!" she wrote. 
"I'm sorry for any pain that has been created either way."
"No woman deserves to go through anything like this!" she added.
But Jordan had 0 empathy. In fact, she found Khloe's words completely shady. 
A source from Us Weekly confirmed that Jordan moved on from the cheating drama, but still questions Khloe's motives.
"Jordan does question the timing of Khloe's very public timeline of events during that time," said the source.
"She insisted that she was unaware that Tristan had dumped her for Khloe," said the source.
"She would have just preferred that Khloe say nothing publicly."
Now that we have both sides on the table -- can we just say how ironic it is that Tristan cheated (for the final time) on Khloe with a woman named Jordyn...
It's not important information -- but kind of wild. 
We, of course, feel terrible for both parties involved, especially because both Khloe and Jordan can't exactly cancel Tristan out of their lives for good.
Considering he is a father to both Khloe's daughter True and Jordan's son Prince. 
What a mess. 
"Jordan really felt for Khloe when Tristan cheated on her," the source adds.
"But she should have realized it before."
We're pretty sure Khloe is wishing she did too -- but on a positive note, she wouldn't have had True without Tristan. 
View Slideshow: Khloe Kardashian: Tristan Thompson CONFESSED to Banging Jordyn Woods! (And It Was All Caught on Camera?!)



Chris Brown is Expecting His Second Child. (Please Pray for Him/Her)

Congratulations are in order for Chris Brown.

And prayers are needed for the little boy or girl who is about to grow up with Chris Brown as a father.
The rapper is expecting his second child with Ammika Harris, numerous outlets have confirmed.
It's unclear just how far along Harris is in her pregnancy, but Us Weekly writes that she and the violent superstar broke up a few months ago.
So... she's either already well into her second trimester and the news just broke; or Brown and Harris had some non-relationship sex at some point in the fairly recent past.
At last check, Brown was romantically linked to Instagram model Indya Marie.
We remain perplexed, of course, over why he would be romantically linked to anyone, considering Chris Brown is a tempermental abuser who bloodied Rihanna's face with his fists a few years ago.
Since then, he has been accused of domestic violence on multiple other occasions as well.
The New York Post first reported that Brown is expecting, noting that he dropped hints in May when he remarked on a photo Harris,playing basketball at an arcade.
"BM BAD," he wrote at the time, using the common abbreviation for "baby mama."
Neither Brown nor Harris has said anything else about the topic since then.
Their baby, however, will join half-sibling Royalty in Brown's immediate/extended family; her mother is Nia Guzman.
According to the star, he thinks that being a dad is "very humbling" and he does seem to dote on the five-year-old toddler.
Just take one look at Brown's Instagram and it's apparent he spends his fair share of time with Royalty.
At other times, of course, he continues to try and roast another ex-girlfriend, Karrueche Tran.
Brown just slammed her boyfriend, Victor Cruz, this past Thursday, writing of the former wide receiver's fashion sense:
"No shade boo, but PLEAS [sic] STYLE HIM.
"He look like he shopping off the manikin [sic] and trying to bargain with the sales manager. Retired wrestler spanks [sic]. I'M F—KING AROUND … Good [sic] bless."
Oh, that Chris Brown.
Always such a joker, right?
Ammika Harris is reportedly having Chris Brown's baby. She may need ALL the prayers, you guys.
Added Brown on social media:
"No shade. Just minor. Nothing bad or major. UPGRADE HIM SIS. I'll take him around to style him. NOT HATE. He just need some game spirit.
"Peace love and joy. JUST PLEASE UPGRADE YA [sic] MAN BOO."
Sounds like you banged yourself a real winner there, Ammika Harris.
Please keep your child as far away from him as possiblel