Get Online Package
Everything you need for a professional hassle-free Web presence.
Your Own Domain name (ie: www.yourorganization.com)
Professional Custom Created Web Page Design and Development
Web Hosting - for one year ($199 per year after that)
Domain Name Email Account (ie: This e-mail address is being protected from spambots. You need JavaScript enabled to view it )
Web Page Optimization
Free Listing in The Bahamas Web Directory
Free Advice and Resources
All this for only $99.00 ($518 value)
This offer is for qualified* Bahamian companies, organisations and entrepreneurs only.
As easy as 1, 2, 3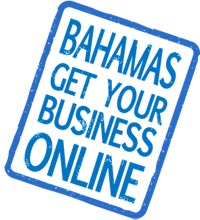 1. Choose a domain name
Your domain name (for example, www.my-company.com) is your company's "address" on the Internet. Choose a name that's easy to remember so customers can find you.
2. Pick a site design
Browse our library of templates. Don't worry about finding the perfect match for your business; you can switch design with the click of a button and you'll be able to customize your site to create the exact look you desire.
3. Make it yours
Add your content, customize your website with text, images and video. Add additional pages to showcase services, team biographies, current products and photo galleries.
Why we're doing this
The Internet is where the majority of Bahamians go to find what they want. Businesses without an online presence are missing out on a huge opportunity to find new customers, and to have new customers find them.
Increase your online visibility
You can have your own customizable webpage to present yourself or your company. Add a brief description, your contact details, or a map. Include a contact form for your visitors. Enhance your page with articles, photos, videos, etc.
"If you're looking to grow your business and expand your online presence, you'll find no better way to do it than our 'Get Online' special offer," said Niki Bright, webmaster for BahamasB2B.com.
"We believe that any business, no matter how big or small, can grow and succeed online," she added.
Not online yet? Get a web page today!
This offer ends May 31, 2012, so act now to take advantage of this tremendous offer. For more information contact BahamasB2B.
* Qualified companies only
must be Bahamian-owned and have a physical presence in the Bahamas
must have been in business for more than 2 years
must be G-rated business