$2M Share Issue Keeps Benchmark From Negative Worth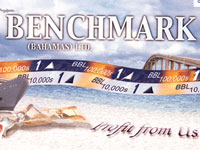 With Benchmark (Bahamas) a BISX-listed company, facing a negative net worth for the second quarter of 2010, principals of the company raised $2 million in fresh preference share capital to secure the balance sheets. Chief executive of Benchmark, Julian Brown said that Benchmark had a $1.694 million net loss for the six months up to June 30, 2010 – about $1.537 million attributed to the unrealised loss on Benchmark (Bahamas) investment portfolio, a private, affiliated entity raised $2 million for the BISX-listed firm in an offering that closed on June 27.
Mr. Brown said that "had we not done this preference share issue" Benchmark (Bahamas) would have most certainly fallen into a negative net worth position as at the 2010 mid-year.
Benchmark (Bahamas) suffered a $0.34 per share loss for the 2010 half year, compared to $0.18 the year before. For the six months, its Alliance Investment Management subsidiary suffered a $1.321 million loss; Benchmark $352,685; Benchmark Advisors $6,783; and Benchmark Properties $13,634.
Benchmark came close to falling into a negative worth previously within the span of a year and had to raise about $3 million in preference share capital, closing a $1 million offering toward the end of 2009 to avoiding falling into a negative net equity position.
Mr Brown is optimistic that negative net equity issues will not be a problem once the company's commercial real estate development on Carmichael Road is revalued to properly reflect its value.
Mr. Brown said, "I think at the present share price Benchmark is significantly undervalued. On that basis, those who remain in the investment can use this opportunity to acquire more shares, and for those who have not got any yet, this is an excellent opportunity to acquire more, because I don't believe the present market price reflects the value we have on our books.
"The ability to place the kind of offerings we have in private share offerings, in my view, speaks to the private market's confidence in our company. Time can only tell whether I'm right or wrong. We have hope, confidence in what Carmichael Road will produce in the long-term for Benchmark, and it will be a very good investment for the company."
Regarding the commercial development he said, "Everything looks very positive, and we're getting a significant amount of inquiries about rental space.
"I'd be surprised if by the year-end we are not fully rented, or at least 90 per cent rented. The inquiries have been good, and extremely strong from quality businesses."
Projecting earnings of $25,000 in rental income from Carmichael Road in the 2010 third quarter, Mr. Brown added, "We're negotiating a third lease, which is now with the lawyers for full review. We hope to sign that lease before the end of the month.
"Based on what we have already leased, which is 7,000 square feet, there is the possibility of going to 8,000-9,000 square feet leased, depending on what the tenants wants."

investing