Guyana President Understates Bahamas Hotel Occupancy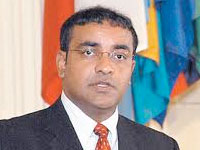 Head of State Bharrat Jagdeo whilst speaking at the commissioning ceremony of the GT&T fibre optic cable recently, in reference to the proposed Marriott Hotel and seeking to justify its construction despite the low level of occupancy in Guyana, spoke of a new hotel proposed in the Bahamas and an occupancy rate in that territory of 40 per cent.
However, contrary to what the president said, the occupancy rate in the Bahamas is, as of the end of June, in excess of 70 per cent and projected to climb.
Leader of the Parliamentary Opposition, Robert Corbin, while not wanting to speak on specific figures said that it is ludicrous for the president to compare hotel occupancy rates in Guyana and the Bahamas.
Corbin said that the policies and corresponding pull factors are not in Guyana to attract tourists.
He said that the Bahamas is a well marketed and promoted tourist destination with proximity to the market.
According to an article carried in the Nassau Guardian by Scott Armstrong – the entity's Business Editor – the hotel occupancy in The Bahamas continues to head slowly in the right direction with the latest figures showing an increase.
"According to preliminary statistics released by the Bahamas Hotel Association and the Bahamas Ministry of Tourism, the 14 major New Providence hotels recorded a 71.5% occupancy rate for June compared to 65.9% in 2009.This occupancy rate combined with an increase in average daily room rate (ADR) of $15.17 generated a 16.3% room revenue boost and an 8.5% increase in room nights sold. For June 2010, the ADR was $225.55 compared to $210.38 last year."

hotels, tourism