Bahamian Brewery Wins Gold Award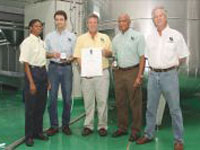 The Bahamian Brewery & Beverage team were in high spirits over the July 10 weekend, not just for the Independence celebrations, but also in celebration of their GOLD win from the Monde Selection Committee.
"I'm elated," said James 'Jimmy' Sands, CEO of Bahamian Brewery & Beverage Co., "I knew we could do this! I'm so proud today that Bahamians won a gold. This is quite an achievement for a small country! To achieve a gold on our first submission, it's fantastic!"
High Rock, which only launched in November of last year, received the prestigious Monde Selection Gold Quality Award in May 2010. The 49th World Selections, which tests consumer goods throughout the world, awarded High Rock this rare honour on its first submission.

awards