Cable Beach Bank Robbers Escape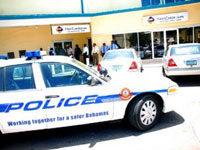 Two masked gunmen robbed a Cable Beach bank yesterday in a brazen heist that sent police on a manhunt for hours.
The suspects got away, but not before getting into a shootout with police.
Operations and services at the FirstCaribbean Bank in the Sandyport Centre came to a screeching halt as the two armed masked men burst into the establishment, held up two cashiers and escaped with some cash.
Assistant Commissioner of Police (ACP) Glenn Miller, who was on the scene at the time, said police got a call at 11:54 a.m. about the robbery.
"We responded here and as we got here, we got further reports of two masked, dark males wearing hooded jackets," he said.
Mr. Miller said one of the suspects was armed with a high-powered weapon while the other had what is believed to be a pistol.

crime