Chinese Labour Fears Unfounded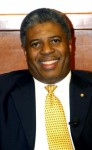 Many Bahamians have expressed their concerns about the possibility of 5,000 Chinese workers coming to New Providence to work on Baha Mar.
This came after Baha Mar concluded all of the necessary agreements with the Export-Import Bank of China as well as the China State Construction Engineering Corporation (CSCEC).
According to accountant Raymond Winder of Deloitte and Touche, the deal is one of the best things that has ever happened to The Bahamas.
"When I met with investors, I was told that they would be spending $50 million a month during the four months that they would have 5,000 Chinese here."
Mr. Winder also said it would be impossible for Bahamians to complete the project on their own.
"One of the problems that The Bahamas has is that it doesn't have a workforce that we can be proud of. I don't think that there are many Bahamian construction companies that are building Bahamian homes that don't have at least one immigrant as a part of their labour team. We don't have sufficient Bahamians to build Bahamian homes."
How can we expect to complete a project of that size without foreign labour, he questioned.

Baha Mar, immigration, labour