Fox Hill Prepares For Disaster
NEMA and Red Cross Stage Weeklong Fox Hill CERT Disaster Training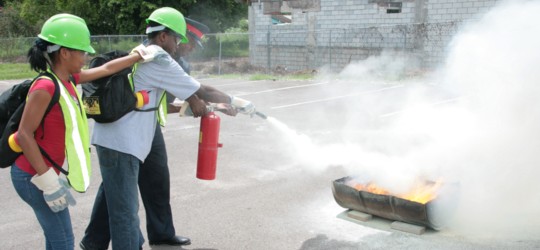 Participants extinguish a controlled fire under the watchful eye of Sergeant 952 Moss of the Royal Bahamas Police Fire Services.
NASSAU, The Bahamas – More than 30 disaster stakeholders and resident volunteers from the Fox Hill Community took part in a weeklong Community Emergency Response Team (CERT) programme, at the St. Anselm's Parish on Bernard Road, August 23-27, 2010.
"The objective is to equip these persons with hands-on skills, where they would be able to organise themselves in a fashion until professional help arrives," Disaster Manager at the NEMA Mrs. Gayle Outten-Moncur said.
NEMA and the Bahamas Red Cross partnered in the initiative, along with other stakeholders, to work in various communities in the country to train persons to enable the greatest good for the greatest number of victims after a disaster, while protecting themselves and teammates from becoming victims themselves.
Mrs. Outten-Moncur said that NEMA encourages partnerships with non-governmental organisations (NGOs) so that they could facilitate community-based initiatives and programmes, such as CERT.
The CERT programme participants, she added, would also be trained in how to compile information for the professionals and recognise those trained in the community who have the skill sets that could assist in cases of emergency.
"That is the underlying thing: we want them to organise and work and localise their activities until professional help arrives," Mrs. Outten-Moncur said.  "Once the professional help arrives, they will be assistants to the professionals, with the professionals taking charge."
Mrs. Outten-Moncur said that she is pleased to see so many young people taking part in the programme, as it was also important for the CERT exercise to utilise young persons in the area as volunteers.
"We want to get more young persons to understand that even though volunteering means that it's free, it is their community and it is their responsibility to assist their own community however possible," she said.
Operations Training Officer for NEMA Luke Bethel added that the agency wanted to work "vigourously" with the Fox Hill community to encourage persons to want to learn to take emergency action in their area.
"Even at home, we want to help them learn to create community plans and family plans: what do you do in your own house, how do you help your neighbours, how do you assist yourselves until professional help arrives," Mr. Bethel said.
"We have a good cross-section of the community here, thanks in large part to the Bahamas Red Cross and Urban Renewal reaching out," he added.  "The participants will be working on coming up with a community emergency response plan."
That plan, Mr. Bethel said, would be a compilation of such pertinent information as emergency numbers, areas that flood, locations of disabled and elderly persons in the area and persons willing to volunteer assistance during an emergency.
"We are giving them a template to show all the hazard mapping, a listing of persons who would be able to assist by volunteering their vehicles, heavy equipment and even down to buckets and shovels," Mr. Bethel said.
Bahamas Red Cross representative and Field Instructor for this CERT programme Jaime Strachan said that they have a Readiness to Respond two-year programme ongoing in Fox Hill and CERT is an important part of the initiative.
"We already accomplished the VCA (Vulnerable Capacity Assessment or the identification of vulnerable and hazardous areas in a community), held the town meeting, had CPR and first-aid training," Ms. Strachan said.  "This is our last leg in getting this community prepared in dealing with any type of disaster.
"Our main purpose is getting residents, as a community, prepared."
Ms. Strachan said that CERT facilitators reached out to area entities, such as Urban Renewal and churches and individuals such as Member of Parliament Fred Mitchell and Senator the Hon. Jacinta Higgs in selecting participants for the programme.
"They are very interested in what we are doing in the training programme because it is indeed assisting the community," Ms. Strachan said.
"Our main goal here is preparedness and the understanding of what it means to be prepared," she added.  "We want them to have the knowledge of their training, the comprehensive understanding of the natural hazards in their community and how they could withstand such disasters.
"If, need be, the community is left alone or separated from the rest of the island due to a disaster, we want them to be able to persevere or have the best skill sets in place until professional help arrives."
By ERIC ROSE
Bahamas Information Services
BIS Photo / Eric Rose

educational