Foreign Investors Bullish on Bahamas Real Estate
The Bahamas property market is gradually recovering from the effects of the global recession as US and UK buyers return to the islands. There is a considerable amount of development in the second-home market as investment interest from Latin American and Asian buyers also increases.
The Bahamas does not release official house price figures, but the average price of a luxury home is about US$1 million. Condominium and apartment units range from US$300,000 to US$100,000, depending on the location. In the Bahamas, it's not uncommon for wealthy buyers to go for properties that cost as much as US$14 million.
There are no restrictions on foreigners buying property, except for a permit from the Government before the transaction, if the property is on undeveloped land with an area greater than five acres (20,234 sq. m.).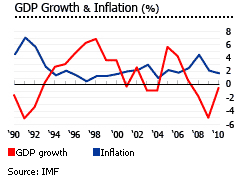 Foreigners who own properties in the Bahamas are eligible for a homeowner's residence card (renewable annually) and those who purchase properties valued at least US$500,000 are given priority in permanent residence applications. However, neither permanent nor annual residence gives a foreigner the right to work in the country.
There are many tax advantages and incentives for foreign real estate buyers in the Bahamas. There are no income, sales, and estates taxes. The only direct tax is real property tax.
The Bahamas has enjoyed stable economic growth, with an average annual GDP growth rate of 3% between 1997 and 2007. However, due to sharp declines in tourism and financial sectors in 2008, GDP growth was estimated to have slowed to 1%. In 2009, GDP declined by 3.9%.
A low rate of growth of 2% is anticipated from 2010 to 2011 as tourism receipts by air and sea improve due to increase in air services and cruise operations.
Tourism and tourist-driven construction remain the backbone of the Bahamas' economy, accounting for approximately 60% of its GDP and employing more than 40% of the total workforce. Offshore finance, the second largest industry, accounts for around 15% of GDP.

real estate