New DPP Entering a Wasp Nest?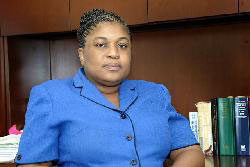 The Bahama Journal reports that incoming Director of Public Prosecutions (DPP), Vinette Graham-Allen is reconsidering her recent appointment in light of the firestorm of controversy surrounding the top position.
The paper says that sources close to the incoming director told them that Mrs. Graham-Allen does not want to come "into a wasp nest."
Sources have also confirmed that the Jamaican attorney will give the position some more thought.
In the meantime, she is said to be looking at other opportunities in Jamaica.
Controversy erupted after rogue civil servant and former Deputy DPP Cheryl Grant-Bethell was sidestepped for the post.  Many assumed that she would fill the position after her former boss, Bernard Turner, stepped down last October to become a Supreme Court judge.
Prime Minister Hubert Ingraham said he initially supported Mrs. Grant-Bethell for the top post but later withdrew that support for "good and valid reasons."
Despite promises of an "open and transparent government", those reasons have never been disclosed.
The rogue prosecutor has since filed an application for judicial review in the Supreme Court to review her application and interview process.
Meanwhile, sources said that Mrs. Graham-Allen, who visited the country earlier this year, was only interviewed by the prime minister and Chief Justice, Sir Michael Barnett.
She reportedly never met the other members of the Judicial and Legal Services Commission (JLSC), which is responsible for all judicial and legal appointments in the country.
The Committee for Justice and Empowerment of Bahamians also recently expressed disappointment over Mrs. Grant-Bethell being sidestepped for the top post.
In fact, the group wrote Mrs. Graham-Allen to apprise her of the controversy and asked her to turn down the position.
But, Attorney General, John Delaney told the media yesterday that he expects the new DPP to arrive in the country as early as next week.

government, law