New DPP 'Well Received'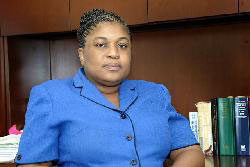 Despite a firestorm of controversy surrounding her appointment, the country's new Director of Public Prosecutions Vinette Graham-Allen has been "well-received" by staff at the Attorney General's Office.
Acting Permanent Secretary Leroy Sumner confirmed to the media that Graham-Allen spent the first day on the job meeting staff and senior management and setting policies and priorities for the Department of Public Prosecutions.
"She was well received. The office is very highly professional. There is no indication in the office at all of any animosity or any eerie feelings towards her, and so I think she is very happy" Sumner said.
The appointment of Graham-Allen caused a rift between the department and its former Deputy Director of Public Prosecutions Cheryl Grant-Bethell, who has filed a suit against the government, the attorney general and others claiming she was "entitled" to the post and overlooked for the high profile position.
A Jamaican attorney, Graham-Allen, 52, replaces former DPP Bernard Turner who vacated the post last year to become a Supreme Court justice.
Despite all going well upstairs, downstairs on the street, in front of the Post Office Building on East Hill Street, there was a noisy nine-person street protest calling for her to step down.
A group of Bahamians describing themselves as the "Committee for Empowerment and Justice", took the opportunity of Mrs Graham-Allen's first day on the job to rail against her appointment outside the Office of the Attorney General.
The group comprised of nine people, all PLPs, including former PLP South Beach constituency candidate Wallace Rolle and aspiring PLP candidate Ricardo Smith – waving placards on the theme of "Bahamas for Bahamians" and shouting at the Office of the Attorney General through a loudspeaker.
The paltry protest started at around 11.20am and continued until shortly after midday. Mr Rolle vowed to continue the demonstrations on a daily basis until Mrs Graham-Allen decides to leave the post.
According to Mr Sumner, Graham-Allen was "not phased" at all by the protest.

government, law