New Teachers Flood Public School System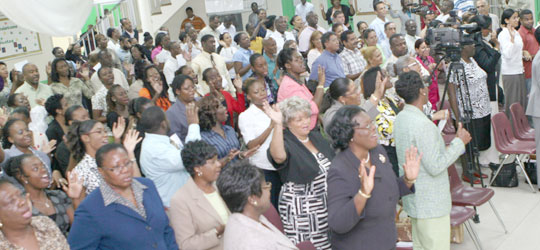 During an orientation exercise on August 19 at Uriah McPhee auditorium, the Ministry of Education welcomed 102 new teachers to the public school system. The Minister, the Hon. Desmond Bannister, encouraged the teachers to assist students to the best of their ability.
"You are all here because of your love for children and because of the commitment you have to seeing The Bahamas advance through the vehicle of education," said Mr. Bannister.
"Make no doubt about it — yours is a most important task as you are able to touch humanity in a special way through the service you provide." He encouraged the new teachers to 'buy into the mission' of the Ministry of Education in its quest to 'provide all persons in The Bahamas an opportunity to receive an education that will equip them with the beliefs, attitudes, knowledge and skills required for work and life in a democratic society guided by Christian values.'
Of the 102 new teachers, 20 are from the Republic of Cuba. The Cuban teachers will teach in the areas of Agriculture, Special Education, Technical studies, Biochemistry, Physics, Mathematics and the sciences. The remaining 82 teachers include 78 Bahamian students from the College of The Bahamas and four expatriates. The teachers will be deployed in primary and secondary public schools throughout the country.
During the orientation session, the teachers were armed with information in the areas of Human resources, Family Island matters and the curriculum in the individual subjects. In addition, all teachers were reminded to adhere to their three-year obligation to the Government of The Bahamas. Mr. Bannister also encouraged the teachers to be compassionate with dealing with students who may be facing challenges outside of their school life.
"Remember also that we are facing very tough economic times which may call for increased sensitivity on your part with young charges," he said.
"Try to ensure that their classroom environment is conducive to learning. Be prepared to work with our children's learning styles and to better understand the various cultures that they bring to the classroom.
By Betty Vedrine
Bahamas Information Services
(BIS Photo/Raymond Bethel)

educational