Is Nygard Being 'Pushed' Out of The Bahamas?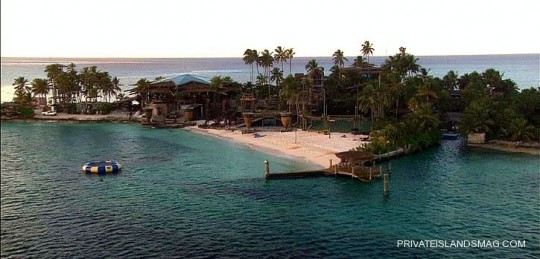 Nygard Cay, the private home of Canadian fashion designer Peter Nygard, is being singled out as a luxury property that is rented out with no hotel license.
Yet, other residences in Lyford Cay, Old Fort Bay, plus many homes and condos on Paradise Island are rented out in a similar manner and there appears to be no objection to that.
Environment Minister Earl Deveaux says Nygard Cay, sometimes referred to as Nygard Cay Resort, "is not licensed as a commercial property."
"My involvement and knowledge has to do with enforcement with every instance. We have always asked them to abide by the Physical Planning Bill, the Conservation of the Physical Landscape of the Bahamas Act, where they are required to get permits to dredge. Most of the dredging, except on one instance, has been unauthorised," said Mr Deveaux.
The government has recently accused Mr Nygard of "unauthorised" expansions of his property over the seabed at Simms Point, Lyford Cay, where his property is located. This is now being investigated.
Last month, the Office of the Prime Minister issued a directive to Mr Nygard to remove structures erected on the land in question, and to reinstate the coastline at Simms Point. All government agencies were also advised not to approve any applications for construction on the land in question.
And the government is apparently threatening demolition if Mr Nygard does not comply with the latest directives.
"Compulsory demolition is an option. I think that process is unfolding. All of the government's options will be reviewed by the Attorney General's office," Mr Deveaux said.
Eric Gibson, property manager at Nygard Cay, confirms that Nygard Cay has a "private residence permit and has always and is continuing to operating under residency permit."
He said, Nygard Cay has no hotel licence, because the facility is "not in fact a hotel and (we) have never purported to be one", and that "Nygard Cay is not conducting commercial activities."
"The facts are that Nygard Cay has obtained all required permits; has worked, within the Bahamas building system throughout 20 years of construction with the full blessing of every government department," said Gibson.
Critics say Nygard has bribed corrupt local politicians and civil servants to obtain some of those "blessings", although there is no evidence to support those accusations.
Nygard Cay is known for its extravagant parties. An exclusive group of Bahamians frequent the property on Sundays for the popular "pamper party," according to locals. For years, Nygard Cay has played host to New Year's Eve parties for "A-List" celebrities.
Now a local source says that forces with an "underhanded agenda" are trying to "discredit Nygard Cay" and "push (Peter) Nygard out of The Bahamas."
Bahamas Minister of Tourism and Aviation, Vincent Vanderpool Wallace, said the government does not promote Nygard Cay because "it is not a licensed property." Nor, does Nygard Cay receive any of the benefits of the Hotel Encouragement Act, such as being promoted by the tourism promotions board in the MOT. He also said he would be "surprised" if Nygard Cay had a restaurant licence or a night club licence.
"Anyone can wake up tomorrow and decide they are going to sell their property to people they wish to have visit and pay.
"People have bed and breakfast homes, villas, houses that they lease every day on the Internet. That is a global phenomena. You won't find it being promoted by or assisted by the Ministry because it is not a licensed property," said Mr Vanderpool Wallace.

celebrities, Lyford Cay