Paradise For Sale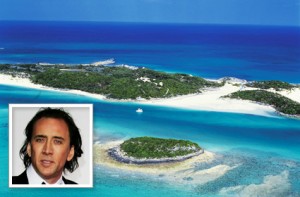 Meet the man who sells and rents private islands to the rich and powerful
Marlon Brando started it, Diana Ross and Nicolas Cage picked up the trend and Johnny Depp perfected it.
The super-rich and famous often dream of owning their own private island and a German-born Canadian entrepreneur has made a fortune making it happen for them.
As founder of one of the world's biggest agencies specializing in the rental and sale of private islands, Farhad Vladi is a connoisseur of sun-kissed slices of paradise.
In 2004, Depp became a "proprietor of the Caribbean" when he, with Vladi's help, snapped up 14 hectares of heaven called Little Hall's Pond Cay, where he can play Jack Sparrow with his two children to his heart's content.
Two years later, Cage acquired Leaf Cay in the same Exuma archipelago.
Vladi currently has 120 private islands on offer and manages about 30 sales a year.
The costliest? The 90-hectare Cave Cay in the Bahamas. Price tag: $110 million.

islands, real estate