Persons Injured After Sandyport Boardwalk Collapses
Around 2:00 pm on Saturday 31st July, 2010 police received information that the boardwalk at the Beach Club Café, Sandy Port had collapsed.  Police along with officers from the police fire services and EMS personnel responded and discovered the boardwalk in the waters at Sandy Port.  It is reported that family and friends were at the location following a funeral ceremony when the incident occurred.  It is reported that persons were rescued by bystanders, including Jet Ski operators. There were no major injuries reported, however five people were taken to hospital for minor injuries.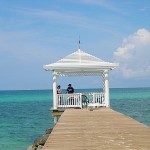 An official at the Sandyport Development Company, who spoke on condition of anonymity because he was not authorized to speak, told The Guardian that the dock could not sustain the weight of those attending the funeral, who were using the dock and gazebo facility to spread the ashes of a young woman who had recently died.