Bahamas And Cuba Discuss Maritime Boundary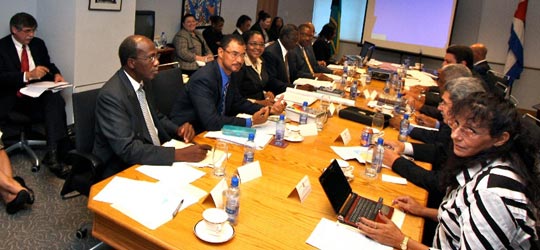 NASSAU, The Bahamas — The Bahamas and the Republic of Cuba officially resumed technical discussions on the delimitation of the maritime boundary between the two countries, Monday, September 6, 2010.
Already, two rounds of talks have been held; the first round of preliminary discussions, which established the framework for future meetings, was held in Nassau in 2005.
This was followed up by a technical meeting, which took place in Havana, Cuba on June 12, 2009, when the Bahamian delegation comprised of senior Bahamian officials with technical expertise in the area of law of the sea and maritime affairs, met with Cuban officials.
As was the case at the previous technical meeting, the Bahamian delegation, which participated in this third round of discussions included representatives from the Ministry of Foreign Affairs, the Attorney General's Office, the Ministry of the Environment, the Department of Marine Resources, the Royal Bahamas Defence Force, the Bahamas National Geographic Information Systems Centre, as well as other senior government officials with expertise and experience in relevant fields.
"The resumption of discussions between The Bahamas and Cuba in order to delimit the maritime boundary between the countries, as required by the United Nations Convention on Law of the Sea, is a matter of priority," the Ministry of Foreign Affairs said.
The official archipelagic baselines of The Bahamas, which are used to determine the country's maritime zones, including its boundary with Cuba, were submitted to the United Nations by the Government of The Bahamas on December 11, 2008.
"However, these technical meetings with Cuba are necessary to achieve formal agreement on the maritime boundary that is in compliance with the international laws that govern this process," the Ministry said.
The Ministry explained that an agreed boundary is vital for the effective management of The Bahamas' maritime resources and the protection and preservation of the marine environment.
"Furthermore, from a national security point of view, reaching an agreement on the maritime boundary will facilitate the ability of The Bahamas' security forces to effectively patrol and protect the maritime borders of The Bahamas," the Ministry said.
Bahamas Information Services

environment, government, marine