Junkanoo Groups Receive Seed Funding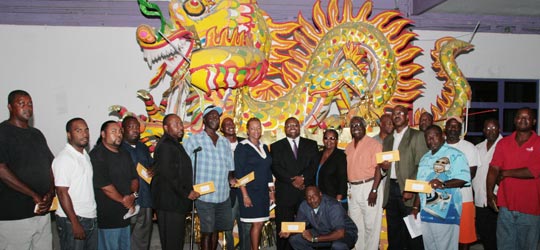 Minister of Youth, Sports and Culture the Hon. Charles Maynard and stakeholders presented seed funding to the Junkanoo groups and participants in the 2010 parades, at the National Junkanoo Museum of The Bahamas.
Minister Maynard used the opportunity to appeal to corporate sponsors to partner with Junkanoo groups to ensure that shortfalls in funding that the groups may experience.
"We want to ask corporate Bahamas to 'dig deep' and help this worthy endeavour," Minister Maynard said.
"When you contribute and partner with Junkanoo groups, you are actually doing a civic and social duty, as a corporate citizen.  You are impacting young people at the core of their socialisation."
(BIS Photo / Eric Rose)

arts, government