Tourism Minister Pledges Support For Sailing – VIDEO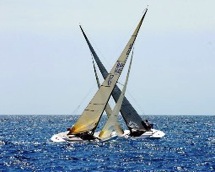 Minister of Tourism Vincent Vanderpool-Wallace met with members of the Bahamas Sailing Association recently.  The minister pledged continued assistance and discussed long term plans to support more sailing and marine events in the Bahamas.
The Bahamas Sailing Association has hosted a number of sailing events and regattas throughout the islands of The Bahamas. A fairly complete list of events and activities in The Bahamas can be found on the Bahamas Calendar.
As a nation with over 100,000 squares miles of water within its boundries, the Sailing Association would like to see even more emphasis on sailing events and activities.
Anyone or any entity interested in the sport of sailing and in developing the sport of sailing anywhere in The Bahamas should join the Bahamas Sailing Association.

marine, sailing, video