Widespread Panic Back in Concert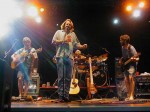 It's rare enough for any band to last 25 years. It's rarer still to stay together that long without losing some of the camaraderie and sense of purpose that bands generally feel when they first start playing music together.
Heading into its 25th anniversary next year, Widespread Panic may have the best chemistry of any band with a history of two decades or more. At least that's the impression one gets from keyboard player John Hermann.
"Dirty Side Down" marked a reunion of sorts for the group. After working with Athens-based producer John Keane on several albums, Widespread Panic did its two previous albums, "Free Somehow" (2008) and "Earth to America" (2006), with Terry Manning at that producer's studio in the Bahamas.

music