Connery Eludes Court Due To Health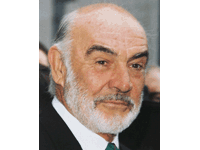 Eighty-year-old Scottish actor Sean Connery and his second wife, French artist Micheline Roquebrune, 81, were ordered to testify in Spain on a property scandal probe, but instead they sent a letter to the judge saying they were unable to attend due to their "state of health".
The Oscar-winning actor known best for his role as James Bond was named in the "Goldfinger" money laundering case and are under investigation for alleged irregularities in the $9 million sale of their Marbella villa 'Malibu' in 1999.
The letter explained that because of their "age and state of health" the couple could not travel from their home in the Bahamas to the court in Marbella. The judge is now considering whether to send officials to question the couple at their home in the Bahamas.
The two have not been arrested and are not facing any charges in the case. The magistrate will decide next week how to proceed.

celebrities