High-speed Train Coming to Florida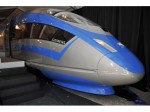 It's safe, sustainable, superfast and coming soon to the United States.
Florida is about to make transportation history as the first state to build a high-speed rail corridor, with trains connecting Tampa to Orlando and then to Miami in a second phase. With the help of $1.25 billion from the Obama Administration's stimulus package, the construction could produce up to 27,500 new jobs and $2.9 billion a year in new business sales.
Siemens kicked off its "Future of Florida High-Speed Rail Tour" in Tampa on October 7, 2010, with a special VIP event at Tampa's MOSI (Museum of Science & Industry). The exhibit features a full-sized model of the Siemens Velaro high-speed train. Following its Tampa debut, the "Future of Florida High-Speed Rail Tour" will continue on to other cities in Florida, including Orlando, Miami and Tallahassee. Visitors to the exhibit in each city will not only have the chance to see the Velaro, the fastest passenger train in the world, but also the opportunity to have their questions answered by high-speed rail experts.
The Velaro currently operates at high-speeds in Germany, Spain, China, Russia, France, Belgium, Switzerland and Austria. In 2006, a Velaro E trainset operated by Spain's national rail authority, RENFE, set a world record for fastest unmodified commercial rail travel. The record-setting train achieved a top speed of 250.85 mph (403.7 km/h) running between Guadalajara and Calatayud on the Madrid-Zaragoza line.

florida