Miss Bahamas Advances To Miss World Finals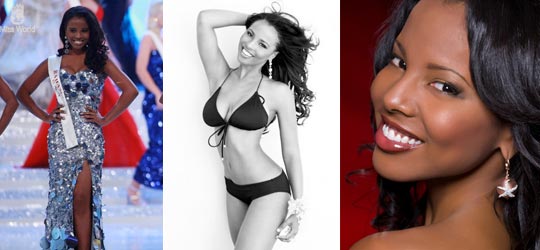 Nassau, Bahamas (MBO) October 30, 2010 – It was an historic night for both the Miss World Organization and Miss Bahamas.  For only the second time in the 60 year history of the international pageant, a woman from the Islands of The Bahamas has advanced to the finals of the world's oldest and largest beauty competition.
After months of preparation and weeks of competition, Braneka Bassett has followed in the footsteps of Jody Barbara Weech who in 1992 advanced to the finals of the Miss World competition.  Braneka's feat was especially impressive when one considers that this was the largest grouping of global beauties ever to compete at the pageant – 115 in total.
Braneka, who several days earlier had landed in the semifinals of the Swimsuit fast track competition, was one of 20 finalists selected by the judges – a panel made up mostly of former Miss World title holders and Miss World Organization chairman Julia Morley.
The other five who rounded out the Top 25 were winners of the fast track competitions:  Swimsuit – Miss Puerto Rico; Sportswoman – Miss Northern Ireland; Top Model – Miss Norway; Talent – Miss Ireland; and Beauty with a Purpose – Miss Kenya.
Over a billion people watched world wide as the names of the top 20 were called: Paraguay, St Lucia, Netherlands, Canada, France, Bahamas, Colombia, Russia, Thailand, South Africa, Mongolia, French Polynesia, Scotland, Venezuela, Namibia, Italy, United States, Germany, China, Botswana.
The field was then narrowed down to the Top 7, with Misses Ireland, Venezuela, China, Italy, Norway, United States, and Botswana advancing.  Each young lady was given 30 seconds to talk about themselves and speak about her experience in China.  The number was once again cut to a Top 5, with Misses Venezuela, Botswana, United States, Ireland and China taking one step closer to the crown.  Miss World 2009 Kaiane Aldorino then made her final appearance as Miss World before the announcement of the queen and her court.  Finishing 3rd was Miss Venezuela, 2nd was Botswana, and Miss United States was announced as the 2010 Miss World winner.
"The Miss Bahamas Organization® is so very proud of Braneka's accomplishment", says MBO President Michelle Malcolm.
"It was a long and sometimes bumpy road to get there, but the end result has made it all worthwhile."  Miss Malcolm wished to thank all of the sponsors who made it possible for Braneka to compete at such a high level, saying she could not have done it without them.
"I believe there are three parts of the equation which worked in Braneka's favor," she said.
"First, there is fate.  It's a true saying that no one can stop what God has in store for you, and we believe it was simply in her destiny to do well.  Secondly, there is the fact that she is an incredibly beautiful, genuine, humble person who is equally beautiful on in the inside as she is on the outside.  I am sure those qualities helped her to stand out in the crowd. However, the third part of the equation is just as important… and I dare say even more so, and that is the fact that she was so well coached, groomed and prepared for the competition.  These go hand in hand if you want to achieve success and now that she has done so well, we are hopeful that we will begin to receive more support for the latter."
The Miss Bahamas Organization® is especially proud of Braneka's accomplishments, as she this is the first time in the history of local pageantry that one young lady has represented The Bahamas at both Miss Word and Miss Universe, held this past summer in Las Vegas, Nevada. Braneka is also a former participant in the Oxygen reality series The Janice Dickinson Modeling Agency.  She captured the title of Miss Bahamas in May at the Atlantis Resort on Paradise Island. She is a native of Freeport, Grand Bahama.
Braneka returns to the capital on the afternoon of Monday November 1.   She will be officially welcomed at the Lynden Pindling International Airport where a press conference will be held upon her arrival.

awards, beauty