Nassau Motor and Chevrolet Share The Joy
Bahamians in the market for a new car this Christmas, are invited to "share the joy" at Nassau Motor Company on Shirley Street, by contributing to the Chevrolet toy drive for children at the Nazareth Centre.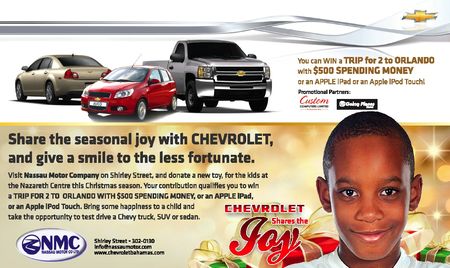 The Nazareth Centre in Millennium Gardens was established in 2002 to house abused, neglected and abandoned children. It is partly funded by the government, but managed by the Catholic Church. Children live at the Centre until they are reunited with their families, or move into foster or adopted homes.
"In these tough times, we feel it is more important than ever to step up and give back wherever and whenever possible," said NMC Operations Manager Rick Lowe. "We sincerely appreciate any help in making this toy drive a success and bringing some joy to those who otherwise might go without."
And just by visiting Nassau Motor Company, donating a new toy, and taking a test in a new Chevy truck, SUV or sedan, customers also qualify for a special drawing to win a trip for two to Orlando plus $500 spending money. Second prize in the drawing is an Apple iPad, and third prize is an Apple iPod Touch.
At NMC's Chevrolet salesroom, customers can view the Malibu and Aveo family sedans, the 7-passenger Tahoe SUV, and the award-winning Colorado and Silverado pickups. A collection box for the toy drive is also located in the showroom.
"We are accepting donations of new toys and games for the children of the Nazareth Centre from now through Christmas," Mr Lowe said. "And you can check out our Chevrolet models at www.nassaumotor.com or on our Facebook page."
Chevrolet was incorporated in 1911 and acquired by GM six years later to produce a range of mainstream vehicles to compete against the Ford Model T. It is the leading brand in the restructured GM that emerged from the 2009 financial meltdown.
In addition to making the longest running model in the US auto industry – the Chevy Suburban sport utility – Chevrolet recently introduced the revolutionary Chevy Volt – a plug-in hybrid sedan that gets 93 miles per gallon equivalent when running on electric and 37 mpg when running on gasoline.
Nassau Motor Company is the exclusive GM dealer in the Bahamas.

autos, youth