Supermodel of the Bahamas Launches In Freeport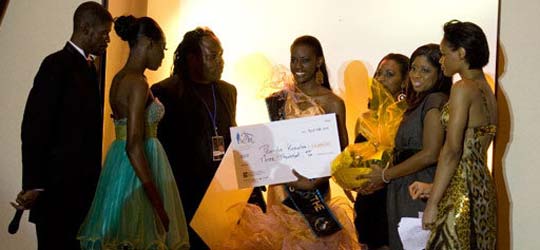 The only thing missing is Tyra Banks.
But that's because this is not America and we're not searching for the next top model; and although many things have been discovered about the rich history and culture of The Bahamas, we're about to discover something new: the next Supermodel of The Bahamas!
It's about finding the next fresh face, enviable body and a beautiful mind that can turn heads on the world stage, woo top international designers and book high fashion venues.
Having launched its first open call for the 2011 Supermodel of the Year Competition in Nassau last weekend, organizers are preparing to host its first Open Call in Freeport, Grand Bahama from noon to 4:p.m. on January 22 and 23rd , 2011 at the newly revitalized International Bazaar.
Founder of Supermodel Bahamas, OilinSha Coakley says, "We are looking for ambitious, intelligent people who have personal style, grace and confidence."
"This event is a vision of mine for many years and in 2007, i began my processing and affiliations to introduce Bahamian talent to the world at large. The Bahamas has a lot to offer the world through fashion and entertainment. Through my endeavors, more of an awareness and opportunities will develop for my country. The stronger the nation, the greater the opportunities and successes for all. I'm doing my part to strengthen, groom, and mentor our future generation," he added.
Winners of the competition, which will be held on April 8-10th, 2011 in Nassau, will receive prizes worth $10.000.00 and the opportunity to be represented by the number one modeling agency in The Bahamas.
Supermodel of the Bahamas is similar to America's Next Top Model in that it discovers new faces, most of whom have no experience in the fashion and modeling industries.
However, candidates are not thrust into competition without some guidance and training by key players in the local industry. They will also be subject to photo shoots, runway shows and interviews which will be great indicators of their potential as a supermodel.
All applicants must attend open call, ready to be interviewed, photographed, and complete necessary documents. Bring a comp card or portfolio if you have one, otherwise photos will be taken . No tattoos . Must have smooth skin.  Dress in fitted jeans and a plain coloured t-shirt (no logos or print). Girls, no makeup and hair must be pulled in one pony tail (unless short hair) – no weave.
Candidates must be between the ages of 7-22, for girls and women, and 7-24 for men and boys.
The required height for young adult females is 5'9 to 6′ for adult females and 5'11 to 6'2 for adult males.
Dress code for girls (7 – 15 years); Flat shoes, mini skirts, jeans or short flair dresses to show length of legs, no makeup, no weave, no jewelry. Wear a two peace bikini beneath dress or bring it along.
Dress code for ladies; High heels, fitted jeans, white t-shirt (plain), no makeup, no weave, no jewelry. Wear a two peace bikini beneath dress or bring it along.
Dress code for boys and men; Fitted T-Shirt, Jeans, boating shorts, Sandals or shoes,  no piercings, no makeup – Guys must wear or bring a pair of trunks.
2011 Supermodel of the Bahamas will also introduce a talent segment for boys, girls, men and women that sing, dance, play an instrument, perform a comedic or magical act.
Applicants must be super talented and fully prepared to audition. Auditions are being held same days same times so be prepared to spend as much time as needed. Winner of this segment will be titled "Super Talent of the Bahamas" 2011.
This competition is so much more than just a $10,000 prize but rather it is a gateway to the world for the male and female winners who will be chosen.
2010 Supermodels of the Bahamas Peandra Knowles and Sinardo Deleveaux, both of whom hail from Grand Bahama, have already been exposed to a richer experience in modeling, having walked in New York Fashion Week.
The winners experienced what the Big Apple has to offer and look forward to hitting the catwalk in the upcoming Miami Fashion Week 2011.
Then it's on to the 2011 in the Elite Image International Top Model Search in Aruba where they will compete for the title on March 9, 2011.
Peandra Knowles was featured during New York fashion week for the designer Marco Hall, photo shoots for ESSENCE Magazine, BLACK ENTERPRISE Magazine and she was also featured on the WENDY WILLIAMS SHOW where she got to ask Wendy a key question.
Sinardo Deleveaux was booked for international designer Paul Laurence's print clothing campaign for ESSENCE Magazine's on-line blog.
This could be YOU next season.
The Open call will also be extended to the Family Islands: Eleuthera, January 29th and 30th, 12 noon to 4pm Cigattoo Inn; Spanish Wells, February 6th, venue & time to be announced; Marsh Harbour, Abaco, February 20th, venue & time to be announced;
Source: Triune Media Services

awards, fashion, grand bahama