Christmas Stamps Highlight Bahamas Tourism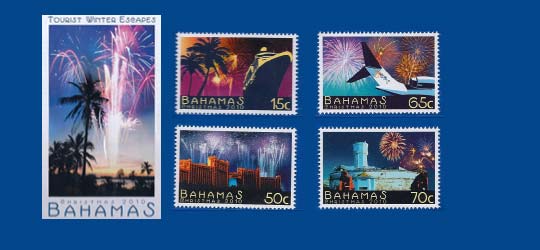 Nassau, The Bahamas – The Bahamas Postal Service issued Christmas 2010 commemorative stamps on November 10 that highlight The Bahamas as a favourite destination for travellers during the Christmas holidays.
According to a release from the Bahamas Postal Service, with tourism directly and indirectly employing 50 percent of the Bahamian workforce and accounting for approximately half of the country's GDP, the stamps are a celebration for all who will be enjoying the islands during the Christmas season.
The stamps have been designed in a classic Art Deco poster style and depict four of the main elements of tourism: ships, planes, hotels and landmarks. The stamps are 15 cents, 50 cents, 65 cents and 70 cents.
The legends of The Bahama islands have attracted airlines from around the world and the world's largest cruise ships including The Oasis of the Seas and the Allure of the Seas. The cruise ships and airplanes bringing guests and family members back to the shores of The Bahamas for Christmas are represented on the 15c and 65c stamps, states the release.
The 50c stamps depicts the Atlantis Hotel, Paradise Island, situated on a two-mile long, white sand beach representing the luxury accommodation and resorts that The Bahamas can offer to visitors.
The 70c stamp features Fort Fincastle and the Water Tower which command spectacular views across the island.  Fort Fincastle overlooks the town from Bennet's Hill and was built by Lord Dunmore, about 1793.  The 2011 programme includes the 50th anniversary of the Sassoon Heart Foundation, Her Majesty Queen Elizabeth II's birthday, the 150th anniversary of the establishment of the Anglican Diocese and the city of Nassau and Christmas 2011.

tourism