Tribute to Dr. Keva Bethel
"In 1984, I entered the College of The Bahamas as a first year student.  In 1985, I had the honour of being elected president of the College of The Bahamas Union of Students (COBUS).  In that position, it was my good fortune to have many opportunities to interact with Dr. Keva Bethel, who was then president of the College.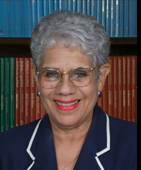 Whether on the College Council or simply engaging in discussions regarding the interests of students on the campus, I found in Dr. Bethel a woman of remarkable character, wisdom, grace and professionalism.  No matter the issue, she was ever calm, even tempered and always willing to listen with thoughtfulness and understanding.
To me, she exemplified leadership of the premier tertiary education institution in our nation; I became and remain a greater admirer of this remarkable woman.  When faced with difficult decisions, opposition and the extraordinary demands of my roles as president of COBUS and a double major science student, her counsel helped me set my priorities right and to make decisions based on logic rather than mere emotions.  She was very much a contributor to my leadership development in those days.
My experience at the College I am sure can be recounted by countless other alumni who had the fortune of meeting and interacting with this giant of a Bahamian woman.  Her dignity and high ideals imbued the campus of our College of The Bahamas with a sense of excellence, for which we were motivated to strive.  She poured her life into the College and gave much to it and to our nation.
It is with the greatest sadness that I learned of her passing and express deep condolences to her family at this difficult time of their lives.  The whole family of the College of The Bahamas, past and present, I am sure, abounds with admiration for Dr. Keva Bethel and celebrates her legacy in building the foundations of tertiary education in The Bahamas.  May her soul rest in peace."

celebrities, educational, obituary