New US Terminal Opens To The Public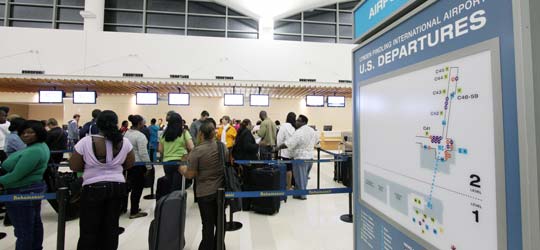 NASSAU, The Bahamas — After months of preparations, the new US terminal was officially opened to the public on Wednesday, March 16.  Frank Watson, chairman of the Airport Authority and Nassau Airport Development Company (NAD) said this is a "proud" moment for all Bahamians. "This is a very exciting moment for us," said Mr. Watson.
"After decades of challenges voiced by Bahamians, we are proud that we have completed this first phase of the project and we are proud to have reached this milestone in Bahamian history," said Mr. Watson.
President and CEO of NAD, Stewart Steeves, said that the new terminal represented the hard work and dedication of many people. "We are extremely pleased to have been able to bring this into reality for the Bahamian people," said Mr. Steeves.
"We look forward to continuing with the project over the next few years." Bahamasair flight 221 was the first to depart the new airport terminal with over 100 passengers en route to Miami Florida. American Airlines flight 4942 followed shortly after.
As passengers made their way into the new departure lounge after passing through American Customs and Immigration, their faces beamed with obvious delight as they admired the facilities. According to Sonia Thomas, the first passenger to enter the terminal, 'words could not express' her appreciation for the new terminal.
"I don't even know if I can describe it in any words," said Mrs. Thomas. "It is absolutely breathtaking. I've been to many places and I don't know if there are many that can even compare to this."
The new 247,000 square foot terminal is the first completed stage of the projected $409.5 million airport redevelopment project. Included in the upgrades to the airport are a $10 million state-of-the-art baggage system, eco-friendly building design features and artwork on display by local Bahamian artists, including Nicole Sweeting, John Beadle, John Cox and Susan Katz-Lightbourn.
The new facility is expected to create 150 – 200 jobs. In addition, phase one features 19 retail and food and beverage options including a native sit-down restaurant with the capacity to seat up to 170 patrons.
Phase two has already started and involves demolition of the existing US departures terminal and construction of a new international arrivals terminal and pier at 226,000 square feet at a projected cost of $129 million and is scheduled for completion in the fall of 2012.
Stage three will entail the construction of a new domestic/internal departures and new domestic arrivals terminal at 112,000 square feet is projected to cost  $84,000 to construct. It is scheduled for completion in the fall of 2013.
By Betty Vedrine
Bahamas Information Services

government