PM Presents 2011/2012 Budget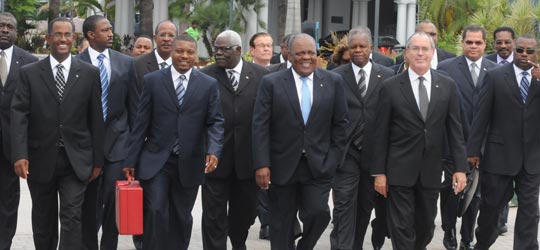 BUDGET DAY — Prime Minister and Minister of Finance the Rt. Hon. Hubert Ingraham presented the 2011/2012 Budget Communication to Parliament, May 25, announcing a budget whose major emphasis is jobs and skills development.
Prime Minister Ingraham is pictured leading Cabinet members across Rawson Square to the House of Assembly. Minister of State for Finance  the Hon. Zhivargo Laing shows off the Red Attache with the Budget Communication before entering the House.
(Bis Photos/ Peter Ramsay and Patrick Hanna)

economy, employment, government, politics