Buying Time for Coral Reefs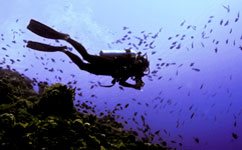 Stopping people fishing around Caribbean coral reefs by designating them legally protected marine reserves could help some of them survive the effects of a changing climate by more than 50 years.
That's the conclusion of a study to find out how best to protect coral reefs as coral bleaching events and hurricanes get more frequent.
Coral reefs are some of the world's richest and most diverse habitats, hosting around 25 per cent of all known marine life in just a quarter of a per cent of the Earth's oceans.
The trouble is they don't cope well with even small increases in sea temperature: a rise of just one degree Celsius above average for a few weeks is enough to kill off 95 per cent of individual corals, becoming what scientists call 'bleached'.
But researchers found that protecting the fish that live around Caribbean coral reefs could extend the life of some reefs.

caribbean, environment, fishing