Thomas' 2.32m Highlights National Champs in The Bahamas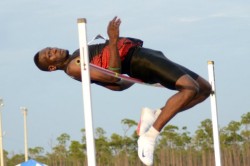 At the end of the second day, Saturday (25), there were several upsets as well as some world ranked performances which the large crowd witnessed.
Upsets
The marquee event, the Men's 400m lived up to its billing. Last year World Indoor champion and national record holder Chris Brown was upset by Grand Bahama's Demetrius Pinder and New Providence's Ramon Miller.
There were all kinds of speculation as to who would win. Most people favoured hometown boy Pinder, who had a best of 44.87sec in winning the Big 12 Championships for Texas A & M University.
Pinder had upset Brown last year but some fans thought that Brown was focused to win. Pinder looked quite comfortable in the semi-final on the opening day, winning his in 45.49sec to Brown's 46.04sec.
When it was all over Pinder ran a personal best of 44.78. Miller ran 45.34, a seasonal best, and Brown finished in third, as he did last year, in 45.73.
The man who upset Brown in Grand Bahama at these championships six years ago, Grand Bahama's Andrae Williams, finished fourth in 46.18sec.
Grand Bahama's LaToy Williams, who had the world's best seasonal time of 44.73sec in April of 2009, finished in fifth place, while 2001 World champion Avard Moncur, finished sixth in 46.87sec.
Grand Bahama's Michael Mathieu skipped the 400m for the 200m, where he has a best of 20.38ses this season. He won that event in 20.688sec.
Grand Bahama's Andre Wells continued his improvement in the 400m. The Junior ran a personal best of 46.87sec to defeat Carifta Gold medalist O'Jay Ferguson, who clocked 48.41sec.
Jeffrey Gibson from Grand Bahama came from behind in the 400m hurdles to upset Nathan Arnet, Arnet had been having a great comeback season. He had won the national Junior College Championships in 50.27sec, the third best performance ever by a Bahamian.
Gibson won in 50.82 to Arnet's 50.84.
National Junior Records
Several national junior records were established over the weekend.
High Jumper Ryan Ingraham, who had won a silver medal at the Carifta Games, placed his name in the record books when he jumped 2.23m. The record of 2.21m had been set by Stephen Wray at the Jr, CAC Championships in 1980 and tied by Jamal Wilson in this meet in 2007 and Raymond Higgs at this meet in 2008 and at the Carifta Games in St. Lucia in 2009.
World 400m Junior Champion Shaunae Miller dropped her record to 51.85. After false starting in the Carifta Games in Montego Bay in April, Miller seems well on the way to capture the IAAF World Youth Championships in Lille, France next month.
Her former record of 52.45 was set in the semi-final of the World Junior Championships last year in Moncton.
Katrina Seymour set a new National Junior record in the 400m Hurdles clocking 57.82. Her old record was 58.04 set in winning the Carifta Games in April.
Androsian Tamara Myers set a new National Junior record in the Triple Jump when she leaped to 12.90m (42'4″). The old record was set by Keithra Richards at 12.73m (41'9-1/4″) at the National Junior Championships in June of 2009.
Dazzling High Jump Competition
The High Jump was one of the marquee events that did not disappoint. Osaka World champion Donald Thomas had never participated in Grand Bahama, his birthplace, since he made the world scene.
The competition between Thomas and his rival Trevor Barry was stiff. At the end Thomas cleared 2.32m (7'7-1/4″) and Barry jumped his personal best of 2.29m (7'6″).
Thomas and Barry had finished first and second in both the CAC Games and Commonwealth Games last year.
Ferguson-Mckenzie dominates the Sprints
Debbie Ferguson-Mckenzie dominated the sprints. She clocked 11.22sec in the 100m and 23.09sec in the 200m into a headwind of 2.3sec.
In the 100m Sheniqua Ferguson finished in second place in 11.34sec. Grand Bahama's Nivea Smith ran 23.11sec for second in the 200m. Austin Sealy Award winner Anthonique Strachan ran 23.58sec for fourth place.
The head wind was strong and affected a lot of the races. In the women's 200m it was -2.3mps.
Higgs, Sands, and Stuart dominate
In the Long Jump Grand Bahama's Raymond Higgs held off a challenge by Troy Bullard. Bullard jumped 7.72m (25″4″) and Higgs, who had jumped World Championships "B" standard of 8.15m at the NCAA Regional in May, jumped 7.80m (25″7-1/4″) on Friday to win.
Last year's winner, Rudon Bastian managed 7.47m (24'6-1/4″) for the bronze medal.
In the Triple Jump Leevan Sands jumped 16.82m (55'2-1/4″) to win.
Muhammad Halim of the United States jumped 16.55m (54'3-3/4″) for second.
World Youth bound Latario Collie-Minns jumped 15.83m (51′ 11-1/4″) to win the junior division. He has the best Youth performance in the world this year with a 16.52m (54'2-1/2″) jump at the Scotiabank National High School Track and Field Championships.
Bianca Stuart, who had increased her personal best to 6.64m (21'9-1/4″) in May, won her event with a 6.24m (20'5-3/4") jump.
The organizers had set up a challenge between Grand Bahama and the rest of The Bahamas for the 4x400m relay, held at the end of the meet. No other Bahamian team challenged them.
A team from Trinidad and Tobago traveled to Grand Bahama to make the qualifying time for the men's 4x400m relay. The Grand Bahama team comprised of Andrae Williams, LaToy Williams, Michael Mathieu, and Demetrius Pinder won in 3:02.56.
Trinidad and Tobago with Reny Quow, Jarrin Solomon, Ade Alleyne Forte, and Deon Lendore finished second in 3:04.31, just off the qualifying time of 3:04.00.
Their women ran 43.40sec in the 4x100m, under the standard of 44.00sec for the World Championships. Â
The Bahamas "A" Team ran 43.62secs, also a Daegu qualifying time. The team was made up of V'Alonee Robinson, Nivea Smith, Sheniqua Ferguson, and Debbie Ferguson-Mckenzie.
The Bahamas won the Silver medal in the 2009 Berlin World Championships with Christine Amertil, Sheniqua Ferguson, Chandra Sturrup, and Debbie Ferguson-McKenzie.
Last week Trinidad and Tobago was forced to postpone their National Championships because the repair of the Hasley Crawford Stadium was not finished.
Several other athletes, who had been scheduled to compete in Trinidad and Tobago came to The Bahamas for opportunities to qualify for the World Championships instead.
The Grand Dame Continues
This BRC Championships saw the appearance of Lavern Eve, who first donned Bahamian colours in 1980 at the Central American and Caribbean Jr. Championships in Nassau in 1980. Eve won the Javelin with a throw of 50.47m (165′-7″) for the win.
Nice Facility
The track at Grand Bahama's Sports Complex was laid in 1999 and refurbished last year. It is top class.
Track City, Bahamas
Grand Bahamians came out in droves to support their athletes. Even the rain on Friday afternoon could not put a damper on the events.
Thank you Grand Bahama!
The meet served as a qualifier for The Sr. Central American and Caribbean Championships scheduled for Mayaguez, Puerto Rico, July 15-17th, Pan Am Jr. Track and Field Championships, scheduled for Miramar, Florida, July 22nd-24th, The IAAF World Championships, scheduled for Daegu, South Korea, August 27th- September 4th, and The Pan American Games, scheduled for Guadalajara, Mexico, October 24-28th.
Alpheus Finlayson for the IAAF

grand bahama, sports