150th Anniversary Commemorative Stamps Issued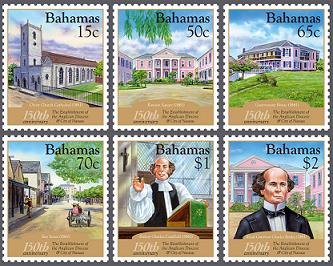 The commemorative stamps have been produced in observance of the 150th Anniversary of the establishment of the Anglican Diocese of The Bahamas and the Turks & Caicos Islands as well as the establishment of the City of Nassau.
The Philatelic Bureau of The Bahamas Postal Services presented first day covers of its new commemorative stamp series to Governor General His Excellency Sir Arthur Foulkes; Prime Minister the Rt. Hon. Hubert A. Ingraham and the Venerable Archdeacon James E. Palacious who accepted on behalf of the Anglican Diocese of The Bahamas and the Turks and Caicos Islands.
In 1861, the Anglican Church in The Bahamas became a separate Diocese.  Previously, in 1824, the Anglican churches in The Bahamas and the Turks and Caicos were incorporated into the Diocese of Jamaica.
Also in 1861, the first bishop of The Bahamas Anglican Church, Charles Caulfield, was consecrated and Christ Church was renamed a Cathedral.
Christ Church Cathedral (15c stamp) is the "Mother Church" of the Anglican/Episcopal Diocese of The Bahamas and the Turks and Caicos Islands. The word 'Anglican' denotes that this church was originally the Church of England which came to the region during the colonial expansion and that this church is the same as the "Episcopal Church" in the United States of America. The Turks and Caicos Islands, though politically separate, are a part of this Diocese.
Under English law, a town to which an Anglican bishop was appointed and which served as the location of the Cathedral, would be designated as a city.  This sequence of events therefore resulted in the Town of Nassau being designated the City of Nassau.
In 1670, King Charles II granted the colony (of the Bahamas) to the Lord Proprietors of Carolina who were instructed to "build churches and chapels in the furtherance of the Christian Religion". The First church building for the Parish of Christ Church was built between 1670 and 1684, to the west of the present building but was destroyed by the Spaniards in 1684. A second building, believed to have stood to the east of the present building in the area of Frederick Street, was completed in 1695. That too was destroyed by the Spaniards, in 1703. A third wooden building, like its predecessors, was completed in 1724 at the present site.
The stamps will be released to the general public, Monday, September 12.

history, nassau