Baark Launches Campaign With New Truck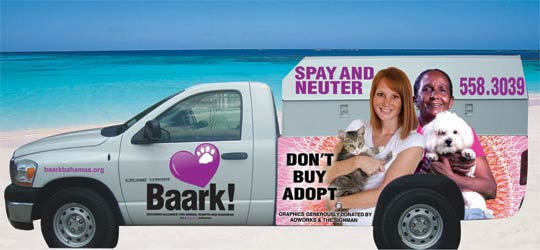 Following a recent donation Baark! (Bahamas Alliance for Animal Rights and Kindness) has been able to purchase a new vehicle. This will enable the charity to seriously tackle the number of roaming and stray dogs and cats in Nassau and The Family Islands. They will begin their mission this fall with the aim of spaying and neutering up to 2,400 animals annually. The van has been generously branded thanks to Adworks and The Sign Man making it extremely eye catching.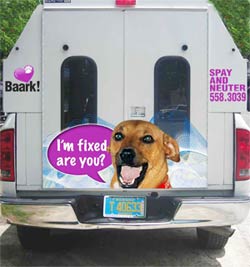 In conjunction with the group Stray Busters a team of volunteers will use the T-N-R (Trap-Neuter-Return) method for roaming community dogs. They will target one area of the island at a time, transporting dog to be sterilized at participating veterinary clinics.
Natalia Nunez from Stray Busters said "We are excited to work with Baark! and start this program, the van will enable us to carry up to five dogs per trip. We are trying to stop the vicious cycle of thousands of births and deaths of stray and unwanted animals in our community". Each trapped and sterilized dog or cat will be vaccinated, de-wormed and treated for any medical ailments before being released back into their environment.
As part of the campaign Baark! will also be offering low-cost spay and neuters for owned pets. Laura Kimble, President of Baark! said "Spay and Neuter is viewed as the ONLY way to solve animal overpopulation and improve the welfare of suffering animals. Following our successful smaller campaign in February 2011, Baark! feels that a large scale spay and neuter program throughout The Bahamas will dramatically reduce the number of animals that have to be euthanized unnecessarily at the Canine Control Unit (Government Pound) each year."
She added "In addition to spaying and neutering also drastically improve your pet's health and life expectancy, make communities safer without aggressive dogs and overturned trash cans".
Baark! is an entirely voluntary organization with no government funding; Each spay and neuter operation costs $50 and they rely solely on public donations and their fundraising efforts.  You can support Baark! by joining their second annual "Strut Your Mutt" walk-a-thon on Saturday October 1st 2011 at Goodman's Bay, registration begins at 8am.
Participants will enjoy prize-winning contests, a great raffle, pet photos and dog adoptions. Coffee and a selection of pastries will be provided by Starbucks. The person who brings in the most sponsorship money will win a 32-inch Toshiba LED TV/DVD combo.
Pledge forms are available at select Dominos locations, Cost-Rite, Solomon's, The Bahamas Humane Society and Chives Café, they can also be downloaded from the website www.baarkbahamas.org. It's a great, fun filled, event for ALL the family !
Baark! would like to thank their event day sponsors Graham Real Estate, KMPG, Purina, Cole Insurance, Sky Bahamas, Aquapure and for the following companies who have generously donated fantastic prizes to be won on the day Think Simple, Bahamas Air, Winderemere Spa, The Ocean Club, Sandals Resort, Stubsdale Dog Care Center, Club One and Stingray City.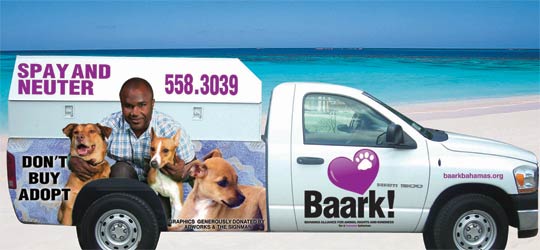 animals, charity, community, environment, events, health