Bahamian Artist Adds Caribbean Flare To Art Project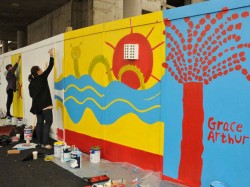 Bahamian artist Dede Brown is participating in an Artist's Exchange Programme between Ipswich Art School and Popopstudios in The Bahamas, for the 'Stories of the World' Programme set up for the London 2012 Cultural Olympiad. In the three months that Dede has been in Ipswich she has made some strong connections, especially with Never Ending Mural.
Dede has turned her skills to mural painting while she has been residing in Ipswich. When speaking about the Never Ending Mural she said; "the mural has become a very enthusiastic community driven project, involving many people living in the town. Having played a small part it is easy to see how this inspirational project has captured the town's imagination".
About the Project
The Never Ending Mural is an ambitious community led project that will transform the face of Ipswich, and will see artwork installed at a number of locations across the town for Ipswich residents and visitors to enjoy.
Follow the link below for more pictures of the mural project.

arts, caribbean