Captain Billy Black Lured Back to Bimini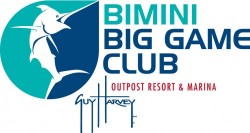 ALICE TOWN, BIMINI—SEPTEMBER 27, 2011— With a good season predicted for Wahoo and plenty of action expected with Blackfin Tuna, Blue Marlin and Swordfish, Captain Billy Black and El Viejo, a classic 53-foot Rybovich, will be returning to the docks at the historic Bimini Big Game Club to offer top-of-class offshore charters starting November 15th.
Also returning to Bimini in November is noted Carolina sportfishing captain Skipper Gentry and his new charter boat—a 46′ Post powered with 625 hp Detroit Diesel engines.
Black, who has spent the last 30 years as a charter captain and ran the premier charter boat out of Walker's Cay from 1977 to 2004, is now Stuart, Florida-based, but eager to return to the world class fishing grounds off Bimini. During his long tenure in the Bahamas, he has had, at one time or another, many of the Bahamian record catches for Blue Marlin, White Marlin, Bluefin Tuna, Yellowfin Tuna, Dolphin, Wahoo and Sailfish.
"We had some great fishing there last year," said Black. "Wahoo, dolphin and swordfish were good and we even caught and released a couple of 300 to 400 pound Blue Marlin."
Black said even the legendary Hemingway-era 1,000 pound-plus Marlin can still be found in the waters surrounding Bimini: "Last year we hooked into a Blue that easily ran 800-plus pounds. The client had an 80lb wide reel with 1,000 yards of line and the fish nearly took it all before we were forced to release it."
The Bimini Big Game Club, reopened last year as a Guy Harvey Outpost Resort & Marina, has long history as a world-class sportfishing destination. Bimini's location along the legendary Gulfstream (a "river" of warm water) location is at the apex of a superhighway for migrating fish and acts as a kind of sushi conveyor belt carrying abundant food to the local fish. Deepwater game fish include marlin, tuna, sailfish, wahoo and swordfish, while big grouper, barracuda and schools of snapper can be found on the reefs. Bimini's flats are home the fishermen's favorite prey, bonefish and permit. With more than 50-record-setting catches in the waters around the island, Bimini has earned its title of Sport Fishing Capital of the World.
Big Game Club General Manager Michael Weber said that the return of Captains Black and Gentry and offshore charters would be "a great amenity for both accomplished and recreational anglers who can be at our docks by plane in an hour."
Call the Big Game Club to book half and full day charter at 1-800-867-4764 or contacting sales@biggameclubbimini.com.
About Bimini Big Game Club, a Guy Harvey Outpost Resort and Marina
Founded as a dinner club in 1936 in Alice Town, the island's cultural hub, by Nassau entrepreneur and bon-vivant, Neville Stuart, the Big Game Club has over the last 74 years hosted world-class fishermen, major tournaments, international celebrities and tens of thousands guests looking to bask in the unique "Islands in the Stream" mantra made famous by author Ernest Hemingway who lived and fished in Bimini in the mid 1930s.
Guy Harvey Outpost Resorts has teamed with top-of-class sportsmen to deliver top-of-class fishing and diving experiences, known to the group as Outpost Pursuits.
Renowned dive authority Neal Watson oversees the Club's new dive operation, Dive Bin, showcased by its 60 ft. double deck, glass bottom dive boat, the largest in the Bahamas out-islands.
Bonefish Bimini, headed by artist, conservationist and fly fishing personality, Vaughn Cochran, works with the island's elite bonefishing guides and is quickly restoring awareness of Bimini's legendary "Big Bones".
Sportfishing charters operations have been established at the Club, with the recent arrival of record setting Captain Billy Black, a fixture on the Bahamas offshore fishing circuit.
The Big Game Club, which is located on the main navigation channel in Bimini Bay, currently features a 51-room resort and a 75-slip marina capable of accommodating boats up to 145 feet in length. A full service fuel dock will be operational by Spring 2012.
Guestrooms and suites have been fully renovated, as with the new Bimini Big Game Bar & Grill, and completion of the Hemingway Lounge and Gulfstream conference center. The Club also offers the Guy Harvey Outfitter Shop, for the best in sportswear, gifts and accessories
Content provided by Outdoor Hub, The Outdoor Information Engine

fishing, islands, tourism