Cassius Stuart To Battle McCartney in Bamboo Town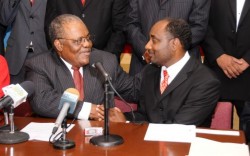 A well-placed member of the FNM party has revealed that Cassius Stuart has been selected as the FNM's candidate to challenge DNA leader Branville McCartney for his seat as MP in Bamboo Town.
McCartney was elected as the FNM representative for Bamboo Town but resigned from the party in early 2011 to form his own party, the Democratic National Alliance.
The source allegedly told the Tribune newspaper that although Mr Stuart has not been ratified, the former Bahamas Democratic Alliance (BDA) leader is the "unofficial" challenger for the constituency.
Analysts think Mr Stuart will triumph over Mr McCartney because most people in Bamboo Town are "hard-core" FNM supporters.
"Bamboo Town is not a Branville constituency, it is an FNM constituency and the same way Branville was able to defeat Tennyson Wells because he ran on the FNM's ticket (Cassius Stuart will beat him)," the annonymous FNM source told the paper.
Many in Bamboo Town feel that Mr McCartney abandoned them when he quit the FNM.
Renward Wells, former member of the obscure National Development Party, is the PLP's candidate for the area.
Mr Stuart was scheduled to be the keynote speaker at a constituency meeting in Bamboo Town last night.

DNA, election, FNM, politics