Montagu Foreshore Project Launched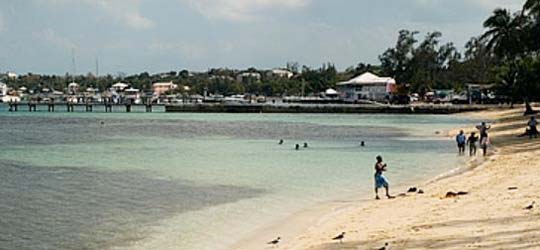 Nassau, The Bahamas – The Montagu Foreshore Redevelopment project was officially launched during a brief ceremony at Fort Montagu Thursday. Environment Minister Earl Deveaux on behalf of Neko Grant, Minister of Public Works and Transport, acknowledged Kerzner International, benefactor, and thanked staff of the Ministry for their efforts in this project.
"Montagu is special and unique to the Bahamian community," Minister Deveaux said. "What you see on the beach is not all driven by nature, some of it is man-made. Take care of it."
In attendance was Permanent Secretary Colin Higgs, Director John  Canton, Deputy Director George Hutcheson and Project Engineer Dion Munroe. The Hon. Loretta Butler-Turner, MP for Montagu said the redevelopment is something that all Bahamians for many generations to come
should appreciate. She urged Bahamians to "take care of it."
George Markantonis, president of Kerzner International Bahamas said the project is a part of the resort's ongoing commitment to The Bahamas. "This makes over $25 million in investments and contributions we have made to the community that we live in. We are just so excited to take a look at the 'before' today and what is going to be the 'after' not too long from now. It will be a great addition."
The project includes beach replenishment and redevelopment of the parking lot at the eastern end. The beach will be expanded from approximately one to almost three acres and extended along the shoreline from Fort Montagu in the north to the concrete dock in the south.
Project Engineer Dion Munroe, said the scope of work includes the addition of groins or large boulders and sand to build the beach. "The groins help to retain the sand," he explained.
The Government will also carry out intersection improvements to Fox Hill, Johnson Road, Blair Estates and Shirley Street. Other upgrades to the Montagu foreshore will address the toilet block, traffic flow, parking facilities, fish vending activities and boat ramp.
At a recent Town Meeting Minister Grant said the recreational area will be a family seaside park and picnic area that all will be proud of and it will continue to provide recreation and fun for Bahamians and visitors. The project will be done in phases to permit public access and use of sections of the beaches during the construction period. Public safety and security procedures will be in place during the improvements.
By Kathryn Campbell
Bahamas Information Services
In this photo Earl Deveaux, Minister of the Enviornment (centre) and Loretta Butler-Turner, MP for Montagu chat with George Markantonis president of Kerzner International Bahamas. (BIS Photo/Letisha Henderson)

atlantis, beach, community, construction, environment