Will It Never End?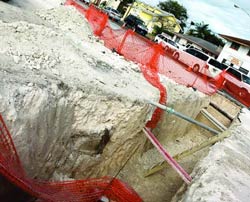 The Bahamas Electricity Corporation (BEC) will eventually have to dig up the roads that were recently constructed and paved as part of the New Providence Road Improvement Project (NPRIP) if it has to do maintenance or expansion work, BEC's press officer Arnette Ingraham told The Nassau Guardian.
Ingraham explained that provisions were not put in place in some of the newly-constructed roads for BEC to be able to maintain or expand its network without digging up the streets. She said she could not say which roads those were and how soon the work might have to be done.
Press officer for the Ministry of Public Works Shenique Albury said all of the utility companies submitted plans for their underground networks that should have told the road contractors what to install for the future expansion of their networks and where to install it.
Wilson contended that throughout the road build the contractors, Jose Cartellone Construcciones Civiles (JCCC), damaged BEC's pipes and ducts which resulted in outages.
BEC chairman Michael Moss told The Guardian recently that New Providence underwent several power outages due to underground lines being severed by road workers.

BEC, construction, roads, utilities