Magazine Features Schooner Bay and Antonius Roberts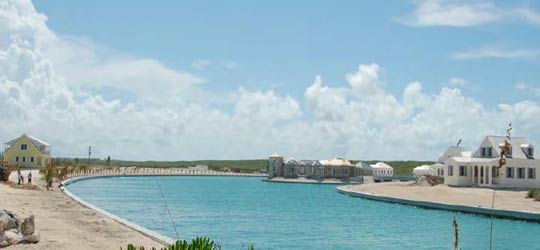 "Schooner Bay Village in South Abaco and its resident Town Artist ‐ Bahamian Antonius Roberts ‐ are featured this month as the cover story in COASTAL LIVING magazine – An immensely popular island lifestyle periodical with 1.2 million readers in the U.S. alone"
The blossoming new harbour village of Schooner Bay as an arts and Bahamian lifestyle destination located in easily accessible South Abaco Bahamas is showcased this month in one of the US's premier coastal home and beach lifestyle magazines.
Profiled in the Schooner Bay article is Bahamian artist and resident town artist – Antonius Roberts. Mr. Roberts has a home at Schooner Bay aptly named "Post House", a studio & gallery, as well as several art installations on the property. He has conducted several workshops & art symposiums here over the past few years with audiences from primary school kids, COB students, noted Bahamian and world renowned artists. His presence, dedication to Schooner Bay and work have become a beacon for this new town – being built by renowned developer and community builder – Orjan Lindroth and his wife Amanda. Schooner Bay has quickly become a harbour community on mainland Great Abaco for Bahamians and visitors alike. A real place being built responsibly by real people at a deliberate pace. A sustainable, affordable place for the generations.
Coastal Living with a circulation of 1.2 million readers – many of whom live in the east and southern US – is an essential read for individuals with an affinity for life at the beach, bay or in the islands. It has everything one loves about seaside living from beach-themed home décor and architecture to unique travel destinations and tasty seafood inspired dishes.
Coastal Living brings you features on the world's most stunning islands and travel ideas that are sure to get one planning for their next escape or second home investment. Whether you live on the beach or simply crave the seaside lifestyle, Coastal Living satisfies your desire for all of the wonderful flavor and style that regional coasts and islands have to offer. The Bahamas and our Out Island lifestyle in particular epitomize this for many people.
Schooner Bay Village started by Nassau-based Lindroth Development in early 2007 and work has never stopped. More than 50 properties have been sold since early 2009. The harbour opened to the sea this past summer with pilings and docks now underway and it will begin to serve owner vessels by the holidays.
More than 25 homes and some condos are complete, underway or in process. By the boating/fishing season 2012, there will be several homes with docks available for rent, a bar/grill, bed & breakfast and other services available to all. Businesses are operating and have sprung – with Abaco Nature Tours, BNT, Antonius Roberts Studio & Gallery, Joes Ribs, Black Fly Lodge, Farming & Horticulture operations – all based at Schooner Bay.
In 2012 the harbour general store & fuel dock will open. In just a few short years, it will surely be the place to be.
For more info please visit www.schoonerbaybahamas.com.

beach, celebrities, community, real estate