Which Island Best Fits Your Personality?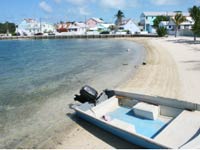 With 700 major islands and thousands of smaller cays, the Bahamas poses a quandary along with its inherent allure: How in the name of Bahama Mama do you pick the best island for you?
In my experience, quaffing a Bahama Mama can't hurt the decision-making process. (Unless you're a teetotaler, in which case, you'll be comfortable on Abaco's Man-O-War Cay, where no liquor is sold.)
Luckily, the sheer number of islands and cays can be whittled down to those with practical public access. Each, however, has its distinct personality. What island personality best fits yours? Read on.
Personality Type: You are a Pisces and own a dozen Columbia fishing shirts in various colors and sleeve lengths. You tie your own flies, and your deck shoes smell like fish. Your idea of nightlife involves the moon, the sea and a six-pack.

islands, travel