Win a FREE Lunch at Balduccino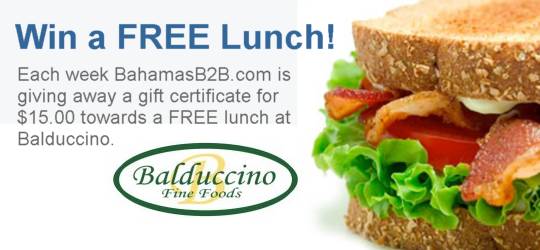 NOTE:  This promotion ended March 31, 2012.
BahamasB2B.com wants to buy you lunch  And you thought the whole "FREE Lunch" thing didn't really exist.  Well, it does and it can be yours.
Every week, BahamasB2B.com will select one winner, from among our Facebook friends, to receive a $15.00 gift certificate towards lunch at Balduccino.
All you have to do is  "Like" BahamasB2B.com on Facebook and you will be on the list of people we select from each week.
Already "Like" us?  Then, you are already eligible. Make sure you subscribe to our Bahamas Newsletter to find out if you've won.
Winning gift certificates not claimed within 10-days of announcement, or redeemed within 30-days of issuance will be forfeited.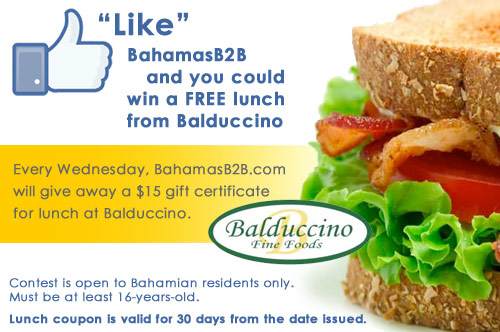 FINE PRINT:  Only Bahamian residents, 16-years and older can win.  The lunch coupon must be claimed within 10 days of being announced and redeemed within 30 days from the date issued. Winners who do not claim their prize within 10 days of the announcement of the wining entry will forfeit their prize.

Winners will revealed weekly our Bahamas Newsletter.
So be sure to subscribe.
Balduccino Fine Foods on East Bay Street is one of Nassau's most popular lunch spots.  People drive from all over the island to enjoy the hot & cold sandwiches, daily soup specials, hand-made pizza, salads, and much more.
Chef Vanessa creates a unique menu of delicious lunch specials every day. Sit outside on the harbour-view patio, or get you lunch "to-go".
Thousands of people use the RSS feed of Balduccino's lunch specials to find out "what's for lunch" and to place their orders for pick-up.
By participating in this BahamasB2B FREE Lunch promotion, entrants hereby agree that Facebook and BahamasB2B have no responsibility or liability whatsoever in connection with any aspect of an entrant's participation in this contest.

contests, food