Immigration Frustrations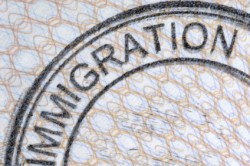 There has been a constant reiteration on a famous topic that puzzles many Bahamian people today. Provided by several radio stations for the past month (October) they issue this topic, "The Government is selling The Bahamas to foreigners;" namely Haitians, Jamaicans and many more.
It has been nearly 11 years prior to the date I've initially applied for my citizenship. I've been on this mission praying and hoping that one day I'll be rewarded; however, presently I am 28 years old, to be 29 on December 18, 2011 and I'm still fighting to achieve this goal.
During my fight I've gathered the understanding that when you go about doing things the wrong way you achieve success faster, because I've been doing everything the way it is asked of me and I'm still placed on standby.
According to the Immigration Act it clearly states in The Bahamas constitution, Article (7), "A person born in The Bahamas after July 9, 1973 neither of whose parents is a citizen of The Bahamas shall be entitled, upon making application on his attaining the age of 18 years of within 12 months; thereafter in such manner as may be prescribed to be registered as a citizen of The Bahamas."
I was born in Marsh Harbour, Abaco on December 18, 1982 raised in Freeport, Grand Bahama and attended school there also; schools such as: Bartlett Hill Primary, Hugh .W. Campbell Primary, Hawksbill High, Goombay Land (St. Georges High) and graduated top of my class at Jack Hayward High School. I've successfully achieved an associate degree in Medical Sciences, attending a college located on the island of Grand Bahama and now I am presently working at one of the best Medical Institutions on Freeport, G.B.
I received a letter from the Immigration office stating that I could work and array my life in The Bahamas, but as simple as opening a bank account I encountered several problems. Also, I was informed by Immigration that due to the fact that I am over the age of 25 I cannot renew my Travels Document.
I am a mother of three and they are my number one reason why I am working diligently to legalize myself. I am not a criminal, but I feel like I am trapped in jail. I am becoming more and more discouraged every day, because I'm treated like I am an illegal immigrant who washed up on the shores of The Bahamas on a banana boat. I was born here, shouldn't that count for something?
Conclusively, those of you who were born in The Bahamas by a Bahamian parent, do not take possessing a passport lightly because there are people like me who are on standby with nowhere to turn.
By: Stephanie

immigration, incompetence, injustice