Nassau Music Society Presents Terry Waldo's World of Ragtime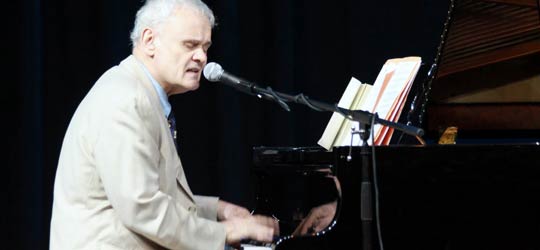 Under the patronage of Governor-General Sir Arthur Foulkes, the Nassau Music Society's last concert of 2011 featured American ragtime, blues, and jazz pianist and historian/producer/composer Terry Waldo, henceforth to be known as the Raconteur of Ragtime. Mr. Waldo was mentored by the world-renowned composer and pianist James Hubert "Eubie" Blake (1887 -1983), who was a graduate of NYU and was the only surviving child of two former slaves. Eubie Blake is best known as the composer of the Charleston Rag, Love Will Find A Way, Memories of You, and I'm Just Wild About Harry. As stated admiringly by Mr. Waldo, studying ragtime with Eubie Blake was like studying the Bible with Moses!
Mr. Waldo has toured widely in Europe and in the United States, performing in such venues as Carnegie Hall and Lincoln Center, and writing for and appearing on radio and television shows as diverse as National Public Radio (NPR) and The Tonight Show. While wearing his historian hat, he wrote This Is Ragtime, published by Jazz at Lincoln Center with an introduction by Wynton Marsalis.
Mr. Waldo opened the program with Scott Joplin's much-loved Maple Leaf Rag. His heel-thumping, knee-bouncing style, accompanied by arm flourishes and sidelong glances, let us know that we were in for an evening of in-your-face fun. This type of music makes those of us who are old enough to remember wax nostalgic about the good old days when player pianos were still in use, since they were invented and popularized in approximately the same timeframe as ragtime.
Mr. Waldo continued his lecture/performance by sharing with us some of his knowledge of Scott Joplin's background and contributions. Scott Joplin (1867 – 1917) is known as the "King of Ragtime" and is considered to be the father of classic ragtime, which as Mr. Waldo explained is basically a march with syncopation. (Syncopation involves accenting notes that are in between what are usually the main beats in a measure.) According to Mr. Waldo, Joplin's Maple Leaf Rag was the first song that sold over one million copies; it was the rock and roll of its age.
Mr. Waldo then spoke briefly about Tin Pan Alley, the New York City publishing center for Mr. Joplin and also for Irving Berlin (1888 – 1989), a Russian Jewish immigrant who so thoroughly identified with the American experience that he wrote not only famous ragtime works such as I Love a Piano (which Mr. Waldo played and sang for us most charmingly), but also wrote White Christmas, the Easter Parade, and God Bless America.
I was hoping to hear Mr. Waldo play Berlin's Alexander's Ragtime Band, but alas, it was not to be. Instead, however, we were treated to China, We Owe a Lot to You (Chorus: China, 'Way Out Near Asia Minor), a tongue-in-cheek song written in 1917 by Milton Ager (1893 – 1979) which, taken literally, is more true today than it was then. One line that Mr. Waldo emphasized to prove that point was "Don't call in our loans; we owe a lot to you!"
As mentioned earlier, Mr. Waldo studied with Eubie Blake, who wrote the music for the first all-black extremely successful Broadway show, Shuffle Along, which premiered in 1921. Perhaps the biggest hit from this musical was I'm Just Wild About Harry, which, as Mr. Waldo demonstrated, was originally conceived of as a waltz! According to Mr. Waldo, it was Mr. Blake's Shuffle Along that is credited with having started the Harlem Renaissance.
Mr. Waldo also played Blake's Charleston Rag for us, a technically difficult piece that Mr. Waldo transcribed and put into print in 1974. The bass line seemed to hint at the future boogie woogie style. We then learned that Eubie Blake knew John Philip Sousa, Scott Joplin, and George Gershwin, which is not surprising since, as mentioned earlier, rags are essentially syncopated marches; and blues and jazz were forms of ragtime that later broke off and went their own separate ways.
We then moved on to the New Orleans blues music of Creole composer/arranger Jelly Roll Morton (born Ferdinand Joseph LaMothe 1885 – 1941), about whom Mr. Waldo will be teaching a course at Jazz at Lincoln Center next fall. Jelly Roll "felt" his music in four instead of in two (whereas marches were written and played in cut time, which meant two beats per measure).
We were privileged to hear Mamie's Blues, one of many simple songs of everyday thoughts that are quintessential blues. But my favorite by far (partially because it is reminiscent of bandleader Lindley Armstrong "Spike" Jones' satirical shenanigans) was the Tiger Rag, replete with roaring bass glissandos, which Mr. Waldo played at a truly ferocious pace. While the Tiger Rag's authorship is disputed, Jelly Roll Morton's claim is not without merit. He also lays claim to having invented jazz.
From New Orleans we went to Texas for the development of boogie woogie, which featured eight beats to the bar (i.e. measure) instead of the usual four. Clarence "Pinetop" Smith's Pinetop's Boogie Woogie and its walking bass had everyone's toes tapping. It was easy to see why this work later became Big Band leader Tommy Dorsey's biggest hit.
Next we found ourselves transported to the land of the Great American Songbook as Mr. Waldo played Harold Arlen and Johnny Mercer's Blues in the Night with its boogie woogie bass. Yet another blues offering was Mr. Waldo's own composition, the nicely naughty Can't Get It Up Blues. He told us that most women thought it was hysterical, but the men…. not so much! We also heard Mr. Waldo's own irreverent but all too true Let's Pray Against Someone, a song which Tom Lehrer would have been proud to write, a song which highlights how far we have fallen from the ideals which we proclaim that we espouse.
With a tip of the hat to the Nassau Music Society's more usual classical fare, Mr. Waldo then played his own tongue-in-cheek ragtime and boogie woogie version of Mozart's Rondo Alla Turca, giving the audience a hilarious listening experience that will not soon be forgotten. This was followed by Scott Joplin's most well-known rag, The Entertainer, familiar to all as the soundtrack from the movie The Sting starring Paul Newman and Robert Redford.
Last on the program was Euday L. Bowman's Twelfth Street Rag, named after a street in the red light district of Kansas City, Missouri. Although it was composed in 1914, this work started a fad for honky tonk music after a recording was released in 1948 that became the Billboard number one single. According to Mr. Waldo, the performers would de-tune the pianos and put shellac on the piano's hammers to give the music an old-timey sound.
In conclusion, Mr. Waldo responded fittingly to the extended applause with a Eubie Blake encore: Memories of You. It was a touching finale to an evening of homage to the legends from whom Mr. Waldo had the privilege to learn.
Submitted by Anita L. MacDonald, MMus, MS, MBA, GPC/MIS

arts, culture, music