ScotiaBank Increases Red Ribbon Ball Support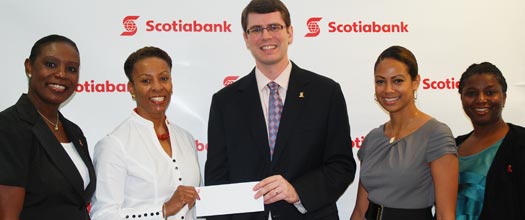 NASSAU, BAHAMAS, November 8, 2011 – Scotiabank Bahamas again joins hands with The Bahamas AIDS Foundation in hosting the 2011 Red Ribbon Ball.
Hosted under the theme, 'Removing The Mask,' the Ball is the Foundation's single largest fund-raising initiative, now in its eighteenth year.
Scotiabank, an annual supporter of the AIDS Foundation has this year increased its support to a Presidential Partner level in keeping with the Bank's global commitment to the fight against HIV and AIDS.
In June of this year, Scotiabank, in partnership with the National AIDS Centre, hosted the most successful HIV Testing Day to date, with a record number of over 500 persons registering to be tested in Rawson Square.
The Bank's Managing Director Kevin Teslyk, noted, "The Bank is a dedicated partner to worldwide efforts at the local, regional and international levels to reduce new HIV infections and decrease the stigma associated with the disease through education and awareness. Our partnership with The Bahamas AIDS Foundation underscores our commitment to be socially responsible in this community."
The 18th Annual Red Ribbon, Removing the Mask, Masquerade Ball takes place this Saturday, November 12 at The Imperial Ballroom.
Pictured (L-R): Sandra Smith, co-chair, Red Ribbon Ball; Lady Camille Barnett, President, AIDS Foundation of Bahamas; Kevin Teslyk, Managing Director, Scotiabank Bahamas; Leah R. Davis, Scotiabank Senior Manager Marketing & PR Manager; D'Andrea Lewis, Red Ribbon Ball Committee Member.

banks, charity, community, health