Doongalik's 'Spirit Of The Dance' Conversations Begin
Doongalik Studios, in conjunction with Carter Marketing and The Endowment for the Performing Arts, announces the beginning of this year's Jackson L. Burnside III Conversations on Culture Series as a part of their 'Spirit of the Dance' Exhibition presently on display at the Art Gallery on #18 Village Road. The Exhibition follows the stunning careers in over a century of dance by three world famous performers: Paul Meeres, Hubert Farrington and Shirley Hall Bass all of whom made a positive impact on The Bahamas and the world.
The first Conversation will take place this Thursday at 6pm and will consist of a panel discussion moderated by Orchid Burnside entitled "Men In Tights: the Gender Disparity in Bahamian Dance' with Bahamian dancers Robert Bain, Lawrence Carroll, Roderick Johnson and Mervin Smith.
Robert Bain is the Executive and Artistic Director of The National Dance Company of The Bahamas. He has spent more than 30 years in dance, beginning his training at the Vera Allen School of Ballet in Freeport Grand Bahama, and then The Dance Theatre of Harlem, New York. He obtained his Bachelors of Fine Arts degree (BFA) in dance education from New York City College. He has studied and worked with choreographers and teachers such as Karel Shock, Arthur Mitchell, Patricia Wilds, Tanaquil Le Clercq, Billy Wilson, Katherine Dunham, Geoffrey Holder, Cleo Parker-Robinson, Loise Johnson and Walter Rains.
Mr. Bain has taught dance in the government system of The Bahamas since the early 1980s. He is presently dance education teacher at the Ministry of Education, C.V. Bethel Senior High.His vision is to develop a world class institution of dance and promote Bahamian dance. Mr. Bain's first book "Profile on Bahamian Dance Artists" will be released this fall.
Lawrence Carroll is the Founder/Artistic Director of The Lawrence Carroll Dance Academy and he is a Professional Dancer, Dance Teacher and Choreographer. Mr. Carroll holds curriculum certification from The Royal Academy of Dancing & Imperial Society of Teacher of Dancing (London, England) as well as a degree in Theatre Arts from Ryerson University, Toronto Canada.
Roderick Johnson received his early training with the New Breed Dance Company under the direction of the late Alex Zybine.   He earned a B.F.A in Dance teaching and an M.F.A in dance history and criticism from York University.
Through his career, Roderick has trained, performed and conducted dance workshops, lectures and seminars throughout the United States and across Canada, Europe, South America and the Caribbean. His performing experience includes dancing with:  Ballet Folk of Moscow, Idaho, Les Ballet Jazz de Montreal, Theatre Ballet, and Opera Atelier Baroque dance companies of Canada.
He has received choreographic awards from the Canadian Arts Council, Toronto Dancers Transition and Resource Center, York University and the E. Clement Bethel Performing Arts and the Danza Award for Best choreography.  Presently, Roderick is a full time dance teacher at C.I. Gibson and L.W. Young High School and lectures part-time at the College of The Bahamas.
Mervin Smith is the youngest member of the panel. He is pursuing his Bachelors Degree in Dance at Hunter College in New York and is the Founder of the Bahamian Dance Theatre Company which presented a fine performance of work this past weekend along with another  Bahamian dance student, Denton Gay and Mychal Bryan from Jamaica at the National Centre for the Performing Arts on Shirley Street.
The Conversations for the rest of the series will consist of Shirley Hall Bass on January 26 with Dr Keith Wisdom who has also produced a documentary of her life for the Exhibition; February 2 on Hubert Farrington with his niece Shelagh Farrington-Pritchard who looked after him as he got older and provided his vast array of dance memorabilia for the Exhibit, and Attorney Dr Peter Maynard who wrote the biography of his grandmother, the world famous classical pianist, Meta Davis-Cumberbatch who was also Hubert's mentor. The final Conversation will take place on February 9 when Charles Carter will discuss Paul Meeres with several of the dancer's colleagues and friends, Peanuts Taylor, Errington Watkins and Keith Aranha.
The public is invited to attend this free series of lectures and to engage in dialogue with the speakers. It promises to be another exciting learning experience. For more information about the Exhibition and the Conversations please contact the Gallery at 394-1886, email them at doongalikart@batelnet.bs or check the website www.doongalik.com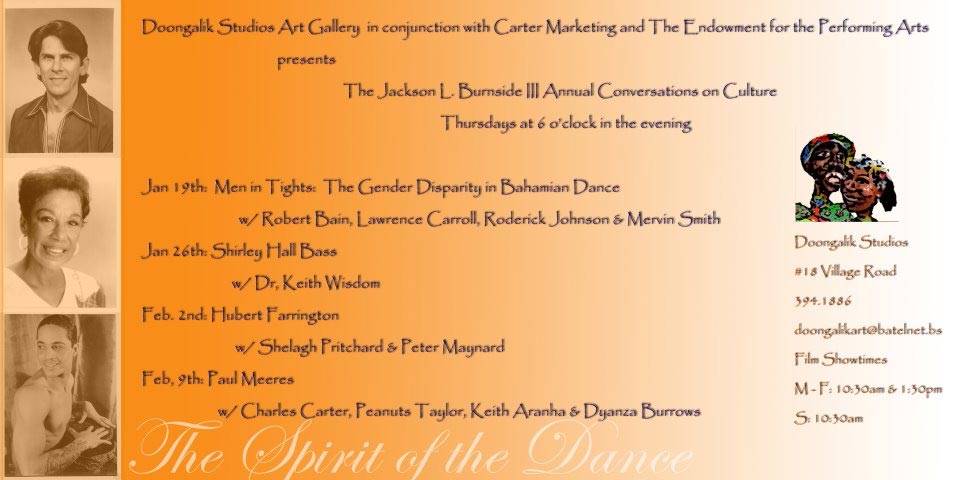 arts, culture