Bahamian Human Smuggler Given Slap on Wrist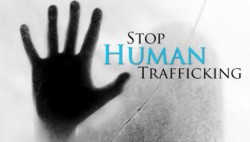 In another affront to justice, a Bahamian human trafficker, who tried to smuggle five adult Haitians and three children to the United States, was sentenced to only one year in prison last week.   A slap on the wrist for such a serious crime.
This is another case that shows the injustice, incompetence and corruption found in the courts of The Bahamas.
Stanley Pinder, 39, of Ponce de Leon Drive, appeared in the Court Three before Deputy Chief Magistrate Helen Jones.
Pinder pleaded guilty to several counts of assisting illegal passengers by boat.
Also appearing were the five adult Haitian passengers, who also pleaded guilty to related charges.  It is understood that the Haitians received a stiffer penalty than the man who was smuggling them.
Pinder and the eight Haitians were stranded out to sea for almost two days before being rescued by the US Coast Guard on Monday.
A 26-foot centre console vessel with six adults and three children – ages, three, 10, and 12 – were spotted near West Palm Beach just after 6:00am by a USCG rescue helicopter.
According to reports, BASRA officials in Grand Bahama were contacted by a concerned resident in Nassau who reported that six persons were stranded off West End and that the cell phone onboard the boat had gone dead.
Two Coast Guard vessels and the helicopter were dispatched to search for the vessel.
Everyone aboard was found to be in good health despite being without food or water for almost two days. They were all returned to Freeport.
Human trafficking is a huge problem in The Bahamas where it has become sort of a "cottage industry" with many Bahamians , some in government and law enforcement, are involved.  The problem continues to grow as  most Bahamians caught in the act receive very little punishment.

corruption, courts, crime, human trafficking, incompetence