BTC To Open New Grand Bahama Store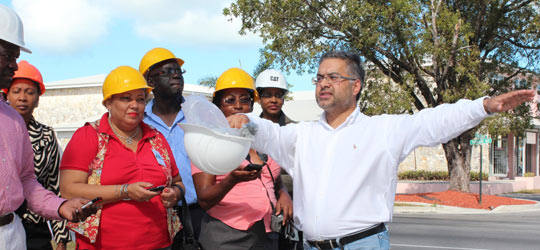 Some 150 business leaders, government officials and VIPs are slated to attend the grand opening of BTC's newly renovated retail space on Pioneers Way Friday, February 10 for an official ribbon-cutting ceremony. The launch — followed by a celebration for the general public starting at noon Saturday — marks the culmination of a $200,000 transformation of the company's Grand Bahama administrative headquarters into what executives called "an unrivaled interactive retail store experience that will add immeasurably to Grand Bahama's attractiveness as a place to visit, live and do business."
"We are really excited about what this new retail store that coincides with the advent of bringing blazing fast 4G internet, mobile phone and data speed to Grand Bahama," said Geoff Houston, BTC CEO. "While we believe that this has tremendous economic potential for Grand Bahama making the island even more attractive as a place to visit, live or do business, we do not view it as a singular activity, but part of a long-term commitment to deliver the best in telecommunications to The Bahamas throughout the length and breadth of this archipelago."
The Pioneers Way store is the second in an expanding retail footprint that the company has said will stretch from the northernmost island to the southernmost in the nation. The vastly expanded, vibrantly coloured 2,000 square feet store boasts a yellow exterior with large new planters and a striking long blue canopy out front. The national colours will continue inside with a new look and feel, drawing on Bahamian culture with a 27-foot mural of local fisherman created by the local graphics design company, FDK Laminators and Graphic Design. Artist Lamaro Smith is expected to be on hand and sign the mural during the official opening.
That ceremony will include some of the island's leading business and civic figures. Minister of Works & Transport and MP for Lucaya Neko Grant will deliver remarks along with Grand Bahama Port Authority President Ian Rolle and BTC's Houston. Also in attendance will be Rev. Arnold Pinder, President of the Grand Bahama Christian Council, and two of the Golden Girls, Pauline Davis-Thompson and Eldece Clarke, both Olympic gold medallists. On the heels of the Grand Bahama 4G network launch in a select area in December, the new retail space solidifies the new BTC retail experience theme, featuring Xbox gaming, 4G tablets and phones, and four separate stations for purchasing and bill payment. It is the second of some 40 planned for opening throughout the country with another store opening scheduled next month in Exuma.
BTC will continue to celebrate its new retail experience by inviting the public to a full day of festivities including live dance performances, a local Bahamian artist concert and Junkanoo next Saturday, February 11 from 8am to 6:30pm.
Caption:
Showing the Way – BTC Retail Lead Bob Gill, far right, leads members of the Grand Bahama press on a tour of the newly renovated BTC retail experience store on Pioneers Way, starting with changes to the exterior. Minister of Works & Transport Neko Grant will open the store following its $200,000 rebuild during an official ceremony Friday and the 2,000 square feet store will open to the public with a major celebration the following day. The renovation transformed administrative offices into a vibrant, interactive experience. In keeping with BTC's commitment to Bahamian culture and colours, the store's design incorporates themes and colour schemes that reflect Bahamian identity.  (Photo by Clifford Bowe.)

BTC, grand bahama, telecommunications