U.S. Embassy Questions Death of American in Bahamian Custody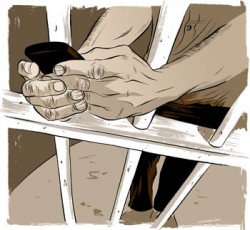 The United States Embassy has expressed concern after an American citizen died while on remand at Fox Hill Prison.
Steve DeGruiter, a 60 year-old Indonesian American businessman, died on February 7, days before he was due to be sentenced for his alleged part in a $100 million attempted fraud case.
Mr DeGruiter leaves behind two brothers, a sister, a wife, a son and daughter and a grand-daughter in the US.
The suspicious nature of Mr DeGruiter's death have raised concerns from the US Embassy about the treatment of Mr DeGruiter during his incarceration at Her Majesty's Prison.
Relatives of Mr DeGruiter, who say he was always a law-abiding person, are calling for an investigation. They believe that DeGruiter and co-accused Carol Collins, 50, of Massachusetts, were innocent.
However, Assistant Commissioner of Police Anthony Ferguson told a local newspaper that he could not say if there was an ongoing criminal investigation into Mr Degruiter's death.
Mr DeGruiter, who had successful business connections in Indonesia, became involved in a situation involving two Japanese men – co-defendants Hirofumi Tanabe, 57 and 72-year-old Katsuichi Yufu.
Mr Yufu claimed to be in possession of a $100 million cheque made payable to a Japanese businesswoman. He even had Japanese ministry documents authorising him to exclusively represent the woman's interest.
Mr DeGruiter was attempting to put together a team of financial investors who had the interest and ability to trade on the world market, hoping to turn the $100 million into a high-yield investment vehicle, without reducing the original capital.
Apparently, the $100 million was to be invested into a new account for an offshore corporation that would be solely owned by the two Japanese men, Mr Tanabe and Mr Yufu.
A mutual friend of Mr DeGruiter's introduced him to Carol Collins, who reportedly flew to Nassau to meet Mr DeGruiter, Tanabe and Yufu and a mysterious Bahamian business connection.  The Bahamian, an allegedly corrupt individual who is prominent in Bahamian society, has been involved in scandals before and has tentacles that are said to reach farther than Mr DeGruiter or his associates expected.
The Bahamian business connection reportedly did not produce the required legal documents for an offshore corporation for Tanabe and Yufu, despite being paid $15,000.
Instead, the corrupt Bahamian attempted to merge his controversial mining operation with this new $100 million investment.
The Japanese men grew impatient with the Bahamian businessman and blamed Mr DeGruiter for the delays.  But DeGruiter was merely acting as the point man between the Japanese men and the Bahamian businessman.
Meanwhile, Ms Collins was conducting due diligence to make sure that the $100 million cheque was for real.
DeGruiter and Collins became suspicious of the Bahamian when his credit card payment for Ms Collin's hotel room at the Hilton was rejected.
Shortly after dismissing the Bahamian businessman, Ms Collins started receiving death threats from him on her cellphone.  The Bahamian promised that DeGruiter and Collins would never leave the Bahamas alive.
It is important to note that neither DeGruiter or Collins were ever in possession of the $100 million check.  The cheque belonged to the Japanese men. DeGruiter and Collins were assisting the Japanese men in verifying the validity of the check at JP Morgan Bank.
However, when that story was told in court, Magistrate Guillimina Archer did not accept the explanation.  On Monday, February 13, the magistrate handed down her verdict to Coffins, Tanabe and Yufu. Mr DeGruiter was not in court, as he had died four days earlier.
Coffins, Tanabe and Yufu were convicted of attempting to obtain $100 million cash by false pretenses from EFG Bank and Trust through a forged JP Morgan cheque on July 8, 2010.
They were sentenced to serve 20 months at Her Majesty's Prison at Fox Hill.
Actually, the matter was supposed to be concluded in court a week earlier, but Magistrate Archer's ruling was delayed one week because of Mr DeGruiter's health.
On Monday, February 6, prison officials notified the court that Mr DeGruiter was not in a fit condition to appear.
The magistrate, after seeing Mr DeGruiter in a wheelchair outside her courtroom, agreed and ordered that he be taken to the hospital.
She postponed the matter for two hours, but when court resumed, Mr Gruiter's attorney Godfrey Pinder said his client had not been to hospital but, instead, had been returned to prison.
DeGruiter's cellmate, fellow American John Forest, told the magistrate that prison officials had ignored Mr DeGruiter's serious health problems.
He told the court, "A few nights ago, he [Steve] started throwing up blood on the floor. I called the correction officers and told them about it. They left and they returned with Pepto-Bismol and they told him to walk to the medical ward.
"I told them that he could barely stand and we got into an argument."
Mr Forest recounted how the prison officers returned with two inmates who were instructed to carry the accused to the medical ward.
"They carried him on their shoulders like a sack of potatoes despite his obvious spinal condition. I'm no doctor, but I know, we know, that something is wrong with him," Mr Forest said.
Upon hearing this, Magistrate Archer said she would ask prison Supt Elision Rahming why his officers disobeyed a direct order from the court to take Mr DeGruiter to the hospital. She then postponed the matter until February 13.
Mr DeGruiter died before the case was resumed.
When Mr Forest reappeared before Magistrate Archer on February 13 for sentencing, he told the Magistrate that he had received death threats in prison for his defence of Mr DeGruiter in court.
Supt Rahming has denied that his prison officers had disobeyed a direct court order to take Mr DeGruiter to Princess Margaret Hospital for examination and treatment.  The prison boss explained that prisoners heading to court from Bank Lane were under the care of the police, through a special warrant.  He said, while he had no intention of demeaning a fellow law enforcement agency, he nonetheless wanted the public to understand the facts, and not automatically blame prison officers.
"Prison officers do not go in court," Rahming said.
This, of course, is nonsense because as a prisoner of Her Majesty's Prison, Mr DeGruiter was the responsibility of prison officials.
If not held in contempt of court, legal experts say Rahming and his officers should at least be disciplined for dereliction of duty.
Meanwhile, the identity of the prominent Bahamian businessman who was behind the fraud has remained a mystery in the press, and it is unlikely that he will ever be charged with any complicity in the crime, due to his high-level government connections.  It is believed that he is the one who bribed police and prison officals to ensure that Mr DeGruiter died in custody, so he wouldn't be identified as an accessory to the scam.

corruption, courts, crime, incompetence, police, prison guards, United States